| Year | Population |
| --- | --- |
| 1970 | 2,168 |
| 1980 | 2,226 |
| 1990 | 2,382 |
| 2000 | 2,583 |
| 2010 | 2,511 |
Geographic Data
N. Latitude
44:48:38
W. Latitude
69:56:21
Maine House
District 118
Maine Senate
District 3
Congress
District 2
Area sq. mi.
(total) 48.4
Area sq. mi.
(land) 47.5
Population/sq.mi.
(land) 52.9
County: Somerset

Total=land+water; Land=land only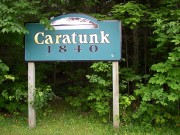 [KAR-ah-tunk] is a town in Somerset County, incorporated on October 14, 1977 from Caratunk Plantation. The Plantation was organized for election purposes in 1840 and again in 1893, and for tax purposes in 1903. Before it was organized, the U.S. Census reported a population of 105 in 1790.
Some difference of opinion exists about the meaning of the name. Lawrence Bond believes the name means "scraped field," as in "Where caribou scrape snow to find grass." Jim Brunelle says categorically, "Caratunk is derived from an Abenaki word meaning forbidding or crooked stream."
The town is 40 miles north of Skowhegan, via U.S. Route 201, on the Kennebec River where both Pierce Pond Stream and Pleasant Pond Stream enter it.
Pleasant Pond and Moxie Mountain are the major geographic features in Caratunk, other than the Kennebec River.  Pleasant Pond Stream make a short journey from the pond to the river.
The Appalachian Trail crosses the northeastern and north- western portions of the town, making a bend north to The Forks around Pleasant Pond.
The Kennebec River Crossing is very much a "watershed" for northbound hikers as they near the end of their 2,000+ mile journey. They wave a flag on the western shore in Carrying Place Township and, for 21 seasons from 1987 through 2007, awaited the arrival of Steve Longley, the Ferryman.
In 1775, Benedict Arnold's expedition to Quebec crossed the Kennebec river in the south of Caratunk near Gates Hill from the east side to the west in Carrying Place Township. The steep descent from what is now U.S. Route 201 stops at the higher water level created by the Wyman Dam. Across the Kennebec Arnold's Expedition entered the Great Carrying Place.
The small Caratunk village is just off U.S. Route 201, where loaded logging trucks frequently rumble by .  Its Main Street intersects with Pleasant Pond Road leading to that pond in the interior of the town.
20
Benedict Arnold's Expedition Route – click a Bateau


<== To Quebec        To Beginning ==>

The monument above left reads "This tablet marks the place where Colonel Benedict Arnold with his soldiers left the Kennebec River October 1775 and marched from the west shore in a northwesterly direction to Dead River on their way to Quebec." Placed by the Kennebec Chapter of the Daughters of the American Revolution 1976."

<= South      Appalachian Trail – click  a boot     North

=>
---
Form of Government: Town Meeting-Select Board.
Additional resources
Bruce, Amy M. Caratunk: A Pictorial History. Published By Amy M. Bruce Under The Auspices of the Sesquicentennial Committee. Caratunk, Me. Amy M. Bruce. North Anson, Me. Printed by Carrabassett Printers. 1990.
Clowes, Florence Waszkielewicz. Small World: Ethnographic Research of Caratunk, Maine. 1974. University of Maine, Fogler Library, Special Collections.
McAllister, Donna. The Sesquicentennial History Of Caratunk, Maine. Caratunk, Me. History Committee? North Anson, Me. Printed by Carrabassett Printers. 1990?