| Year | Population |
| --- | --- |
| 1970 | 4,115 |
| 1980 | 4,584 |
| 1990 | 5,060 |
| 2000 | 5,254 |
| 2010 | 4,850 |
Geographic Data
N. Latitude
44:13:34
W. Latitude
69:04:47
Maine House
District 94
Maine Senate
District 12
Congress
District 1
Area sq. mi.
(total) 25.8
Area sq. mi.
(land) 18.3
Population/sqmi
(land) 265.0
County: Knox

Total=land+water; Land=land only
[KAM-den] is a town in Knox County, incorporated as the town of Cambden (old spelling) on February 17, 1791 from the former Cambden Plantation. After annexing land from Warren in 1836, it split in 1893 to form Camden (new spelling) and the new town of Rockport.
In 1769, James Richards brought his family from New Hampshire to live in the wilderness that is now Camden. He had fallen in love with the area when he came to cut timber for British ship masts.
Richards built a sawmill and a gristmill on the Megunticook 

River near Washington St, His two brothers built cabins close by and brought their families to Camden.
These are the opening lines of "Historic Downtown Camden," an introduction to the town.  It notes that in 1779 the British burned buildings in the harbor.
After the American Revolution, in 1792, Camden's first ship was built in McGlathry's shipyard. In 1820 a woolen mill and a paper mill were established along the Megunticook River.
By 1823, steamships arrived in Penobscot Bay with service from Boston, connecting through Bath to Camden and nearby coastal towns. In the late 19th century, tourists were discovering the Maine coast and Camden was no exception.
In 1880, Edwin Dillingham built the first summer cottages in the town, and a flood of seasonal and semi-permanent residents began to change the community permanently.
The first library, Federal Society Library, apparently was founded in 1796 and operated until about 1830. A "Ladies Library" was formed in 1854. In 1896 the town voted to establish a free public library. Fundraising began after World War I, with the current building complete in 1928.
Camden is located on U.S. Route 1 which dominates the main street, making it accessible to summer tourists but slow traveling for casual motorists during peak season. Just north on Route 1, Camden Hills State Park provides camping, picnicking, and great views from Mount Battie.
Schooners Grace Bailey and Mercantile in Camden harbor and waterfront are picturesque and the model of a coastal town, catering to Windjammer sailing opportunities and countless personal pleasure boats. Several windjammers are on the National Register of Historic Places. (See below.)
On the harbor side of the classic Camden Public Library lies the Bok outdoor amphitheater, designed by one famous landscape architect Frederick Law Olmstead, altered by another, Fletcher Steele, who convinced heiress Mary Curtis Bok to keep its natural slope. The library has a thoroughly modern addition discretely placed under ground on the hill facing the amphitheater.
The credit card company MBNA, the major employer for about a decade beginning in 1993 is now gone but the community continues to thrive. The poet Edna St. Vincent Millay graduated from high school in Camden, on whose Mt. Battie her poem Renascence is based. Another famous woman, Eleanor Roosevelt, visited here in 1943.
Pulitzer Prize winning author Richard Russo has been a resident of Camden.
Member of Congress and War of 1812 veteran Joseph Hall made Camden his home and is buried in Mountain Cemetery. Ephraim K. Smart, another member of Congress, lived here in the mid-19th century.
The Fernald's Neck Preserve, partially in Lincolnville and managed by the Nature Conservancy, covers 315 acres of a peninsula jutting into Lake Megunticook. Densely covered with forest in many places, the area provides a refuge for many small and some large mammals. A wetland in the preserve's center supports many bog species such as sedges, blue flag iris, pitcher plant and rose begonia. Cliffs offer impressive views from the western edge.
Additional resources
A Scrapbook History of Camden-Rockport: From the Files of the Camden Herald. Lincolnville Center, Me. J. & I. History Press. 1985.
Camden Bicentennial Committee. 200 years of America 1776-1976: A View from Camden. Camden, Me. The Committee? 1976?
Camden Downtown Business Group. "Historic Downtown Camden." 2012.
Camden-Rockport Bicentennial, 1769-1969. Camden, Me. Camden Herald Pub. Co. 1969.
Carlson, Shirlee Connors. Camden-Rockport-Lincolnville, 1776-1976: The Life and Times of its People. Camden, Me. Town Crier. 1975.
Chamberlain, Joshua Lawrence. "Lofty Loyalty:" [address at the dedication of a memorial to honor William Conway, Camden, Maine August thirtieth, 1896.] Portland, Me. Lefavor-Tower Co. 1907. "William Conway is remembered for an act of heroism while he was Navy Quartermaster stationed near Pensacola, Florida in 1861 just prior to the outbreak of the Civil War. When ordered to haul down the Stars and Stripes by a southern secessionist superior, Conway refused declaring, 'That is the flag of my country. I have served it all of my life. I will not haul it down.' He was arrested and placed in irons. He was later released and continued to serve in the Union Navy until the end of the war. A tablet memorializing his brave deed was placed at the corner of Elm and School Streets in Camden in a great Conway Day celebration in 1906." Comment from http://coastlinememories.com/camden.points.interest.conway.house.html (accessed September 26, 2005.)
Crockett, Keith Lorimer. History of Education in the towns of Camden and Rockport. 1950.
Dietz, Lew. Camden Hills: An Informal History of the Camden-Rockport Region. Camden, Me. Printed for The Smiling Cow by The Camden Herald Press. c1947.
Dyer, Barbara F. "Grog Ho!": The History of Wooden Vessel Building in Camden, Maine. Camden, Me. B.F. Dyer. 1984.
Dyer, Barbara F. Home Sweet Home Camden, Maine. Rockport, Me. Printed by Camden Printing, Inc.1996.
Dyer, Barbara F. Vessels of Camden. Charleston, SC. Arcadia Pub. 1998.
Eells, Albert S. Papers, 1830-1911. Special Collections, Fogler Library, University of Maine. Orono. From the papers it appears that he had a grocery and dry goods business in Camden from the 1830's. He seems to have been in partnership with Walter Tolman at times and also did business as the firm Eells, Merriam and Crockett. He had a shipyard in Rockport beginning around 1835 and launched 25 to 30 vessels from this yard. The Eells family also had a lime quarry and kiln in Rockport. Albert Eells was a selectman in the town of Camden and also served as school agent in the 1860's.
Glimpses of Camden on the Coast of Maine. Newtonville, Mass. J.R. Prescott. 1904.
*Maine. Historic Preservation Commission. Augusta, Me.  Text and photo from National Register of Historic Places: http://pdfhost.focus.nps.gov/docs/nrhp/text/xxxxxxxx.PDF, http://pdfhost.focus.nps.gov/docs/nrhp/photos/xxxxxxxx.PDF
American Boathouse: 82000761.PDF
Camden Amphitheatre and Public Library: 13000285.PDF
Camden Great Fire District: 06001221.PDF
Camden Opera House: 86003539.PDF
Camden Yacht Club: 80000378.PDF
Chestnut Street Historic District: 91000325.PDF
Conway House: 69000010.PDF
Curtis Island Light: 73000263.PDF
Grace Bailey: 90001466.PDF
High Street Historic District: 88001843.PDF
Mercantile: 90001466.PDF
Norumbega: 74000174.PDF
Norumbega Carriage House: 82000766.PDF
Stephen Taber: 84001386.PDF
U.S. Post Office: 86002960.PDF
Wendameen: 92000273.PDF
Peyton Place. (Film)
"Walks and Talks of an American Farmer in England." VIEW. (a publication of the Library of American Landscape History) Summer. 2003. Internet version at http://www.lalh.org/view03.pdf (accessed May 3, 2006). Discusses the Bok Amphitheater in Camden.
Young, Frederick Osborne. Diaries, 1876-1917. Special Collections, Fogler Library, University of Maine. Orono. He was born around 1851. In 1876 he was living in Camden and in 1917 in San Francisco, California. In 1876 he was living in Camden and apparently was a teacher of penmanship and music and was making his own violin. In 1917 he was living in San Francisco, California and appeared to be interested in astronomy and followed the progress of Haley's Comet. In May of that year he traveled back to Maine.
National Register of Historic Places – Listings
American Boathouse
[Atlantic Avenue]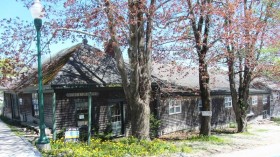 The American Boathouse, built in 1904, is one of the oldest if not the oldest recreational boathouses in Maine and possibly the country. Used to house Chauncy B. Borland's 130 foot yacht, "Maunaloa," it recalls images of Maine as a playground of the very rich at the turn of the century – an era of massive yachts and opulence and ostentation. Borland's position in this community is evidenced by the fact that he became the first Commodore of the Camden Yacht Club in 1912.This picturesque structure, more recently used for commercial purposes, is a landmark in Camden harbor and vividly recalls an era now departed.*
Camden Amphitheatre and Public Library
[National Historic Landmark, 55 Main Street]The 1929 Bok Amphitheatre at the Camden Library has been described by the Maine Historic Preservation Commission as "a remarkable outdoor structure in which the Landscape architect Fletcher Steele (1885-1971) combined classical architectural forms with a local setting in a way that set a new direction in modern landscape architecture. The amphitheatre, which is positioned behind the Colonial Revival style library (see photo above), is sited primarily to maximize the views through the adjacent Camden Harbor Park to the Camden waterfront."*
Camden Great Fire District
[Elm and Main Streets] On the west side of Camden Harbor, the Great Fire District in the heart of town is significant, in part, because it retains the scale and density of a typical, prosperous, 19th century New England seaside commercial district and because 18 of the 22 buildings were built in 1893, immediately following a disastrous fire. The Megunticook River runs under the district at its north end; the district ends at the bridge. It includes the Opera House, the French Block, the Grist Mill and Store, and other "blocks" from 1-15 Elm Street and from 10-41 Main Street.
After the fire the town required permanent buildings here to be built of brick. Many of the new buildings represented a tremendous investment. In addition, they reflect architectural styles and materials that were popular in small New England towns at the end of the 19th century. Through many economic changes since then, the District has kept its late 19th century appearance while remaining commercially viable. It is a small, New England commercial district serving a seaside town, adapted to the needs of tourists.*
Camden Opera House Block
[US Route 1] The Opera House Block is a multi-purpose brick structure of 3½ stories, overlooking the town common near the center of the business district. Its design features the transition between the Romanesque Revival of the 1880s-90s and the more austere Neoclassical Revival style of the 1890s-1910s that often appeared in public and institutional buildings.
Camden originally had its assessor's offices, lock-up, and steam fire engine housed in the rear of the building. Today it maintains its town office in the former post office space, and its police station in the original town space in the rear.* [See photo above.]
Camden Yacht Club
[Bay View Street]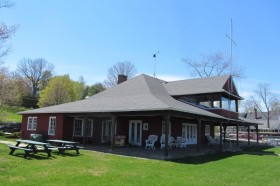 Founded in 1906, the Yacht Club initially leased a shorefront property and cottage as a wharf and clubhouse. In 1912 Cyrus H. K. Curtis, founder of the Ladies Home Journal and publisher of the Saturday Evening Post and an avid Camden yachtsman, erected a very attractive and fully appointed clubhouse at one of the finest wharf locations in the Harbor.
Curtis retained John Calvin Stevens to design it in the Shingle Style. Sumptuously furnished and built with the finest materials, it cost $60,000, a very large sum for the period. Curtis offered the building to the Yacht Club at a nominal rent. He conveyed it to the Town in 1926, stipulating that it be used "perpetually for Yacht Club and other Community purposes…." *
Chestnut Street Historic District
[Chestnut Street from Elm to Beacon Avenue including parts of Penobscot, Pleasant and Wood]The district ranges from mid-Federal period architecture to the early twentieth century. Styles include Later Federal period, Greek Revival, Gothic, Queen Anne, and Shingle. Twentieth century styles include Dutch Colonial Revival and Renaissance Revival.
The district encompasses over two hundred years, originating with large farmsteads and pastures. Each lot is derived from one of four large tracts controlled by early Camden families. Among the 85 historic properties are the Chestnut Street Baptist Church, the Village Green, the Post Office, St. Thomas Episcopal Church, the Nathan Brown House (the oldest from 1780, at 63 Chestnut Street), and the old YMCA building.*
[A complete description of the district may be found at http://pdfhost.focus.nps.gov/docs/nrhp/text/91000325.PDF (accessed January 14, 2015)]
Conway House
[Conway Road, Camden-Rockport] The 18th Century Conway farm house, is one of the earliest in the region. Built in the 1770s, it is situated on the Camden-Rockport line and was the home of Robert Thorndike, Jr. from 1807 until 1825. He is considered to be the first white male child born in the community.
The Cape Cod design, 22′ x 30′, is an example of early 18th century simple rural construction. The original house has been expanded, but no later than the early 1800's. A barn and blacksmith shop on the property date from the same period. [Maine State Park and Recreation Commission photo]*
Curtis Island Light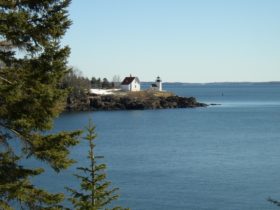 [Camden Harbor] Curtis Island Light, or Negro Island Light as it was called for 100 years, was built in 1836. The first keeper was H. K. M. Bowers, who served until 1841. The light station apparently fell into disrepair because in 1896 it was ordered rebuilt.
For many years the island was a signal station for the Boston-Bangor boats, many of which stopped at Camden. This small island also served as a favorite picnic spot for Camden residents and visitors. In 1934 the town honored one of its most distinguished summer residents, Cyrus H. K. Curtis, when the name of the island was changed to Curtis Island.*
Two-masted Schooners
GRACE BAILEY (two-masted schooner), National Historic Landmark
MERCANTILE (two-masted schooner), National Historic Landmark
STEPHEN TABER (two-masted schooner), National Historic Landmark
[Camden Harbor] The most common American vessel type was the two-masted coasting schooner. Developed in the mid-to-late 18th century, they reached a more or less standard form by the mid-19th century, a design that continued to be built into the first decades of the 20th century. A major feature in the two-masted schooner was the presence of a centerboard. Tens of thousands were built and operated throughout the U.S. in the 19th and early 20th centuries. All three were in the Camden Windjammer tourist fleet as of 2015.
The "freight trucks" of their time, the they carried coal, bricks, iron ore, grain, oysters, and other bulk products. Only two other two-masted coasting schooners survive in the United States: Lewis R. French (1871) [see Rockland] and  Governor Stone (1877) [Florida in 2015]. All but the Governor Stone are in the Camden/Rockland Windjammer tourist fleet in 2015.*
High Street Historic District
[Roughly High Street between Main Street and Sherman Point Road, and Junction of Main Street and Atlantic Avenue] The District, a long irregularly shaped 65-acre area bisecting High Street (U.S. Route 1), includes portions of Eaton, Harbor, Sea, and Upper High Streets. The residential area contains 61 historic properties. Buildings in the district share compatible characteristics of scale, materials and siting, offering examples of architectural styles of the 19th and early 20th centuries. The earliest, modest in scale and detail, date from about 1800. Later styles include Federal period, Greek Revival and Queen Anne. The Colonial Revival style is found in the 1928 Camden Public Library.* [A complete description of the district may be found at http://pdfhost.focus.nps.gov/docs/nrhp/text/88001843.PDF (accessed January 14, 2015)]
Norumbega and the Norumbega Carriage House
[High Street] Norumbega, in the High Street Historic district, is one of the great late nineteenth century villas of the Maine coast. Erected by Joseph B. Stearns at a cost of $100,000, it was built between 1886 and 1887 from plans by G. B. Jennings, a New York architect. It was designed in the popular Queen Ann style of the 1880's with its emphasis on picturesque effect and varied surface treatments. The house has walls of roughly faced cobble stones with brick and wooden trim. The principal façade, composed of three sections, faces west toward Route One. The central section rises three stories.
The Norumbega Carriage House, built in, or shortly after, 1886, is a remarkable building in the Queen Anne style, complementing the main house "Norumbega." The 2 1/2  story carriage house is of field-stone and frame construction, cross-gabled roofs, shingled siding (except where stone is exposed), and a tall tower attached to the east corner of the building.
Although originally part of the "Norumbega" estate, the Carriage House is now separately owned. Designed, like Norumbega, by Arthur B. Jennings, the Carriage House is unique, reflecting the opulence and taste of the wealthy summer residents of the period.*
SURPRISE
[(schooner-yacht), Camden Harbor] Built in 1917-18 by the Rockport, Massachusetts shipyard of Waddell Brothers, the Two Masted Schooner Surprise was designed by the noted naval architect Thomas F. McManus (1856-1938. It is one of only seven schooner yachts known to have been designed by McManus, who is thought to have produced over 450 designs for vessels.
Unlike the two-masted working schooners noted above, Surprise is believed to be the first "fisherman type" schooner yacht built, conforming to the design and strength of Grand Banks fishing schooners. In 1986 a substantial rebuilding was completed. It included the installation of a new engine, and the redesign of the interior to provide accommodations for passengers. How ever, the vessel's most significant design characteristics, including hull form, deck plan, sail plan, and materials were retained. It sails in the windjammer fleet out of Camden.*
US Post Office
[Chestnut Street]The Post Office was built in 1913, one of thirty-three new post offices throughout the United States that year. It was one of the first buildings designed by Oscar Wenderoth as Supervising Architect for the U. S. Treasury.
His buildings characteristically employed Renaissance Revival stylistic details and the post offices designed during this administration brought the ideals of the Beaux-Arts movement to small cities and towns.*
WENDAMEEN
[(Yacht), Camden Harbor] Built in 1912 for Connecticut businessman Chester W. Bliss, the two-masted Yacht Wendameen is a vessel now employed in the coastwise passenger excursion business. Designed by the nationally-noted naval architect John G. Alden and built by the Adams Shipbuilding company of East Boothbay, she is considered to be one of the earliest and best surviving examples of her design. After a period of neglect, it was rehabilitated and returned to service in 1990.*