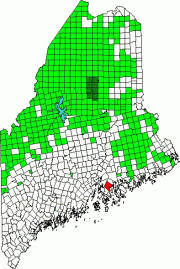 | Year | Population |
| --- | --- |
| 1970 | 1,814 |
| 1980 | 2,308 |
| 1990 | 2,648 |
| 2000 | 2,960 |
| 2010 | 3,120 |
Geographic Data
N. Latitude
43:50:31
W. Latitude
69:36:24
Maine House
District 89
Maine Senate
District 13
Congress
District 1
Area sq. mi.
(total) 46.1
Area sq. mi.
(land) 22.1
Population/sqmi
(land) 141.2
County: Lincoln

Total=land+water; Land=land only
[BOOTH-bay] is a town in Lincoln County, incorporated on November 3, 1764. In 1842 it set off land to form Townsend, later to become Southport in 1850.
Boothbay, named from the town in England,* includes Damariscove Island, an early fishing outpost for Europeans.  It provided critical food in the form of fish to the starving Pilgrims.
Harvesting the sea is still a significant occupation in the area.  The short 1940 vintage film Maine Marine Worms illustrates the tough business of working the tidal flats. Now preserved at Northeast Historic Film, it was filmed in Boothbay and at West Point Island in Phippsburg.  Just close the new window tab to get back to the Encyclopedia.  See Bloodworm Harvests for more information.
Sharing the fate of many towns, when King Phillip's War spread in 1675, residents who had settled as early as the 1730's fled under increasing attack from the Indians. After a brief respite, they left again in 1689 abandoning the settlement.
These days, the Boothbay region is a center of summer tourist activity, with the Boothbay Playhouse and the Railroad Museum being two of the attractions. East Boothbay has been for many years a boat building center for commercial vessels and yachts.
The Washburn & Doughty boat building facility was destroyed by fire a year after the photo above was taken.  It has since been replaced.  Two centuries of Maine boat building is part of heritage of Hodgdon Yachts in East Boothbay.
The schooner-like yacht Wendameen, listed on the National Register of Historic Places, was built here in 1912 and is now based in Camden.
Boothbay was named for Old Boothbay in Lincolnshire, England, at Welton le Marsh. It is the site of the Newagen settlement occupied in the early 1630's by fishermen. Henry Curtis purchased from Chief Robinhood the right to settle there in 1666 but in the Second Indian War the settlement was destroyed and not reoccupied for 40 years.
In 1730, Col. David Dunbar established the settlement of Townsend (named for Lord Charles Townsend the second viscount of England) with 40 families who resisted further Indian attacks long enough to incorporate the town under its current name in 1764.
Boothbay Harbor became a separate town in 1889 from additional land set off from Boothbay.
After the war of 1812, when the area was harassed by the British, fishing, shipbuilding and shipping developed as major economic activities, followed later in the century by shipments of ice to other parts of the country. The ice trade was short-lived as refrigeration was introduced in the early 1900's.
Form of Government: Town Meeting-Select Board-Manager.
Additional resources
*See Glossary, source number 7.
Chadbourne, Ava Harriet. Maine Place Names and The Peopling of its Towns
*Maine. Historic Preservation Commission. Augusta, Me.   Text and photos from National Register of Historic Places: http://pdfhost.focus.nps.gov/docs/nrhp/text/xxxxxxxx.PDF and http://pdfhost.focus.nps.gov/docs/nrhp/photos/xxxxxxxx.PDF
Knight-Corey House: 80000237.PDF (1979) The Commission reported in 1979 that the House was built in 1784; however, the sign at the House in 2015 indicates "Est. 1768."
O'Brien-Merrill, Julie. One Hundred Years of Bayville History, 1911-2011. Maine. 2011.
Isaacson, Dorris A. Maine: A Guide Downeast.
Rumsey, Barbara. (e.d.) Boothbay Region Historical Sketches.  Selections from Out of Our Past. 3 Vols. Boothbay Harbor, Me. Boothbay Region Historical Society. ??, c1999, 2006.
Rumsey, Barbara. Colonial Boothbay: Mid-1600s to 1775. East Boothbay, Me. Winnegance House; Boothbay Harbor, Me. Boothbay Regional Historical Society, c2000.
Thomas, Jennifer L. Archaeological Investigations in the Boothbay Region, Maine. Orono, Me. 1995 (Thesis (M.S.) in Quaternary Studies–University of Maine, 1995)
Vermilye, Jerry. The Boothbay Playhouse: A Professional History: 1937-1974. Bloomington, IN AuthorHouse. c2010.
National Register of Historic Places – Listings
Archeological Sites
[more than ten archaeological sites; addresses restricted]
Damariscove Island Archeological Site
[Address Restricted]
Damariscove Lifesaving Station
[See Damariscove Island]
Knight-Corey House
[Corey Lane] The Knight-Corey House was built by Nicholas Knight in 1784* on the site of an inn built by John Murray, a very prominent early resident of the Boothbay region. This lovely example of an 18th century house was, in 1979, in an excellent state of preservation.  It appears to be so as well in 2015. In 1979 it featured gunstock posts, five working fireplaces, including the original kitchen fireplace with its twelve foot hearth, and a unique and beautiful enclosed circular stairway. This early Federal house is an outstanding feature of the Bristol peninsula on the central Maine coast.*
The entire house, ell and large attached barn were occupied by the Boothbay Theatre Museum in the late 20th century. Its holdings dated from the late Middle Ages, included stage jewelry, costumes, portraits, photographs, sculpture, playbills, figurines, holograph material, set models and toy theatres. The extent and importance of the museum holdings had been nationally recognized. Its contents were sold at auction around 1990.
In 2015 the house was a private residence.