| Year | Population |
| --- | --- |
| 1970 | 2,220 |
| 1980 | 2,340 |
| 1990 | 2,329 |
| 2000 | 2,411 |
| 2010 | 2,607 |
Geographic Data
N. Latitude
44:25:07
W. Latitude
70:45:58
Maine House
District 117
Maine Senate
District 18
Congress
District 2
Area sq. mi.
(total) 74.8
Area sq. mi.
(land) 66.0
Population/sq.mi.
(land) 39.5
County: Oxford

Total=land+water; Land=land only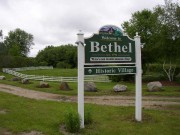 [BETH-el] in Oxford County, one of the oldest villages in western Maine, was incorporated on June 10, 1796 from Sudbury Canada Plantation. After setting off land to form part of Hanover (1843) and annexing some land from Hanover (1849), Bethel attained its current boundaries.
Its name signifies the "House of God," possibly inspired by its beautiful location among the Oxford Hills.
According to Isaacson, "The last foray of Indians into Maine was made in August 1781 when a party from St. Francis, Quebec, attacked Bethel, plundering and holding two settlers captive until after the end of the Revolution." (p. 366)
The historic Middle Intervale Meetinghouse was built in 1816 by the Baptists and Methodists, with financial help from the town. Altered several times in the 19th century and known as the "Union Church" and the "Center Meetinghouse," it was used for town meetings for many years.
The Dr. Moses Mason House was built 1813-1815 for one of Bethel's most distinguished residents. Rufus Porter (1792-1881), an important early American painter, added murals to the interior. A physician, Mason was also active in town affairs, became a member of Congress, and served as a trustee of Gould Academy. The house is now home to the Bethel Historical Society.
Timothy J. Carter, a U.S. Representative in the early 19th century, was born here. He served only a few months before his death in office.
Bethel's municipal office is located in the historic Cole Block on Main Street. [See below.] The library is  conveniently located in the village. Two local institutions of note are Gould Academy, a private co-educational preparatory school; and the Bethel Inn, a traditional New England hotel.
The town has retained its rural character outside the village, as illustrated in this 1973 photo of a barn taken by the U.S. Environmental Protection Agency during a tour of western Maine as part of its "Program to Photographically Document Subjects of Environmental Concern." The photo of the bicyclists was taken at the same time.
Credits for the EPA photos: Barn in Bethel, National Archives # NWDNS-412-DA-8208; Residential Street, National Archives # NWDNS-412-DA-8204
The old Woodland Cemetery is a sprawling, terraced place on the Songo Pond Road (combined routes 5 and 35) at 44°23'25.2″ N 70°47'52.2″ W. Songo Pond, about 200 acres,  is just over the town line in Albany Township. It is long, narrow and rather shallow.
---
West Bethel
This village is west of Bethel's main village on U.S. Route 2 along the Androscoggin River.
---
The Pleasant River Motel and the Pleasant River Campground are located here. The Androscoggin River is a major attraction for canoeists, kayakers, and campers.  The Gilead to West Bethel canoe trip is a pleasant one, terminating at Newt's Landing.
---
---
Form of Government: Town Meeting-Select Board-Manager.
Additional resources
Bean, Eva. East Bethel Road. Bethel, Me. Citizen Print Shop. 1959.
**Bennett, Randall H. Bethel, Maine: An Illustrated History. Bethel, Me. Bethel Historical Society. 1991.
Burgess, Sumner L. A History of the West Parish Congregational Church, 1796-1996. Bethel, Me. West Parish Congregational Church. 1996. (Bethel, Me. Maine Press)
Crosby, Ruth. I Was a Summer Boarder. Boston. Christopher Pub. House. 1966.
Howe, Stanley Russell. Bethel, Maine: A Brief History. Charleston, SC History Press. 2009.
Howe, Stanley Russell. Dr. Moses Mason and His House. Bethel, Me. Bethel Historical Society. 1981.
Lapham, William Berry. History of Bethel, Formerly Sudbury, Canada, Oxford County, Maine, 1768-1890; with a brief sketch of Hanover and family statistics. Augusta, Me. Press of the Maine Farmer. c1891.
Made in Bethel: A History of Mills and Manufacturing in Bethel, Maine, 1774-1976. Bethel, Me. Bethel Historical Society in conjunction with the Bicentennial exhibit. 1976.
*Maine. Historic Preservation Commission. Augusta, Me.   Text and photos from National Register of Historic Places: http://pdfhost.focus.nps.gov/docs/nrhp/text/xxxxxxxx.PDF and http://pdfhost.focus.nps.gov/docs/nrhp/photos/xxxxxxxx.PDF
Broad Street Historic District: 77000078.PDF
Cole Block and Odeon  Hall: 98000310.PDF
Gehring Clinic: 76000105.PDF
Intervale Meetinghouse: 98000721.PDF
Lower Meeting House and East Bethel Cemetery: http://www.maine.gov/tools/whatsnew/index.php?topic=mhpc_recent_listings&id=559862&v=article (accessed February 22, 2015)
Moses Mason House: 72000110.PDF
Philbrook, John M. House: 95001465.PDF
Philbrook, Samuel D. House: 95000216.PDF
Prudden, T. M. Dr. Gehring's Work at Bethel, Maine: A Paper Read before the Practitioners Society of New York, 1909. 1909. [Orono. University of Maine. Raymond H. Fogler Library. Special Collections.]
True, Nathaniel Tuckerman. The History of Bethel, Maine. Bowie, Md. Heritage Books. c1994.
National Register of Historic Places – Listings
Broad Street Historic District
[Broad Street and the Common, and along Church and Park Streets] Broad Street was part of the route from Bethel Hill to Norway during the town's early settlement. In 1807, it was accepted as a town way and considerably widened for training of militia, hence the name. The the Bethel Common, on the northwest side, was the gift of Captain Eleazer Twitchell, generally considered the first settler of Bethel Village. Various events have been held here including the Centennial Celebration of the 1781 Indian Raid, the 1976 Bicentennial Celebration, and the annual Molly Ockett Day. The fountain in the center dates from about the time of the first municipal water supply in the 1890s and has been altered somewhat since.
The District contains 27 historic structures, including the Bethel Inn, the Bethel Library, and the Moses Mason House (Bethel Historical Society).* [See photos above.]
Cole Block
[19 Main Street]The 1891 Cole Block is a four-story Queen Anne style frame building and is the most architecturally prominent commercial block in Bethel. It is owned by the Town and contains its municipal offices. The Block was built for brothers Fred and Elmer Cole of East Bethel. Soon after completion, the Coles could not make payments on their mortgage and lost the property to the Bethel Savings Bank. The bank was the original occupant of half of the first floor and remained there until 1974. A variety of businesses have been located in the building including a millinery shop, a jewelry store and another bank. At the rear were rooms that housed the town's succession of newspapers, as well a photography studio and law office.
The second floor had, from the 1890s until 1968, been used in part by town officials. Odeon Hall, which occupied the remainder of the interior, was the center of Bethel's social life well into the twentieth century. It hosted Gould Academy graduations, dances, plays, socials, minstrel shows, concerts, political caucuses, Chatauqua meetings, and both silent and sound movies. In the 1960s, it was used for Roman Catholic religious services.
The Cole Block is the one of the most architecturally significant and least altered commercial buildings in Bethel. In both its scale and detailing, the building is a visual landmark along Main Street.* [See photo above.]
Gehring Clinic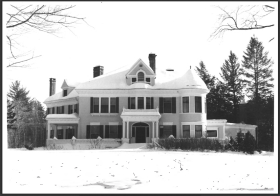 [off Maine Route 5] The National Training Laboratory Conference Center in Bethel was once the home and clinic of Dr. John George Gehring (1857-1932). Here he used methods of suggestion and auto-suggestion in psychotherapy early in the 20th century. Born in Cleveland, he earned a graduate degree in medicine from Western Reserve in 1885, and became a professor at Ohio's Wooster University. While a practicing surgeon in Cleveland, he had to resign because of his own nervous condition. At 30, he and his wife moved to Bethel. Mrs. Gehring was the daughter of Dr. Nathaniel Tuckerman True, principal of Gould Academy and founder of the Farmer's Club Movement in Maine. [Frank A. Beard photo]
Dr. Gehring learned of Dr. Frederick Gerrish, the pioneer psychologist in the treatment of nervous disorders by suggestion and auto-suggestion. After investigation of this approach, he used it in his clinic. An outlet for Gehring's own tensions was botany and landscape gardening. The house was surrounded by extensive lawns, flowers and shrubs worked by the doctor and his patients. Mrs. Gehring helped with the clinic as one devoted to helping young people and the welfare of her husband's patients. Dr. Gehring retired from active practice around 1925. He remained in Bethel until his death in 1932.*
Hall House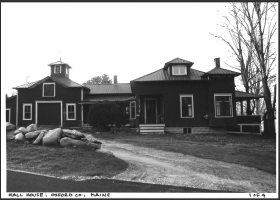 [10 Kilborn Street] The House is the best, unaltered example of Craftsman style detailing in Bethel and yet its origins are a mystery. Built in 1910 by a retired farmer Dana B. Hall and his wife Alfaretta Clark Hall, the low brown shingled house with two porches, recessed entry, tower and carriage house sits on the edge of the community. The property is, to some degree, an example of Craftsman architecture which reflects both the influences of Gustav Stickley's designs and the traditional layout of rural Western Maine homesteads. [Christi Mitchell photo]
The work was completed in just over three months. It is possible that plans for the building were adapted from a commercial plan book or publication such as Gustav Stickley's The Craftsman; however, no plans have been found and local tradition says that it was designed by Mrs. Hall. The interior woodwork is unpainted and plain, and the open floor plan places a nook next to the fireplace. Built-in features, including a bookshelf and buffet, add character to the smallish rooms. The low, broad, overhanging roof with exposed rafter tails emphasizes the horizontal nature of the structure.
Lower Meeting House and East Bethel Cemetery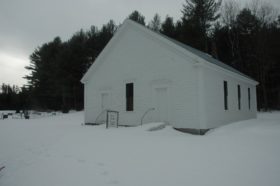 [1797 Intervale Road] In East Bethel, the Lower Meeting House is a classic example of a meeting house or church erected by some rural communities in Maine in the four decades prior to the Civil War. Built as a 'union' church, it was initially used by the town's Methodist and Baptist congregations. The plain building exhibits late Federal style massing and ornamentation. It has a handsome interior with straight wooden pews, wainscoting, choir loft and pulpit.
Erected by 1831 and somewhat remodeled in the decades after the Civil War, it is an example of a type of rural church found throughout Maine featuring a simple rectilinear footprint, gable front roof and austere classical proportions. Next to the church, and historically associated with it, is the East Bethel Cemetery, which served the surrounding community.*
Mason, Dr. Moses, House

[Broad Street] Rufus Porter (1792-1881), an important early American painter, popularized the use of local scenes and scenery in large scale painting. Murals in the Mason House are an excellent example of the work done by Porter and his pupils. Porter was also an inventor and founder of the Scientific American. The Mason House is important itself as a handsome Federal house, essentially unchanged on the exterior. The Bethel Historical Society uses it for meetings and as a research facility. It is one of many old homes surrounding the Common along with the Bethel Inn and Bethel Library.
Dr. Moses Mason (1789-1866) was a leading figure in Bethel. He gained his medical education by apprenticeship to a local doctor, starting his practice in 1813. In 1814 he became Bethel's first postmaster serving 20 years; the post office was in the rear of his house. He was commissioned Justice of the Peace in 1821 and served as Representative to Congress from 1833-37. A successful businessman, Mason built sawmills in Mason Town, a village named for him. He was a Bethel Selectman for 14 years and a Trustee of Gould Academy from 1854 until his death. Dr. and Mrs. Mason raised Ada Twitchell, the daughter of cousins. The house was owned by her descendants until 1971, the last of whom was Ada Everett Durrell.* [See Bethel Historical Society photo above.]
Middle Intervale Meetinghouse and Common
[757 Intervale Road] Built in 1816, remodeled about 1825 and again in 1857, the Meetinghouse is a wood frame building with Greek Revival stylistic features. In both form and detailing, the it is representative of early to mid-nineteenth century religious building found in many small Maine communities. It stands at the northeast corner of the Common, originally a public training ground for the local militia.* [See photo above.]
"Originally a two-and-a-half story meetinghouse with a tower and tall spire on the south gabled end, the Middle Intervale Meetinghouse was constructed in 1816 by the local Methodists and Baptists with financial assistance from the town. Used for town meetings for many years, and referred to as the "Union Church" or "Center Meetinghouse," the structure may have been patterned after a Baptist meetinghouse (1803) at Paris Hill Village." [from Randall Bennett, Oxford County, Maine: A Guide to Its Historic Architecture. Bethel, Me. : Oxford County Historic Resource Survey, 1984]
Philbrook, John M., House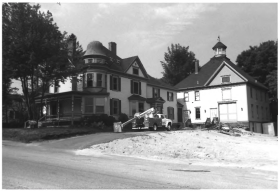 [32 Main Street]Built in 1895, the John M. Philbrook House is a large Queen Anne style home, said to be "the most architecturally sophisticated building of its type and period on Bethel's Main Street."** The Bethel News noted that the site "…commands superb views of the surrounding mountains. . . . and [the] a handsome modern residence, surrounded by beautiful, well-kept grounds, enhances the attractiveness of Bethel's main thoroughfare." [Kirk F. Mohney photo]
Born in Shelburne, New Hampshire, Philbrook (1840-1923) was educated at Gould Academy and moved to the town in 1862. He engaged in farming, lumbering and later buying and selling cattle and sheep. His political career started with his election to the State legislature in 1893. In 1897 he began a six year period of service as a county commissioner and in 1903-04 he served in the State Senate. His older brother Samuel D. Philbrook had built a substantial Italianate house on Main Street in 1879.*
Philbrook, Samuel D., House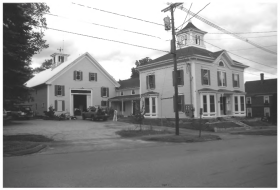 [162 Main Street] Built 1878-79, this Italianate style home and attached barn was the residence of businessman Samuel Delano Philbrook. Near the commercial district, it has been characterized as "the finest Italianate residence in Bethel and one of the most important in Oxford County."**
Philbrook was born in nearby Gilead in 1838, the son of Harvey and Susannah (Wright) Philbrook. After his first wife, Angilina Chapman, died in 1862 he married Emily J. Kimball in 1866. He was a successful businessman, primarily in farming and livestock. From 1885 to 1893 he was president of the Bethel Savings Bank.* [Kirk F. Mohney photo]