| Year | Population |
| --- | --- |
| 1970 | 878 |
| 1980 | 1,140 |
| 1990 | 1,219 |
| 2000 | 1,290 |
| 2010 | 1,525 |
Geographic Data
N. Latitude
43:50:29
W. Latitude
70:42:46
Maine House
District 68
Maine Senate
District 26
Congress
District 1
Area sq. mi.
(total) 36.3
Area sq. mi.
(land) 35.3
Population/sq.mi.
(land) 35.2
County: Cumberland

Total=land+water; Land=land only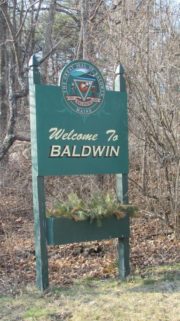 [BALL-dwin] is a town in Cumberland County, incorporated on June 23, 1802 from the former Flintstown Plantation. From the half century 1821-1871 it ceded land to Sebago four times and Hiram twice before stabilizing its borders in 1871.
Baldwin, named for Loammi Baldwin, one of the early proprietors,* is the only one of the seven towns surrounding Sebago Lake that has no frontage on that lake, being cut off by the town of Sebago.
Some abandoned track of the old Portland and Ogdensburg Railroad, popularly known as the Mountain Division, sweeps westward, then north along the Saco River. The railbed is developing as a recreational path for towns in the area.
East Baldwin village is located in the southeast corner of the town, at the junction of routes 11 and 113, less than two miles from the village of Steep Falls in Standish.
West Baldwin village is over five miles to the northwest on Route 113. It sits at the western edge of the Saddleback Hills, which span the width of the town.
Hiram Nature Study Area consists of 60 acres of woods along Saco River, just south of the Hiram town line in Baldwin, near the Central Maine Power Company dam, with self-guiding nature trails, nature tours, picnic area and fishing.
Form of Government: Town Meeting-Select Board.
Additional resources
*See Glossary, source number 7.
Barnes, Jack. Sebago Lake, West Shore: Standish, Baldwin, Sebago, and Naples. Charleston, SC. Arcadia Publishing. 2000.
Daybook, 1843-1848. A daybook from an unidentified general store in Baldwin, Maine. Entries from 1843 to 1847 are identified as being from Baldwin; those from 1848 are headed Sebago. The volume records names of customers, their purchases, and prices paid. Goods purchased include tea, molasses, pork, candles, fish, flannel, tobacco, etc.  [Orono, Me. University of Maine. Raymond H. Fogler Library. Special Collections.]
Geological Survey (U.S.). Augusta (Me.) District Report on storm of August 21, 1939, near Baldwin, Maine and resulting run-off and damage. 1939.
**Maine. Historic Preservation Commission. Augusta, Me.   Text and photo from National Register of Historic Places: http://pdfhost.focus.nps.gov/docs/nrhp/text/83003638.PDF and http://pdfhost.focus.nps.gov/docs/nrhp/photos/83003638.PDF
Massachusetts. General Court Resolves relating to the grant of the township of Baldwin, Maine: with a Plan of Baldwin, Copied and Reduced from the Original in the Land Office. Boston, Mass. The General Court. 1815.
Mitchell, H. E. The Town Register: Standish, Baldwin, Cornish, Limerick, Limington. 1905. Brunswick, Me. The H. E. Mitchell Co. 1905.
Souvenir of Baldwin, Maine 1912. Brunswick, Me. Published by the Maine Map & Register Co. 1912.
National Register of Historic Places – Listings
Burnell Tavern
[Maine Route 113 West Baldwin] This substantial 13-room house, the oldest structure in Baldwin, has been a well-known local landmark for many years. Built by Gideon Burnell in 1737, it was an early and popular stopover on the Pequawket Trail between Portland and Fryeburg on the way to central New Hampshire. A simple structure, its lines are clean and proportions true as a fine example of New England colonial architecture. Burnell was a prosperous farmer who became an entrepreneur, eventually owning a grist and a saw mill and running the local general store.** [Frank A. Beard photo]