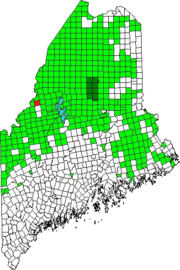 The township is north of Moose River in northwestern Somerset County. It should not be confused with Bald Mountain Township T2 R3 BKP EKR, which contains a section of the Appalachian Trail, in northeastern Somerset County east of Caratunk.
The township apparently was once a Plantation. The U.S. Census reports four years of population counts: 1870 (8), 1880 (8), 1910 (15), 1920 (82).
U.S. Route 201 barely touches Bald Mountain Township T4 R3 in its southwestern corner. The Bald Mountain Road intersects 201 and leads east to Heald Stream and Heald Stream Falls at N45° 44′ 35.32″  W70° 15′ 48.04″.  Primitive (permission but no facilities) campsites are available along the road.
Boundary Bald Mountain is a 3640 foot, three mile long mass, accessible by trails from the Bald Mountain Road.  Mud Pond (N45° 44′ 20.99″ W70° 15′ 23.21″) is quite small but features a campsite nearby.
Additional resources
Will, Richard. "Phase 0 Precontact Period Archaeological Assessment: Bingham Wind Project: Bingham and Mayfield (Somerset County), Kingsbury, Parkman, and Abbot (Piscataquis County), Maine." Submitted to Maine. Department of Environmental Protection. http://www.maine.gov/dep/ftp/WindPowerProjectFiles/BinghamWind/application/8_Arch_Historic.pdf (accessed November, 15, 2014)