The Bald Eagle, symbol of the United States of America and once threatened with extinction, has made a substantial comeback. It is now listed as "threatened" rather than "endangered."
The St. Croix River, bordering Canada in Washington County, has a thriving colony of Bald Eagles.  They fish the river just as humans are doing at the same time from their canoes.  This international river features camp sites on both the U.S. and Canadian sides and is an attraction for fishing and family outings.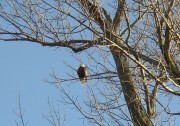 They also may be seen along the Kennebec River near relatively populated areas. This one was spotted in Gardiner, just south of the city center on U.S. Route 201, in front of several houses.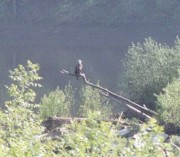 The eagle at right is perched on a fallen tree trunk overlooking the Kennebec River slightly north of the Gardiner city line in Farmingdale.
More on Maine birds.