| Year | Population |
| --- | --- |
| 1970 | 213 |
| 1980 | 306 |
| 1990 | 332 |
| 2000 | 323 |
| 2010 | 326 |
Geographic Data
N. Latitude
45:09:24
W. Latitude
69:03:39
Maine House
District 120
Maine Senate
District 4
Congress
District 2
Area sq. mi.
(total) 39.2
Area sq. mi.
(land) 39.2
Population/sq.mi.
(land) 8.3
County: Piscataquis

Total=land+water; Land=land only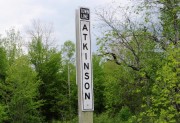 [AT-kin-sun] is a town in Piscataquis County, incorporated on February 12, 1819 from the unorganized township T2 R6 NWP. In 1837 it annexed land from Milton.
The name derives from a New Hampshire resident, Judge Atkinson, who owned much of the area and donated a small library to the community. He had many one hundred acre lots laid out in 1807.
According to a compilation from the 1870 History of Piscataquis County,
Atkinson's first settler was Bylie Lyford, who arrived in 1802, cleared land, built a log cabin and raised crops. In 1804 he brought his family. Son, Thomas Lyford was the second child born in the county. Other settlers soon came in.
A passable road was constructed through the Charleston area to Bangor. A road leading westward from Atkinson continued through Garland and Dexter. In 1810 there were 169 inhabitants of Atkinson and by the year 1820 there were 245. In 1818 the town's first doctor, E.W. Snow, arrived.
In 1807 the Colcord brothers from Bangor used the power on Alder Stream to establish a grist mill and a sawmill.  According to George Varney,
In 1820, Oliver Crosby, one of the two principal proprietors, moved into town and commenced farming on a large scale; holding for his own use 700 acres. His buildings were large and elegant, his orchard and grounds adjoining were laid out in a tasteful manner, and his farming was skilful and successful. Mr. Crosby was a native of Billerica, Massachusetts, and a member of the bar in that commonwealth.
In the 1880s Atkinson had two churches, Methodist and Free Baptist, and ten public schoolhouses.  The 1880 census recorded 828 residents. Today the town has two small settlements, Atkinson Corners and Atkinson Mills, and less than half its 19th century population.
Just east of Dover-Foxcroft, its northern boundary, with Sebec, is defined by the Piscataquis river.
Form of Government: Town Meeting-Select Board.
Additional resources
Loring, Amsa. "Atkinson, Piscataquis County, Maine." based on a compilation from 1870 History of Piscataquis County.  http://www.trcmaine.org/community/atkinson (accessed January 8, 2014)
Varney, George J. A Gazetteer of the State of Maine. 1881. p. 81.