| Year | Population |
| --- | --- |
| 1970 | 592 |
| 1980 | 802 |
| 1990 | 897 |
| 2000 | 847 |
| 2010 | 1,019 |
Geographic Data
N. Latitude
44:57:30
W. Latitude
69:41:15
Maine House
District 118
Maine Senate
District 4
Congress
District 2
Area sq. mi.
(total) 43.5
Area sq. mi.
(land) 43.5
Population/sq.mi.
(land) 23.4
County: Somerset

Total=land+water; Land=land only
[AH-thens] Settled by Revolutionary War soldiers, this town in Somerset County was, incorporated on March 7, 1804. In 1821 it annexed land from Hartland, and later from Brighton in 1838 and 1862. Somerset Academy, the early educational institution, now acts as the town office, the American Legion hall, and a Christian Fellowship meeting place.
Athens is just east of Solon, which was incorporated five years later. As Ava Chadbourne put it, "When Athens was incorporated the name of the capital of Union Meetinghouse, incorporated 1840 ancient Greece was chosen for it by its inhabitants. At the incorporation of Solon, the name selected was that of one of the seven sages of Greece. Some lovers of ancient Greece and its lawgivers must have lived in this little town in Maine." It had a Greek Revival style meeting house at one point. The Union Meetinghouse, not a Greek Revival style, has served the community since 1840.
As have many rural communities, Athens has hosted a small agricultural fair for many years, including animal pulling contests, 4-H and other exhibits vying for blue ribbons, and a social gathering just after harvest time.
The main village in the town is north of Skowhegan following Route 150 to the junction with state routes 43 and 151. It is located at the fork of the East and West branches of Wesserunsett Stream, which joins the Kennebec River just below Skowhegan.  The 110 year old Grange Hall is in the middle of the village.
Form of Government: Town Meeting-Select Board.
Additional resources
Athens Victory Club (Me.) A Historical Sketch of Athens, Maine: Commemorative of its Sesquicentennial July 2-5, 1804-1954. Athens, Me. Published by the Athens Victory Club, 1954. (Skowhegan, Me. The Skowhegan Press)
Ava Harriet Chadbourne, Maine Place Names and The Peopling of its Towns.
Chatto, Clarence I. History of Athens. Auburn, Me. Chatto and Turner. 1911. (Extracted from: East Somerset County Register 1911-12; Maine State Library]
*Maine. Historic Preservation Commission. Augusta, Me.  See additional text and photos from National Register of Historic Places: http://pdfhost.focus.nps.gov/docs/nrhp/text/84001499.PDF, http://pdfhost.focus.nps.gov/docs/nrhp/photos/84001499.PDF
Maine. Justice of the Peace Court (Athens). Isaiah Dore, Justice of the Peace docket, 1818-1830. [Maine State Archives. Augusta, ME]
Maine. Trial Justice Court (Athens). John F. Holman, Trial Justice docket, 1896 June 20-1917 Nov. 3. [Maine State Archives. Augusta, ME]
National Register of Historic Places – Listings
Somerset Academy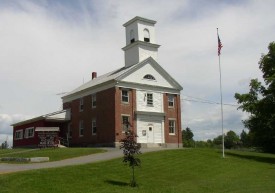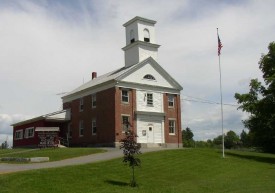 ---
[Academy Street] Somerset Academy  is a fine example of mid-19th century Greek Revival academic architecture designed by a noted architect of the period. It also reflects the strong emphasis placed on high quality education even in rural Maine during this period. The Academy was built in 1846, the money for it being raised by subscription. John Ware gave $200 and a half acre of land. The architect was Joseph Bigelow of Skowhegan who designed the handsome Abner Coburn Mansion in Skowhegan. *