| Year | Population |
| --- | --- |
| 1970 | 2,168 |
| 1980 | 2,226 |
| 1990 | 2,382 |
| 2000 | 2,583 |
| 2010 | 2,511 |
Geographic Data
N. Latitude
44:48:38
W. Latitude
69:56:21
Maine House
District 112
Maine Senate
District 3
Congress
District 2
Area sq. mi.
(total) 48.4
Area sq. mi.
(land) 47.5
Population/sq.mi.
(land) 52.9
County: Somerset

Total=land+water; Land=land only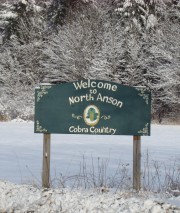 [AN-sun] formerly known as Plantation Number One in Somerset County, was incorporated on March 1, 1798. Settled in 1772, it was named for British Lord George Anson. During the 19th century it ceded land to Industry (1823) and New Portland (1830), and annexed land from Embden (1828) and New Vineyard (1840).
It has been known as Brookfield, Seven Mile Brook Plantation, and Titcomb Town. North Anson, now a village in the town, was briefly a separate town by that name between 1845 and 1855. The rocky Carrabassett River flows through North Anson to the Kennebec River in Madison.
In 1775, Benedict Arnold and his troops camped at Norridgewock Falls (near the current town office) from October 2nd to the 9th, 1775.
[Arnold remained] in rain and cold, whistling winds, and stormy skies; driving each division [of troops] at top speed, repairing bateaux, repacking wet provisions and carrying up the steep sides of the falls. (Calvert, p.338)
In the early 19th century, North Anson was home for David Bronson, a lawyer who became a state legislator, and a member of the U.S. Congress. North Anson split briefly (1845-1855); the green bar in the graph below represents the North Anson population in the 1850 census.
Two fires, in 1863 and 1913, destroyed most of North Anson's commercial development, and much of its early residential housing as well. The North Anson Grange was spared in both blazes.  There were as many as 20 merchants, and 24 manufacturing enterprises in North Anson as in any given year between 1880 and 1910, as well as a wide variety of professionals including physicians, insurance agents barbers, photographers and telegraph operators. The town supported two hotels, several lumber yards, and was a center for the trade and processing of wool from the regional sheep farms. The Grange first occupied its building in 1901 following years of commercial use.
During the mid-twentieth century many residents in Anson village (in the south), especially those near the Kennebec River, worked in the Madison paper mills. The "twelve o'clock whistle" not only signaled lunch time for the workers, but was a marker for life in town, including mothers admonishing children to be home "when the whistle blows."
The town office lies near the bridge to Madison in Anson village. The upper floors were once used for minstrel shows, community events, and town meetings. It was also the basketball court for the elementary school in the 1950's.  The eight grade Garrett Schenck School served Anson Village and the "bus kids" who were transported from the rural areas outside the village.
The boundary with Madison is the Kennebec River.  Unlike many western Maine towns, it has no mountains and no lakes, except for the small Nevens Pond on Pelton Brook.  Most of the population surrounds the two villages, the remaining area being heavily wooded and rural.
The Hilton Farm, on the Hilton Hill Road, near five corners west of Anson village, has been a landmark for the community for over half a century.
Benedict Arnold's Expedition Route – click a Bateau
<==

To Quebec                  To Beginning ==>



National Register of Historic Places – Listings
Anson Grange No. 88
[10 Elm Street, North Anson] Grange photos and certain historical information by Christi A.Mitchell for the Historic Preservation Commission.*
Bailey Farm Windmill
[Maine Route 16, North Anson] The c.1905 Bailey Farm Windmill, used to pump water, is an unusual octagonal frame structure that resembles the Portland Observatory of 1807. Built on the farm owned by Benjamin and Chester Bailey until 1908, it is a prominent local landmark in North Anson village.
Windmills are an unusual structure on Maine's dwindling number of farms. Little has as yet been uncovered to indicate their role in the state's agricultural development. As early as the 1890s the state's leading agricultural periodical, The Maine Farmer carried illustrated advertisements for mail order windmills. However, they have never been important components of Maine farms. In any case, most of were of open metal frame construction, making the octagonal wooden structure on the Bailey farm particularly notable.
Tradition holds that the Baileys were prominent local farmers, but little is known about the scale and nature of their operation.  The windmill apparently remained in use until the 1920s although the well continued to supply water via a gasoline powered engine.* [See photo above.]
Carrabassett Inn
[junction of Union Street and Maine Route 8, North Anson] Originally a single family residence, this two-story Greek Revival frame building was extensively remodeled about 1913 during its conversion into the Carrabassett Inn. It was the only inn at North Anson from the time it was established until it closed in the mid-1940s. The Inn is an important element in the town's commercial history. Greek Revival characteristics of the main block of the Inn suggest it was built in the 1850s.* (Kirk F. Mohney photo]
Steward-Emery House
[Main Street, .25 miles North of junction with Maine Route 16, North Anson] The Steward-Emery House is a locally prominent architectural landmark built about 1870 and remodeled at the turn of the next century. It is named for its original owner, lumber dealer Marcellus Steward, and the family who made the Colonial Revival style alterations.
The house is noteworthy for its many original interior finishes including perhaps the State's best preserved domestic painting in which objects are depicted with photographically realistic detail (trompe L'oeil). It has an interior decorative treatment that is apparently the work of the Portland fresco painter Wallentine Kieler.*  (Kirk F. Mohney photo]
Temples Historic District
[Madison Avenue, North Anson] The District includes four one-and-one-half story Greek Revival houses on adjoining lots. While not uncommon in central Maine, the Bunker, Jones, and Fletcher houses are exceptional examples of their type. Three such houses on the same small lane is unique. None can be perceived without reference to the others. [Frank A. Beard photo]
Mystery surrounds their origins but probably were built 1844-1858. Two of the original owners (Bunker and Jones) were manufacturers, Fletcher was a merchant, and Witherill was a house carpenter, whose profession suggests that he built his own house and may have been responsible for the other three.
The Witherill House is of the same period, shape, and style and links two of the temples with the third. Its early date (by 1852) makes the Italianate attic window unusual.*
Form of Government: Town Meeting-Select Board-Administrative Assistant.
Additional resources
Anson. Charleston, S.C. Arcadia Pub. 1998. Illustrations, historic buildings.
Calvert, Mary R. Dawn Over the Kennebec. 1986.
Chadbourne, Ava Harriet. Maine Place Names and The Peopling of its Towns.
Clark, Emma Folsom. History of Madison, Maine: With New Every Name Index. Rockport, Me. Picton Press, 2003.
Ela, David H. Vital records of Anson, Maine: Part 1. 1975. Compiled from Anson Town Book, volumes 1 & 2 for the years 1798 to 1855 and from Record of Marriages, 1833-1868
Maine. Dept. of Transportation. Bureau of Planning. Map of compact area Anson-Madison, Somerset County, Maine [map]. [Augusta] : The Bureau, [1969]. Special Collections, Fogler Library, University of Maine. Orono.
*Maine. Historic Preservation Commission. Augusta, Me.  Text and photos from National Register of Historic Places: http://pdfhost.focus.nps.gov/docs/nrhp/text/xxxxxxxx.PDF, http://pdfhost.focus.nps.gov/docs/nrhp/photos/xxxxxxxx.PDF
Anson Grange #88: 04000371.PDF
Bailey Farm Windmill: 88000885.PDF
Carrabassett Inn: 00000376.PDF
Steward-Emery House: 92001705.PDF
Temples District: 83000474.PDF
Old Home Week, Madison and Anson (Maine), August 7-13, 1927. 1927 (At Maine State Library)
See Folklore.