| Year | Population |
| --- | --- |
| 1970 | 1,963 |
| 1980 | 2,675 |
| 1990 | 3,175 |
| 2000 | 3,602 |
| 2010 | 3,757 |
Geographic Data
N. Latitude
44:40:02
W. Latitude
68:54:43
Maine House
District 98
Maine Senate
District 11
Congress
District 2
Area sq. mi.
(total) 37.1
Area sq. mi.
(land) 35.6
Population/sqmi
(land) 105.5
County: Waldo

Total=land+water; Land=land only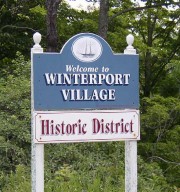 [WIN-ter-port] is a town in Waldo County, incorporated on March 12, 1860 from a portion of Frankfort.
In 1867 it annexed additional land from Frankfort.
Settled in 1760, the town, once a substantial shipbuilding center, is located on the Penobscot River just above Bucksport on Maine Routes 69 and 138 and U.S. Route 1A.
In 1779 when an American Fleet failed to capture Castine, the British chased it up the Penobscot where, in order to escape capture, its ships were burned and sunk by the crews.
The Flagship Warren was scuttled off Oak Point.
A story from business records: (See C.E. Thayer & Son reference below.)
Clarissa and Hollis (her son) Thayer ran a general store in Winterport, between 1853 and the 1880's. Apparently it was not very successful because they were always in arrears.
Hollis was an interesting character; he spent some time in jail. Clarissa's husband was indicted for murder, but was acquitted and convicted of assault and battery. He served 9 months.
The Woman's Christian Temperance Union in Winterport was organized on April 29, 1897. Its mission was to prohibit alcoholic beverages and to encourage personal abstinence.
When Winterport became a separate town its population was 2,390. After a gradual decline over the next hundred years, the town witnessed a rapid growth that includes four decades of sustained growth through 2010.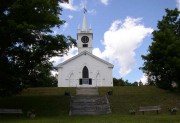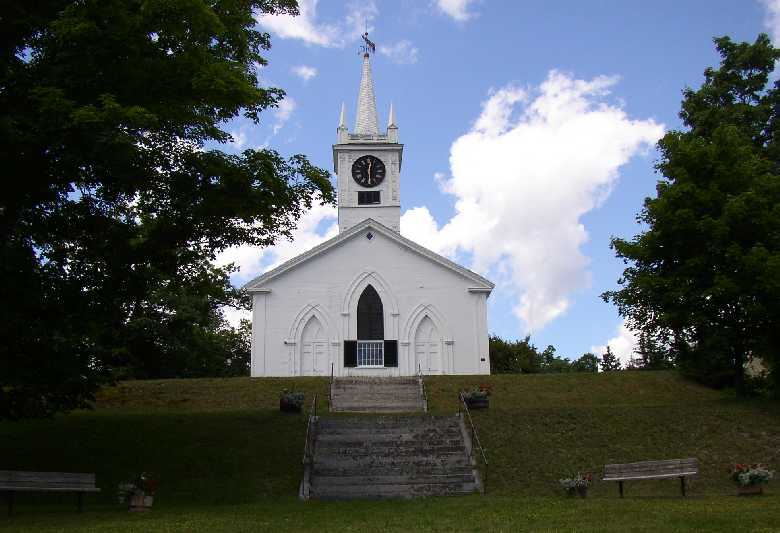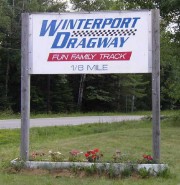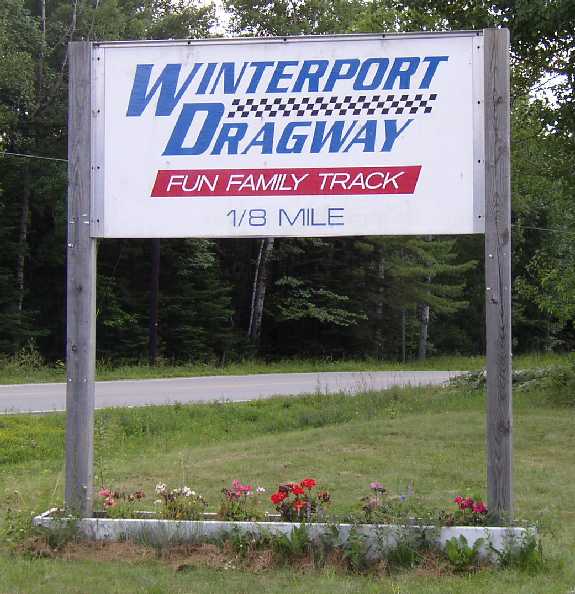 Winterport is primarily a rural community with its land area extending ten miles westward from the river.
An attraction along Route 139 among the farms and woods is the Winterport Dragway, featuring auto drag races with specialty vehicles and "street" vehicles.
In recent years a marina has expanded and an export business has been established on the river.  A dockside freezer operation has enabled the storage and shipping of commodities such as fish and chicken.
Partly a residential commuter community for the nearby greater Bangor area, Winterport's Main Street, U.S. Route 1A, has been reconstructed to showcase is historic district.

Congressional Medal of Honor winners:
Civil War ALBERT E. FERNALD
World War II WILLIAM G. FOURNIER
Form of Government: Town Meeting-Council-Manager.
Additional resources
C.E. Thayer & Son. Business Records 1853-1880's. [University of Maine, Raymond H. Fogler Library, Special Collections]
Congregational Church (Frankfort, Me. – later Winterport). Records, 1820-1969. (Cataloger Note: The first meeting-house erected in the town was built by the Methodists and Congregationalists and was occupied by the denominations in proportion to the contributions of each. In 1850 the Methodists withdrew and the Congregationalists were the sole owners of the meeting-house.)  [University of Maine, Raymond H. Fogler Library, Special Collections]
Jones, Erasmus Archibald. History of the Town of Frankfort. Winterport, Me. Advertiser Job Print. 1897.
Littlefield, Ada Douglas. An Old River Town: being a history of Winterport, (old Frankfort), Maine, illustrated from photographs. Salem, Mass. Higginson Book Co.. 1993. [University of Maine, Raymond H. Fogler Library, Special Collections; Maine State Library]
*Maine. Historic Preservation Commission. Augusta, Me.   Text and photos from National Register of Historic Places: http://pdfhost.focus.nps.gov/docs/nrhp/text/xxxxxxxx.PDF and http://pdfhost.focus.nps.gov/docs/nrhp/photos/xxxxxxxx.PDF
Winterport Congregational Church:73000151.PDF
Winterport Historic District: 75000112.PDF
Weston, Theodora W. Frankfort-Winterport: The Separation Story: Winterport's 125th Anniversary. Winterport, Me. Winterport Historical Association. 1985. [University of Maine, Raymond H. Fogler Library, Special Collections; Maine State Library]
Weston, Theodora W. Historic Winterport. Winterport Me. Winterport Historical Association. 1996. [University of Maine, Raymond H. Fogler Library, Special Collections]
Woman's Christian Temperance Union (Winterport, Me.) Records, 1897 Apr. 29-1957 Nov. 20 (bulk 1897-1899, 1939-1957). [University of Maine, Raymond H. Fogler Library, Special Collections]
National Register of Historic Places – Listings
Winterport Congregational Church
[U.S. Route 1A] About 1820, in the village of Winterport, Methodists, Episcopal, Congregationalists, Unitarians and Universalists formed a society in order to build a church. The church was built in 1831. The designer and builder of the Church was Calvin Ryder, a local architect and builder, who built many of the houses in Winterport. He also built the Blake House in Bangor, one of the finest Second Empire Houses in Maine.
The church was known as the Union Meeting House for some time until differences arose between the various congregations using the House. Shortly after its construction, due to interdenominational squabbles, the church became the Congregational Church. In 1860 the roof of the church was slated, the clock added and some remodeling was done to the inside. The exterior of the church is the same as when it was built, only the inside has had some changes. This fine example of Gothic Revival architecture contributes greatly to Maine's architectural heritage with its beautiful but simple lines. Its location, overlooking Winterport and the Penobscot River only enhances the charm of this small New England town.* [See Union Meeting House photos above.]
Winterport Historic District
[irregular pattern along Main, Elm, Cushing, Lebanon, Commercial, Dean, and Water Streets] Winterport on the Penobscot River has survived as an example of a 19th century river town. Located thirteen miles below Bangor, Winterport as its name implies, was the ice free winter port for that lumber boom city.
While much of the evidence of Winterport's once thriving waterfront commercial and industrial activity no longer exists, the community's mid-19th century success remains apparent through the many substantial homes and buildings that comprise  the historic district. Although styles range from the post Colonial period into the 20th century, the predominant architectural theme is Greek Revival, with more than half of the structures in the district in this style.
Only one architectural figure linked with the town has emerged, Calvin Ryder (1810-1890). A native of nearby Orrington, Ryder lived and worked in Winterport during the 1830s and 1840s before beginning a Boston architectural career in the 1850s. Winterport was originally part of the town of Frankfort. The general area was originally called Acadia and came under French rule in 1603. In 1605 George Weymouth planted a cross on the coast of Maine in the name of King James I of England. In 1773 the one hundred thousand acres belonging first to the "Ten Proprietors" and, later to General Samuel Waldo, were set off. What is now Winterport was included with Frankfort, Hampden, and parts of Swanville, Monroe and Bangor.
On March 12, 1860, Winterport was incorporated, after having separated from Frankfort. The Depression of 1857 brought an end to Winterport's extensive shipbuilding. This, coupled, with the disrupting effects of the Civil War and the establishment of improved railroad lines to Bangor, brought an end to the town's prosperity. After 1870 there was a sizable decline in population, and agriculture became the primary vocation. This pattern, familiar in the history of many Maine communities, precluded any further large scale growth and resulted in the preservation of Winterport as a mid 19th century river town.*