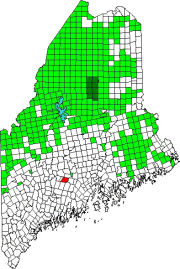 | Year | Population |
| --- | --- |
| 1970 | 7,299 |
| 1980 | 8,057 |
| 1990 | 7,997 |
| 2000 | 7,743 |
| 2010 | 7,794 |
Geographic Data
N. Latitude
44:31:23
W. Latitude
69:34:45
Maine House
District 78
Maine Senate
District 16
Congress
District 1
Area sq. mi.
(total) 38.7
Area sq. mi.
(land) 36.9
Population/sqmi
(land) 211.2
County: Kennebec

Total=land+water; Land=land only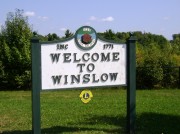 [WINZ-low] is a town in Kennebec County, incorporated on April 26, 1771.
Originally a much larger tract, it contributed land on the west side of the Kennebec River for the formation of Waterville in 1802.
It later ceded land to Fairfax (now Albion) in 1810, to Harlem (now China) in 1813, and to form part of China in 1818.
According to Varney,
In 1676, the second year of King Philip's War in Maine, Abraham Shurte, the magistrate at Pemaquid, held a parley with the Indians near where Fort Halifax was built about 75 years later. He was received by the Indians in the "great wigwam" or fort; but he was unsuccessful in his attempt to end the war. (p. 596.)
At the confluence of the Kennebec and Sebasticook rivers, Winslow occupies the site of a former Indian village and was named for General John Winslow who participated in building Fort Halifax in 1754. Captain William Lithgow, first commander of the Fort, built his home here.
The blockhouse, part of the original fort, was built in 1754 and was the oldest in the United States, until destroyed during the flood of 1987.
Fort Halifax was originally many blockhouses connected with fences. A reconstructed blockhouse, which incorporates many original timbers salvaged from the flood, stands on the fort's original site.
In 1775, Benedict Arnold's expedition stopped at the Fort, which had become home to Ephraim Ballard whose wife Martha would arrive two years later. She was a midwife and chronicler of local events.
As did most Maine towns, Winslow sent many men to support the Union forces during the Civil War.  The memorial at Monument Street is a replica of many found throughout the state.
Winslow is the birthplace of early 20th century U.S.Senator Charles Fletcher Johnson. More recently Winslow has been the site of paper mills and is commercially and culturally part of the Waterville-Winslow area. The H&W mill shut in 1997 with much of its equipment removed.
A restaurant, near the Fort, was one of the local sites filmed in 2003 during the production of the movie Empire Falls, based on the Pulitzer Prize winning novel by Maine author Richard Russo.
Winslow is on the east side of the Kennebec River, across from Waterville, on Routes U.S. 201 and Maine routes 32, 100, 100A, and 137.
Benedict Arnold's Expedition Route – click a Bateau


<== To Quebec                            To Beginning ==>

Form of Government: Council-Manager
Additional Resources
Desjardin, Thomas A. Through A Howling Wilderness: Benedict Arnold's March to Quebec, 1775. 2006.
"Hollingsworth & Whitney Co. paper mill" photo. Repository: Library of Congress Prints and Photographs Division Washington, D.C. Call Number: PAN US GEOG – Maine no. 20. http://www.loc.gov/pictures/item/2007662226/ (accessed December 13, 2017)
Horne, Hope Braley. Winslow: Our Town, Our People. Winslow, Me. H. B. Horne. 1991. Decorah, Iowa. Anundsen Publishing Co.
Kingsbury, Henry D. Town Of Winslow. New York. H.W. Blake & Co. 1892.
*Maine. Historic Preservation Commission. Augusta, Me.  Text and photo from National Register of Historic Places: http://pdfhost.focus.nps.gov/docs/nrhp/text/xxxxxxxx.PDF, http://pdfhost.focus.nps.gov/docs/nrhp/photos/xxxxxxxx.PDF
Fort Halifax: 68000015.PDF
Varney, George J. A Gazetteer of the State of Maine. 1881. p. 595-596.
Waterville-Winslow: Industrial, Educational, Business Center Of Maine. Waterville, Me. Chamber of Commerce. 1948. [University of Maine, Orono, Special Collections]
National Register of Historic Places – Listings
Brick School
[South of Winslow on Cushman Road] This humble one-room school house was built sometime between 1800-1820 for use in School District No. 5. The building ceased to be used as a school after 1865 and has apparently been employed only for occasional storage until its acquisition by the Winslow Historical Society in 1972. The Society now maintains the structure in a stabilized condition.
The The Brick School testifies to early determination to provide public education and its staunch construction indicates a permanency that suggests its builders expressed a continuing commitment to this goal.*
Fort Halifax

, National Historic Landmark
[U.S. 201] This structure is the oldest existing wooden blockhouse in the United States. It was erected as part of Fort Halifax in 1754 and is now the only surviving element of that complex. It is an excellent example of its architectural type. Built of hewn logs with dove-tailed and pegged joints, the structure is approximately 20 feet square at the foundation and 2 stories high with an overhanging second story and hipped roof.
Use of Fort Halifax as a military post appears to have ended in 1766. The Fort Halifax Chapter, Daughters of the American Revolution acquired the blockhouse in 1924 and maintained it until 1965 when it was given to the State of Maine. Now operated as a museum.*
Shrewsbury Round Barn, 109 Benton Avenue
Shurtleff, Jonas R., House, Augusta Road
Two Cent Bridge
[spans the Kennebec River at Temple Street, Waterville-Winslow] The bridge is approximately 700 feet long spanning the Kennebec River between Waterville and Winslow, a slight distance above Ticonic Falls. When the bridge was built, its intended use was for the transportation of millworkers between the two communities to the abutting mills. [See more at Waterville.]
Maine Archeological Survey Site 53.36, Address Restricted