| Year | Population |
| --- | --- |
| 1970 | 516 |
| 1980 | 503 |
| 1990 | 479 |
| 2000 | 420 |
| 2010 | 407 |
Geographic Data
N. Latitude
45:27:14
W. Latitude
68:20:06
Maine House
District 141
Maine Senate
District 2
Congress
District 2
Area sq. mi.
(total) 44.3
Area sq. mi.
(land) 44.1
Population/sq.mi.
(land) 9.2
County: Penobscot

Total=land+water; Land=land only
[WIN] is a town in Penobscot County, incorporated on March 21, 1857 from Five Islands Plantation. Chadbourne has only one fascinating line about the town's name: "Winn was named for John M. Winn of Salem, Massachusetts, who owned it until cheated out of it by sharpers."
Joseph Snow from Arlington, Massachusetts settled there in 1820, naming it Snowville, probably as much for the winter precipitation as for himself. By 1829 the military road to Houlton passed through the town. Before that, mail was carried by boat on the Mattawamkeag River, then on horseback to Houlton.
According to the History of Penobscot County, Maine: with Illustrations and Biographical Sketches,
In Snowville a school-house was built in 1847 . . . . In 1852, the first school then being in the boat office, a school-house was built in Winn village, near where the house of the widow of Caleb Estes now stands, opposite the Katahdin House . . . .  the tannery firm about 1865, built in the village on the hill, a large two-story house, the lower story for a school, the upper story for a Town Hall, and rented the same to the town for its several purposes.
. . . . .
The large foreign element in the population of Winn, brought here by employment in the tannery, gives many adherents to the Catholic Faith, and about 1870 a church was commenced on the hill nearly opposite the  school-house . . . .
During the 19th century, International Paper Company owned land in the town and harvested wood to supply its pulp and paper mills in Maine. Winn is an agricultural community slowly losing its small population as are many northern Maine towns.
Winn village is on U.S. Route 2 between Lincoln and Mattawamkeag on the east bank of the Penobscot River. A picnic area and boat launch is off U.S. Route 2 at N45° 28′ 0.86″  W68° 23′ 33.95″.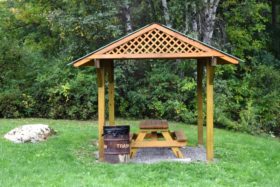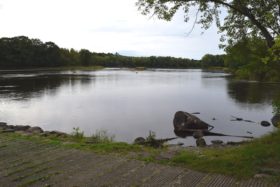 Form of Government: Town Meeting-Select Board-Administrative Assistant

Additional resources
Chadbourne, Ava Harriet. Maine Place Names and The Peopling of its Towns
History of Penobscot County, Maine; with Illustrations and Biographical Sketches. Cleveland, Williams, Chase & Co. 1882. p. 502. [University of Maine, Raymond H. Fogler Library, Special Collections; Bangor Public Library; Maine State Library]
International Paper Company. Records, 1873-1902. (Cataloger Note: Correspondence, 1900-1902, from company president, Hugh Chisholm, or his secretary, E.W. Hyde, to Simon B. Gates, in Winn. Most letters concern land purchases for the company. Collection also includes copies of deeds, 1873-1901, for land in Winn and Mattawamkeag, as well as invoices, 1902, to Gates primarily for purchase of wood and other supplies.) [University of Maine, Raymond H. Fogler Library, Special Collections]