| Year | Population |
| --- | --- |
| 1970 | 6,593 |
| 1980 | 11,282 |
| 1990 | 13,020 |
| 2000 | 14,904 |
| 2010 | 17,001 |
Geographic Data
N. Latitude
43:47:50
W. Latitude
70:24:18
Maine House
Dist 24,25
Maine Senate
District 26
Congress
District 1
Area sq. mi.
(total) 50.3
Area sq. mi.
(land) 46.7
Population/sqmi
(land) 364.5
County: Cumberland

Total=land+water; Land=land only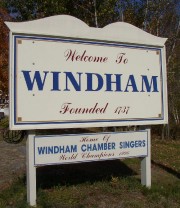 [WIND-uhm] is a town in Cumberland County, settled in 1735 and incorporated on June 12, 1762 from New Marblehead Plantation.
A mill was erected on the Presumpscot River at Mallison Falls (also known as Horseshoe, Horse Beef, and Nagwamqueeg) as early as 1738.
Native Americans protested that is was preventing the migration of fish, on which they depended.  The dam and associated mill was washed away in a flood in 1743. The river flows the length of the town from Sebago Lake Basin to Westbrook in the south.
As with most early Maine towns, life was dangerous. According to George Varney,
In 1744 a substantial fort was erected in the settlement, and furnished at the expense of the inhabitants with two swivel guns and the necessary ammunition. From 1745 to 1751 the inhabitants lived within its walls. It was a period of great suffering and danger . . . .
Population levels from 1820 through 1940 remained at about 2,000.  After World War II, it began to inch upward, but by the 1970s the community began to change dramatically. Windham had almost tripled its population by 2010.
The main village, North Windham, lies adjacent to Sebago Lake and on the shore of Little Sebago Lake at the junction of U.S. Route 302 and Maine Routes 35 and 115.
While Route 302 is a long commercial strip, the old meeting house above is adjacent to the Windham Union Church. Built in 1849, the Friends Meeting House (below) is on Route 4 in South Windham.
Young adult offenders are held at the Maine Correctional Center, a major facility in South Windham.
Windham's historic lore includes these items:
Resident John A. Andrews was an early governor of Massachusetts

The first church was organized in 1743

Nineteen schoolhouses were operating in 1886
Form of Government: Town Meeting-Council-Manager.
Additional resources
Bodge, George M. New Marblehead, Now Windham, Me.: Ecclesiastical Matters. 1898. [Maine State Library]
Dole, Frederick Howard. Sketches of the History of Windham, Maine, 1734-1935; The Story of a Typical New England Town. Westbrook, Me. H. S. Cobb, Printer. 1935.
Dole, Samuel Thomas. Windham in the Past. Windham, Me. Windham Historical Society. 1974. [Maine State Library] (A source for "Horseshoe Dam" date.)
Friends of Sebago Lake, Friends of the Presumpscot River and American Rivers. "Historic Records Related to the Anadromous Fisheries of the Presumpscot River and Sebago Lake, Maine." September 2002. http://home.gwi.net/~fks/presumpoverview.html (accessed October 29, 2013)
Smith, Thomas Laurens. History of the Town of Windham. Portland, Me. Hoyt & Fogg. 1873.
Varney, George J. A Gazetteer of the State of Maine. 1886. p. 592.
Windham Bicentennial Committee, Windam, Me. Windham 1976. The Bicentennial Committee. Windham, Me. The Committee. 1976. [University of Maine, Raymond H. Fogler Library, Special Collections; Maine State Library]
Windham, Maine 250th Anniversary Celebration June 1987. 1987? North Windham, Me. The Village Print Shop, Courier Free Press. [Maine State Library]
National Register of Historic Places – Listings
Gould House, 280 Windham Center Road
Maplewood Farm, River Road southeast of junction with Webber Road South Windham
Smith, Parson, House, Southeast of South Windham on River Road South Windham