| Year | Population |
| --- | --- |
| 1970 | 3,802 |
| 1980 | 4,382 |
| 1990 | 4,242 |
| 2000 | 4,123 |
| 2010 | 4,116 |
Geographic Data
N. Latitude
44:36:59
W. Latitude
70:14:37
Maine House
District 114
Maine Senate
District 17
Congress
District 2
Area sq. mi.
(total) 42.8
Area sq. mi.
(land) 41.3
Population/sq.mi.
(land) 99.7
County: Franklin

Total=land+water; Land=land only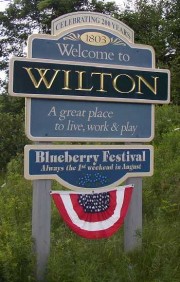 [WIL-tun] a town in Franklin County, incorporated on June 22, 1803 from Tyngstown Plantation.
It later ceded land to nearby Chesterville in 1811 and Temple in 1831.
First named Harrytown for a dangerous local Indian, it was renamed Tyngstown for the leader of the expedition in which "Warrior Harry" was killed.
By 1803, when Abraham Butterfield paid for the towns incorporation, the name as changed to that of his hometown in New Hampshire – Wilton. U.S. Representative Robert Goodenow lived here in the 19th century.
During its history the town had a series of mills and factories, now lost to the changing economic forces of modern times.
George H. Bass began making boots for farmers in 1876. For more than 100 years, the G. H. Bass company made  footwear in Wilton, including that used by Richard E. Byrd in the Antarctic, until the factory closed in the late 20th century.
In response to these challenges, the town's economic development message included the following in 2013:
A precision plastic injection molding business has grown to employ over 200 semi-skilled workers operating on a 24/7 basis.
A state-of-the-art call center has 200+ trained employees support several nationally recognized companies. Four social service agency offices employ 80 people. Two commercial lodgings provide over 120 rooms complete with a variety of services.
Located on the shore of Wilson Pond, the main village lies at the intersection of U.S. Route 2
Form of Government: Town Meeting-Select Board-Manager.
Additional resources
Adamo, Ruth. A History of the Town of Wilton. Rumford, Me. Rumford Publishing Co. 1971.
Farmington, Wilton, Kingfield and Sugarloaf. Dover, N.H. Arcadia Publishing. c1997.
*Maine. Historic Preservation Commission. Augusta, Me.   Text and photos from National Register of Historic Places: http://pdfhost.focus.nps.gov/docs/nrhp/text/xxxxxxxx.PDF and http://pdfhost.focus.nps.gov/docs/nrhp/photos/xxxxxxxx.PDF
Bass Boarding House: 88000396.PDF
Goodspeed Memorial Library:  88003019.PDF
Noyes, Lauriston F. The District Schools of Wilton, Maine 1803-1890. Wilton, Me. Wilton Historical Society. 1976.
Town of Wilton. http://www.wiltonmaine.org/workers.html (accessed May 4, 2012)
Wilton's 150 Years, 1803-1953: Sesqui-centennial Observance, July 6-12, 1953, Wilton, Maine: Program, History, Directory. Wilton, Me. Sesquicentennial Committee. 1953. [University of Maine, Raymond H. Fogler Library, Special Collections; University of Maine at Fort Kent, Blake Library; Maine State Library]
National Register of Historic Places – Listings
Bass Boarding House
[Canal Street] Probably built in the early 1860s as a single family town residence, the Bass Boarding House was used for workers housing by the G. H. Bass Shoe Company from 1911 to 1937. It is the most intact example among a handful of buildings in Wilton that were used in this fashion. The property on which this house stands was acquired in 1861 by Emerson and Rawson C. Fuller. The value of the property lay in the title to the sawmill adjacent to the Wilson Stream. There is no indication that a dwelling stood here at that time.
Rawson Fuller apparently built the house and he and his family occupied it until the early 1900s. The Fuller home probably had become a boarding facility by 1910, prior to when Bass acquired it in 1911. In 1911 Wilton was a thriving community whose merchants and factories supplied a wide variety of goods and services from automobiles to granite and steel. It was also home to the Wilton Woolen Company and the G. H. Bass and Company shoe and boot plant.
Wilton had a free public library, an electric light and power company and a private academy. The town's development was greatly aided by the nearby branch of the Maine Central Railroad.
George Henry Bass began his business career as a tanner. In 1879 he added boot making to his business, apparently having purchased the Packard and Company shoe shop. Bass apparently prospered in his manufacturing enterprise because in 1904 he acquired the former Fuller sawmill site and erected the existing large three-story frame mill.
Bass acquired existing dwellings and either moved them or used them on their original site. In other instances he built modest frame tenement buildings for his employees. The most notable result is a widely scattered distribution of houses in Wilton that were formerly associated with Bass.
The Bass Boarding House clearly illustrates the particular solution that the G. H. Bass Company found in addressing the problem of workers' housing. The integrity of the building is unique among the other existing houses that were similarly used. In 1987 the Bass Boarding House was given to the Wilton Historical Society for use as a museum, meeting space and administrative office.* [See the Farm and Home Museum photo above.]
Goodspeed Memorial Library
[104 Main Street] Given to the Town by members of the Goodspeed family and completed in 1916, the Goodspeed Memorial Library is a handsome and well-preserved Neo-classical Revival style building built of tan colored brick. It was designed by the Lewiston architect Harry S. Coombs.
On June 8, 1901, a group of Wilton residents petitioned the town to grant an act of incorporation for the Wilton Free Public Library Association. This was apparently the first effort to organize a local public library. The organization gradually increased its collection through town tax support and donations. It was housed in the second floor of a downtown commercial building.
In 1914 a bequest of $10,000 from the estate of Agnes I. Goodspeed was made for a library building. This was combined with the donation of $2,000 and a downtown lot from Frank O. Goodspeed and $5,000 from George F. Goodspeed, both of whom were the sons of Agnes Goodspeed. These gifts enabled the association to proceed with plans to obtain a proper facility. The library was dedicated on October 28, 1916, and remains in its original use to this day.* [See photo above.]