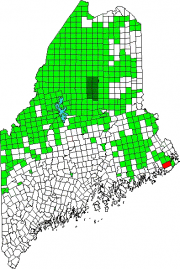 | Year | Population |
| --- | --- |
| 1970 | 269 |
| 1980 | 335 |
| 1990 | 407 |
| 2000 | 430 |
| 2010 | 487 |
Geographic Data
N. Latitude
44:30:48
W. Latitude
69:26:08
Maine House
District 139
Maine Senate
District 6
Congress
District 2
Area sq. mi.
(total) 52.1
Area sq. mi.
(land) 46.8
Population/sq.mi.
(land) 10.4
County: Washington

Total=land+water; Land=land only
[WHITE-ing] is a town in Washington County, incorporated on February 15, 1825 from Orangetown Plantation. formerly the township 12 ED, BPP.
In 1780, Boston Tea Party activist Colonel John Crane became the first white settler in the area of the town that was to be named for Timothy Whiting, an early land owner and member of the State Legislature.
In the late 19th century, when hay and potatoes provided a major source of income, Whiting was home to two saw mills producing about 475,000 feet of lumber in a year.
The town has had a remarkably stable population since its inception: 1850 – 470; 1900 – 399; 1950 – 354; 2000 – 430. Its low point was 1970's count of 269 residents.
Water abounds in Whiting's the northern half, with many acres of lakes and ponds. The village of Halls Mills is the center piece of the 1126-acre Rocky Lake, the 235-acre Orange Lake and the 120-acre Indian Lake.
Rocky Lake is a shallow, irregularly-shaped body of water located several miles north of Route 1. A public boat launch is near the outlet, but extensive shallows make it difficult to motor up the lake.
In 1811, John Raymond erected a sawmill at what became known as Connecticut Mills. Peter Hall owned the property from 1829 until 1867. The community was renamed Halls Mills in 1907, and members of Hall's family operated the facility until 1938. The mill was torn down around 1952.
Orange and Indian Lakes are near Route 1. Indian is developed with camps and year-round residences. A boat launch is available on the Route 1 end of the lake.
The town dips its toes in salt water in the west on Holmes Bay in Machias Bay; and in the east with a sliver of shoreline on Whiting Bay near Whiting village.
The main village is located at the easterly end of the township where the Orange River flows into Whiting Bay at the Junction of U.S. Route 1 and Maine Route 189 to Lubec. A dam creates a pond on the river in the village.
Cutler Coast Public Preserved Land, in Cutler and Whiting, contains almost five miles of dramatic cliff-bound ocean shore. The 12,000-acre area represents the eastern tip of Washington County where peatlands, blueberry barrens, partially forested ledges, and thick, swampy woods dominate the countryside.
Unusual features like grasslands and meadows, windswept coastal headlands and steep, jagged cliffs that jut into the ocean hug the 4.5 miles of totally undeveloped coastline. Access is from Route 191 in Cutler.
Form of Government: Town Meeting-Select Board-Administrative Assistant.
Additional resources
Forslund, Gladys Hall. History of Whiting, Maine. Calais, Me. Advertiser Publishing Co. 1974.
Halls Mills Lumber Company. "Records, 1855-1975." (bulk 1929-1940) [University of Maine, Raymond H. Fogler Library, Special Collections]
Maine. Department of Inland Fisheries and Wildlife. "Maine Lake Survey Maps – Washington County." http://www.maine.gov/IFW/fishing/lakesurvey_maps/washington/index.htm (accessed April 11, 2014)
Varney, George J. A Gazetteer of the State of Maine. 1886. p. 589.