| Year | Population |
| --- | --- |
| 1970 | 517 |
| 1980 | 647 |
| 1990 | 589 |
| 2000 | 559 |
| 2010 | 549 |
Geographic Data
N. Latitude
46:32:54
W. Latitude
67:58:02
Maine House
District 146
Maine Senate
District 2
Congress
District 2
Area sq. mi.
(total) 40.3
Area sq. mi.
(land) 40.3
Population/sq.mi.
(land) 13.6
County: Aroostook

Total=land+water; Land=land only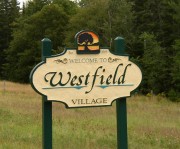 [WEST-field] is a town in Aroostook County, incorporated on March 7, 1905 from Westfield Plantation. It is composed of two half-townships originally dedicated to helping schools in Massachusetts: the Deerfield Academy Grant and the Westfield Academy Grant.
The first settlers, James Thorncraft and his wife, came in 1839 and lived alone clearing the land until neighbors moved to the area in 1841.
In 1861 the two grant areas were organized for election purposes, and 1863 saw the first schoolhouse built.
The church in the photo above has no identifying sign but is the United Baptist Church of Westfield.
The facility used for potato storage and broccoli packaging illustrates Westfield's status as primarily an agricultural area, except for the marshland in the western portion of the town.
Westfield village lies between U.S. Routes 1 and 1A, on the Prestile Stream, just north of Mars Hill in Aroostook County's potato country. The University of Maine at Presque Isle's "Maine Solar System Model" has placed planets at scale intervals on U.S. Route 1.   Westfield hosts Saturn.
The town is primarily rural but not all crops are the traditional potatoes and hay.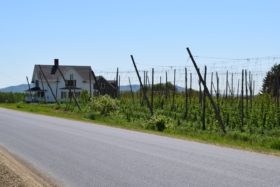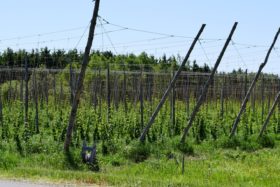 In 2016, probably in response to the growing interest in micro-brew beer companies, a new agricultural opportunity is in evidence on the Shorey Road: hops. Brewers need hops in their recipes primarily as a flavoring and stability agent in beer.
Growing hops is not new to Maine. A description of the Foster farm in Newry notes "Hops had been raised in Oxford County as early as the late 1830s, but the peak of production occurred in the 1860s when nearly 300,000 pounds were raised statewide with more than half of the total in Oxford County. The relatively high – albeit often wildly fluctuating – price of hops made their desirable as a source of cash income, but Maine farmers could not sustain their position in the market, particularly after the country's first major commercial growing area began to develop in New York State in the 1860s."

Aroostook Hops, LLC in Westfield was awarded a grant from the U.S. Department of Agriculture in 2015 through it Value-Added Producer Grant program. The program provides capital to enable farmers to diversify their crops and find new markets.
Form of Government: Town Meeting-Select Board.
Additional resources
Day, Clarence Albert. A History of the Town of Westfield [manuscript]: in the Nineteenth Century. 1945-1972. [University of Maine at Presque Isle, Library and Learning Resource Center]
"Growing County hops venture nets federal government grant." Houlton Pioneer Times. December 2, 2015.
*Maine. Historic Preservation Commission. Augusta, Me.   Text and additional photos are at the National Register of Historic Places: http://pdfhost.focus.nps.gov/docs/nrhp/text/09000011.PDF and http://pdfhost.focus.nps.gov/docs/nrhp/photos/09000011.PDF
---
National Register of Historic Places – Listings
Beecher H. Duncan, Farm
[26 Shorey Road] On a broad rolling plain at the northern edge of town, the Beecher H. Duncan Farm is a good example of a type of family farm established in Aroostook County in the early 20th century. The small collection of agricultural and residential buildings and fields were established by the Beecher family at a time when agricultural enterprises, especially the cultivation of potatoes, was rapidly developing, and large amounts land was available for sale.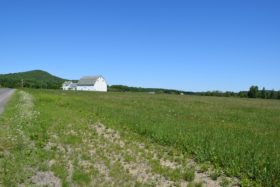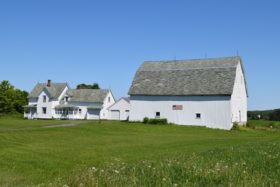 This small historic district includes a large 1910 gambrel roof hay barn, a common house with Queen Anne style elements, an earlier cottage used periodically to house workers on the farm and a broad expanse of agricultural fields. The property is an example of a family farm focused on growing potatoes and a few other crops during the heyday of potato farming in the county. It also reflects the wholesale change from horse-powered farming to mechanized farming in the years before World War II. Beginning in 1904, the Duncan Farm continued to be active until 1970. The Farm contains three buildings: the pre-1906 cottage, the 1910 barn and the 1912 house. Approximately 125 acres of agricultural fields and the remnants of an orchard are also included within the district.*
Last update: December 21, 2016