| Year | Population |
| --- | --- |
| 1970 | 14,444 |
| 1980 | 14,976 |
| 1990 | 16,121 |
| 2000 | 16,142 |
| 2010 | 17,494 |
Geographic Data
N. Latitude
43:41:38
W. Latitude
70:21:15
Maine House
District 34,35
Maine Senate
District 25,28
Congress
District 1
Area sq. mi.
(total) 17.1
Area sq. mi.
(land) 16.9
Population/sqmi
(land) 1,035
County: Cumberland

Total=land+water; Land=land only
[WEST-bruk] is a city in located in Cumberland County, settled about 1630, had two villages: Saccarappa and Ammoncongin. It was incorporated as a town on February 14, 1814 under the name Stroudwater, which was changed in June of that year to Westbrook.
The first house was built in 1699. The first permanent settler built a house, saw mill & grist mill at Saccarappa Falls about 1739. According to the Westbrook Historical society Saccarappa is a Native American word meaning "falling toward the sun."
For nearly forty years, the town swapped land and boundaries with Falmouth – 1819, 1825, 1828, 1831, 1835, 1836, and finally 1853. The city has a substantial Franco-American population attracted to the S. D. Warren paper mill (later Sappi Fine Paper) that was established in 1852.
Colonel Thomas Westbrook, its namesake, was a commander of forces during the fourth French and Indian War, including a raid on Norridgewock in 1721. He later became a large landowner and mill operator. An image recalling the ship he sailed on from New Hampshire to Maine is on the City's seal.
In 1891 Westbrook became a city. It is the birthplace of sculptor Benjamin Paul Akers (1825-1861).
It was the childhood hometown of bandleader Rudy Vallee, who popularized the Maine Stein Song. One of the few remaining drive-in movie theaters in Maine is at Pride's Corner.
In addition to those buildings listed on the Historic Register below, the Forest Street School built in the late 19th century still stands, though now the site of condominiums.
Flowing through the city is the Presumpscot River, whose name means "many rough places river. " Riverbank Park provides a playground, picnic areas, veterans memorials, and access to the river.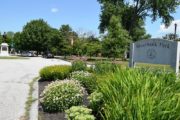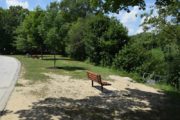 Now the 12th largest community in Maine by population, it was edged out of its 1990 11th largest position by Saco in the 2000 Census, but maintained 12th largest rank in the 2010 Census.  Since 1820 Westbrook has had a virtually consistent population growth record.  The 1880 Census report seems out of step, possibly from a counting error. (See the population trend chart above.)
Immediately west of Portland on U.S. 302 and Maine Route 25, but part of the Portland metropolitan area, Westbrook is home to industrial, professional, and commercial enterprises, as well as to a campus of Husson University.
Additional resources
Born, Vaun E., Ed. 100 years of Westbrook Mayors, 1891-1991. Westbrook Historical Society. Westbrook, Me.? Westbrook Historical Society. 1991.
Field, Jacqueline. Silk and Society: Silk Manufacturers and Users 1870-1930: based on a study of the Haskell Silk Company, Westbrook, Maine. 1997. (Thesis (M.A.)–University of Southern Maine, 1997)
Ketover, Karen Sherman. Fabius M. Ray's Story of Westbrook. Bowie, MD. Heritage Books. c1998.
Lewis, John R. An Early History of Pride's Corner. Westbrook, Me. Men's Club of the Pride's Corner Congregational Church. 1968.
*Maine. Historic Preservation Commission. Augusta, Me.   Text and photos from National Register of Historic Places: http://pdfhost.focus.nps.gov/docs/nrhp/text/xxxxxxxx.PDF and http://pdfhost.focus.nps.gov/docs/nrhp/photos/xxxxxxxx.PDF
Vallee Family House: 88001853.PDF
Walker Memorial Library: 80000231.PDF
Warren Block: 74000315.PDF
Westbrook High School: 79000146.PDF
St. Hyacinth School and Convent: 13000439.PDF
Rowe, Ernest Ray. Highlights of Westbrook History. Westbrook, Me. Westbrook Woman's Club. 1952.
**Takacs, Anthony.  "Entertainer Rudy Vallee remembered at University of Maine." Bangor Daily News. October 12, 2011. http://bangordailynews.com/2011/10/12/news/bangor/entertainer-rudy-vallee-remembered-at-university-of-maine/
Vasquez, Andrea M.P. Remembering Westbrook: The People of the Paper City. Charleston, SC History Press. 2010. [University of Maine, Raymond H. Fogler Library, Special Collections; Maine State Library]
Weigle, Anastasia S. A Presence in the Community: The Warren Family Legacy. Westbrook, Me. Warren Memorial Foundation and Cornelia Warren Community Association. c2000.
Westbrook Historical Society. http://www.westbrookhistoricalsociety.org/index.html (accessed April 30, 2012)
National Register of Historic Places – Listings
Cumberland Mills Historic District, both sides of Presumpscot River between railroad tracks and Warren Avenue
Harris, Nathan, House, 425 Main Street
St. Hyacinth School and Convent
This is a complex of two neighboring buildings: an 1894 three-and-a-half story brick school built in the Second Empire style with a mansard roof, and a separate 1922 two-and-a-half story flat roof brick convent building, with a late Gothic Revival design front entrance.
Originally associated with an adjacent parish church and rectory, these buildings played an important role in meeting the educational and cultural needs of a growing immigrant community of French Canadians and Franco-Americans from the late 19th century into the middle of the 20th century.
The 1894 School and Convent building is an interesting example of institutional architecture designed and built specifically to support the educational needs of the children of the St. Hyacinth Parish. The 1894 St. Hyacinth School and Convent was listed as a noteworthy example of a purpose-built, combined educational and residential facility.*
In 2017 the complex was known as Hyacinth Place Apartments, owned by Avesta Housing, based in Portland.
Vallee Family House
[36 Monroe Avenue] The 1914 Vallee Family House is a modest two-story frame dwelling commonly known as a "square house". It was built for Charles A. Vallee, a middle class Westbrook druggist and the father of Rudy Vallee, an entertainer of national significance beginning in the 1930s. It was Rudy Vallee's home during the years in which his musical interests and talent were initially shaped.
Hubert Prior Vallee, known to millions as Rudy Vallee, was born on July 28, 1901 in Island Pond, Vermont. About 1905 he and his family moved to Westbrook, where his father pursued his career as a druggist, becoming the proprietor of Woodman's Pharmacy by 1910. Vallee attended the local public schools and, as recounted in his autobiography, worked grudingly at his father's store. Vallee discovered his keen interest in music, beginning with a set of toy drums that by the age of twelve was replaced with a real snare drum, and then a complete drum outfit that enabled him to play in the high school orchestra.
Vallee himself was unsure of the exact place of his debut as an entertainer, but he claimed that it was either as the replacement drummer of the Westbrook City Band on Armistice Day, 1918, or in the local Star Theatre where he was a temporary member of the orchestra that accompanied the silent films. By this time his interests had broadened to include vocal renditions of the popular songs of the day.
His rapidly expanding fascination with all aspects of the entertainment world was expended when his father acquired a phonograph and records for the drugstore. A brief period of work at the Star Theatre sweeping floors and operating the projectors added to his interest. As an usher at the newly opened Deluxe Strand Theatre in Portland, Vallee soon developed an enthusiasm for the saxophone, which he soon mastered. By 1920 Vallee was performing in a variety of local bands including "Welch's Famous Novelty Jazz Orchestra", The Crescent Orchestra" and "The Famous Harmonic Orchestra".*
According to a 2011 Bangor Daily News article,
He attended the University of Maine for one semester before transferring to Yale. Later he became famous for his signature megaphone, which he used to enhance his nasal voice. He made the "Maine Stein Song" a No. 1 musical hit in 1929 and went on to become what some consider the first mass media pop star..
In addition to his successful recording career, Vallee was in dozens of Hollywood films, popular television series such as "Batman" and "CHiPs," and starred in Broadway musicals until 1984. Vallee died of cancer on July 3, 1986, and is buried in St. Hyacinth's Cemetery in Westbrook.**
Walker Memorial Library
[800 Main Street] The 1894 Walker Memorial Library is a splendid example of architect Frederick Tompson the work done fry Frederick Tompson. It has provided a valuable cultural service to the 19th and 20th century mill town. Tompson's greatest works include the Westbrook High School, the Union Mutual Life Insurance Building and the Wilde Memorial Chapel in Portland,and this library.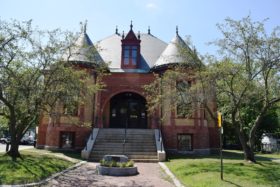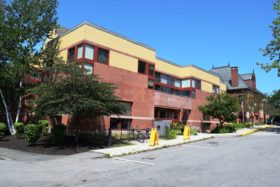 The Walker Library is considered an excellent example of rare French Chateauesque architecture seldom seen in Maine. It was built with funds donated by Joesph Walker upon his death. Walker was a prominent businessman who made his fortune in the lumber industry.*
As with many libraries in Maine, a modern addition extends its capacity while preserving the original elegant building.
Warren Block
[Main Street] One of the most sophisticated and complex Queen Annie style structures in Maine, this multi-purpose building was designed in 1882 by John Calvin Stevens for Samuel Dennis Warren.  It  is an example of a progressive trend in late 19th century architecture let interior functions dictate the exterior. Little symmetry is present in the irregular and picturesque plan required to fit its triangular parcel of land.
The early years of the S.D. Warren Company were marked by what were for the times, very good employer-employee relations. The man most responsible for it was Samuel Dennis Warren. Though a resident of Boston, he was concerned for the welfare of the community where his plant was located. Born September 13, 1817 at Grafton, Massachusetts and educated at a Quaker school in Groton, and later an academy in Amherst, Warren at age 15 entered the paper business as an employee of Grant and Daniell paper dealers in Boston. At twenty-one he was admitted to the firm as a junior partner.
Rising rapidly in the firm, in 1854 he acquired for himself the property in Westbrook known as Cumberland Mills. By 1867, having bought out Daniell, his plant at Cumberland Mills was growing rapidly. The growth continued until his death when S.D. Warren & Co. had become one of the major paper producers in the country.
Interested in manufacturing innovations, he moved into the wood pulp revolution at just the right time. Company housing that he provided near the plant was a good example of urban planning and far more adequate than that in most industrial communities of the time. He provided half the money to build the Warren Congregational Church in 1869; built the parsonage in 1887.  He provided a small library for workers and his wife left a bequest that still supports the town library.*
Westbrook High School
[765 Main Street] The 1886 Westbrook High School Building, designed by Francis H. Fassett and Frederick Augustus Thompson, is a massive ornate building in the Romanesque Revival style with Queen Anne elements. Brick with brownstone trim, it is covered by a slate hipped roof.
Complimenting this building on Main Street is the Walker Memorial Library, designed by Thompson in 1894. The High School was built on the site of the 1850 Main Street Grammar School. The high school was on the second floor of the Main Street School since 1873 until the new building was completed in 1886. By then the population of Westbrook had grown to about 7,000 and 2,200 pupils were attending schools in Westbrook. Four teachers taught elementary and high school students.
In 1905 the high school finally had the entire building. In 1906 the first ivy was planted in the front of the building. The spot is marked by a square cement block, inscribed "06", inserted into the bricks two rows above the granite foundation. In 1909 a high school industrial department was established. The classes were held in the Dana Mills until 1910 when the basement of the high school was prepared for the classes. In 1912 Cornelia Warren, daughter of S. D. Warren, donated a brick building behind the school for the machinery. In 1913 a new annex was added to the west side of the building. It was demolished in 1976 to make room for the new post office.
In 1936 a brick annex was built with an entrance on Foster Street. It provided eight new rooms and a combined auditorium and gymnasium. Later a small addition to the annex provided a dressing and shower room for the athletes. In the early 1940s, in connection with Civil Defense efforts, windows were set into the tower for observing enemy aircraft. In 1956 Westbrook High school moved to its new location on Stroudwater Street. From 1956 to 1975 Westbrook Junior High School occupied the building.*