| Year | Population |
| --- | --- |
| 1970 | 232 |
| 1980 | 270 |
| 1990 | 287 |
| 2000 | 258 |
| 2010 | 260 |
Geographic Data
N. Latitude
45:03:45
W. Latitude
69:32:45
Maine House
District 118
Maine Senate
District 4
Congress
District 2
Area sq. mi.
(total) 39.9
Area sq. mi.
(land) 39.9
Population/sq.mi.
(land) 6.5
County: Piscataquis

Total=land+water; Land=land only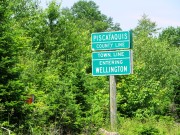 [WEL-ing-tun] is a town in Piscataquis County, settled in 1814 and incorporated on February 23, 1828 from the township T3 R1 BKP, WKR.
In 1885 it ceded some land to the Somerset County town of Cambridge.
Named for the Duke of Wellington who defeated Napoleon at Waterloo in 1815, this small town has a history of lumbering and farming.
According to the Gazetteer of Maine, in 1886,
In 1819 or 1820 a settlement was begun on the east side of the township, adjoining Parkman . . . .  At quite an early period John Davis built a  saw-mill at Wellington corner, adding a grist-mill soon after.
John and Colton Weeks also put up a mill on the same stream, and in 1826 Henry Carleton built a saw-mill on the brook still bearing his surname.  In 1828 the town of Wellington was incorporated, and Mr. Carleton was town clerk and selectman for several years.
This small community is northwest of Harmony on the Wellington Road, also known as Maine Route 154.
For its first seventy years, the town was home to over 500 residents.
The early 20th century saw declines in the population that has stabilized in its most recent seventy years at just over 250 on average.
Farming, especially dairy farming, is a major element of the town's economy.
Form of Government: Town Meeting-Select Board-Administrative Assistant.
Additional resources
Some of the Early History of Wellington, 1928. (Cataloger Note: Typewritten manuscript, accompanied by handwritten lists of Civil War and World War I veterans, and two pieces of correspondence concerning the manuscript. Written for the 1928 Centennial of Wellington.) [Maine State Library]
Wellington Post Office (Wellington, Me.) Records, 1891-1918. (Cataloger Note: Records of the post office in Wellington, including registration books showing matter registered and dispatched, 1891-1901, 1906-1916) [University of Maine, Raymond H. Fogler Library, Special Collections]