| Year | Population |
| --- | --- |
| 1970 | 760 |
| 1980 | 1,026 |
| 1990 | 1,299 |
| 2000 | 1,455 |
| 2010 | 1,553 |
Geographic Data
N. Latitude
44:11:42
W. Latitude
70:43:27
Maine House
District 71
Maine Senate
District 18
Congress
District 2
Area sq. mi.
(total) 53.1
Area sq. mi.
(land) 50.5
Population/sq.mi.
(land) 30.8
County: Oxford

Total=land+water; Land=land only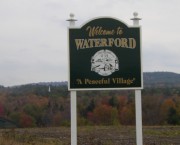 [WA-ter-frd] is a town in Oxford County, incorporated on March 2, 1797 from Waterford Plantation. It annexed land from Albany to complete its boundaries in 1811.
The Artemis Ward House commemorates the birthplace of Charles Farrar Browne, the 19th century humorist better known under his pen name. Early 19th century U.S. Representative Elbridge Gerry was born in Waterford in 1813.
Settled in 1775, the town has been known for its orchards and small wood products businesses. The community features three villages.
North Waterford, at the junction of Routes 35 and 118, is home to the town's fairgrounds. This general store provides gas and basic groceries. The North Waterford Congregational Church, a historic structure, rests pleasantly on a hill on Green Street, just off Route 35.
The main village lies on the shore of Keoka Lake, and State Routes 35, 37 and 118 provide easy access to lakesides, and to the larger communities to the south. Waterford, features a nationally recognized historic district that incorporates the Town Common surrounded by late 18th- and early 19th-century structures.
Many summer camps for young people dot the countryside and lakefronts, which include McWain Pond, Bear Pond and Mud Pond.

Congressional Medal of Honor winner:
EPHRAIM W. HARRINGTON
Form of Government: Town Meeting-Select Board.
Additional resources
Gage, Thomas Hovey. Notes on the History of Waterford, Maine. Worcester, Mass. 1913.
Holt, Edward A. A History of Sawin Hill Road in Waterford and Albany, Maine. Harpswell, Me. E.A. Holt. 2007. [Maine State Library]
*Maine. Historic Preservation Commission. Augusta, Me.   Text and photos from National Register of Historic Places: http://pdfhost.focus.nps.gov/docs/nrhp/text/xxxxxxxx.PDF and http://pdfhost.focus.nps.gov/docs/nrhp/photos/xxxxxxxx.PDF
North Waterford Congregational Church:  86001275.PDF
Waterford Historic District: 80000247.PDF
Ripley, Lincoln. A Description and History of Waterford, in the County of York. 1803. [Maine State Library]
This is Waterford: Written Reflections on Life in Maine, 1803-2003. Waterford, Me. Waterford Historical Society. 2003.
Waterford, Maine, 1875-1976. Waterford, Me. Waterford Historical Society. c1977.
National Register of Historic Places – Listings
McWain–Hall House, McWain Hill Road
North Waterford Congregational Church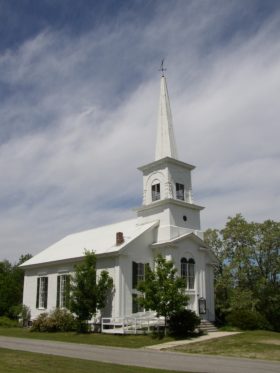 [off Maine Route 35 North Waterford] It is unlikely that a more beautiful or delicately proportioned rural church better sited can be found in Maine. Its classic lines, noble steeple and aspect on a high slope above the Commons have made it the subject of innumerable memorabilia and carried its picture the world over.
The church's designer, Thomas Holt, had an unusual career that combined architecture and engineering for the Maine Central Railroad. His practice as an architect, beginning in his native Bethel and continuing in other communities such as Norway and Yarmouth, apparently included a specialization in church design. The North Waterford church is perhaps the most outstanding surviving example from this phase of his career. By the mid-1860s Holt devoted most of his time to the design and construction of railroad bridges and stations along the Maine Central Railroad. His important work in Maine in this field lasted until he moved to California in 1876.*
Waterford Historic District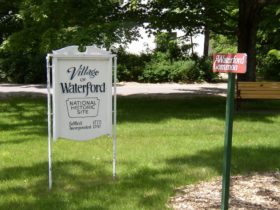 [Maine Route 35 and Maine Route 37] Waterford was first surveyed in 1775 and the first settler, David McWain, appeared the same year. The first settler at Waterford "Flat" was Eli Longley whose property encompassed all of the area included in the historic district. Arriving about 1793, Longley built a log house but so many calls were made on his hospitality by passing travelers that he opened a public house in 1797. The building, considerably altered, is the locally well known Lake House Inn and Restaurant.  A man with an eye to the future, he planned for the village that he saw would spring up and laid out the common that remains today though reduced in size.
He subdivided his holdings along the north-south road and sold the lots as new settlers arrived. He also built a store in 1802. In 1817 Longley sold his tavern to Peter Warren who in turn sold it in 1847 to Dr. Calvin Farrar. Farrar, taking advantage of a nearby mineral spring, opened a highly successful hydropathic spa and was succeeded by a Dr. Prescott;  he in turn succeeded by Dr. Shattuck, who operated the establishment for many years as the Maine Hygienic Institute – "a hospital exclusively for lady patients employing eclectic treatment".
Out of all this grew the popularity of Waterford as a summer resort and the "institute" became a hotel, the Lake House, with an annex next door converted from a store. One of the earliest buildings in the village is the Levi Browne House built in 1805. This house was the birthplace and boyhood home of Charles Farrar Browne (1834-67), the internationally popular humorist, better known by his pen name, "Artemus Ward". He served as a primary inspiration for Mark Twain's early writings. Browne frequently returned to his old home and is buried by his father's side in Waterford.
An early store owner in Waterford was Ambrose A. Knight who, about 1810, built a handsome Federal residence. Marked by a beautiful fan doorway with well proportioned Palladian window above and rich detailing, his house is the most outstanding architecturally in the district. Also notable is the Gage-Rice House, a Federal structure with extended attached buildings, built in 1817 by Dr. Leander Gage who moved to Waterford from Bethel. Part of this property is a handsome Greek Revival barn.
The Waterford Historic District is significant in totality as a remarkably unchanged 19th century village, well maintained and reflecting in its quiet dignity the less frenetic pace of a departed era.*