| Year | Population |
| --- | --- |
| 1970 | 1,208 |
| 1980 | 2,943 |
| 1990 | 4,510 |
| 2000 | 6,214 |
| 2010 | 7,693 |
Geographic Data
N. Latitude
43:35:07
W. Latitude
70:44:10
Maine House
District 17
Maine Senate
District 33
Congress
District 1
Area sq. mi.
(total) 57.4
Area sq. mi.
(land) 55.5
Population/sqmi
(land) 138.6
County: York

Total=land+water; Land=land only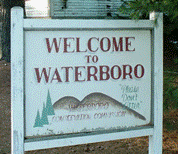 [WAT-ehr-bur-row]is a town in York County, incorporated on March 3, 1787 from Massabesic Plantation.
Colonel Joshua Waters, a proprietor, lent his name to the town. Originally Waterborough, the name was formally changed in 1895.
The town ceded land to Alfred in 1847 and to Shapleigh in 1854.
Though lumbering began thriving about 1764, the first settler arrived in 1768 at Waterborough Old Corners.
In the 1780's, development began in earnest with the first public house (1780), the first church, held in peoples homes (1782), and the first school, conducted in a barn (1784). By 1787 four mills were operating.
U. S. Congress member Amos L. Allen was born here in 1837.
The Beach at Little Ossipee Pond is reserved for town residents only!   But boat launching is open to anyone.
The South Waterboro Bible Chapel is in the most southern of three villages, Waterboro.
The others are Waterboro Center and North Waterboro.
North Waterboro is a small village near Limerick on Route 5. The church is across the road from the post office.
Waterboro Barrens is a 2,140-acre Nature Conservancy preserve, one of the largest and best preserved pitch pine barrens in Maine. The barrens, located near Lake Sherburne, last burned in the forest fires that swept the state in 1947 and ravaged the town. Pitch pine, however, are very fire resistant.
On October 16,2012 Waterboro was the epicenter of a 4.0 earthquake.
In the last forty years the town's population has grown phenomenally, having expanded to over six times its size as in 1970.  Any chance the change in the "Welcome" sign design (from one that celebrated the town's open spaces in 2003 to portraying a bit more crowded community in 2012) is due to population pressure?
Form of Government: Town Meeting-Select Board-Administrator.
Additional resources
Blaisdell Family. Papers, 1863-1956. (Cataloger Note: Personal papers of various members of the Blaisdell family, especially of Frank W. Blaisdell. Includes legal documents, receipts and correspondence of his business dealings and activities as executor of various estates. Also includes five daily diaries between 1879-1889 and records reflecting his involvement with the Baptist church in South Waterboro, Maine, and with the Independent Order of Odd Fellows lodge in Waterboro.) [University of Maine, Raymond H. Fogler Library, Special Collections]
Knights, Ernest G. Waterboro, York County, Maine. Waterboro, Me.? The Author? 1954. [Maine State Library; University of Maine at Farmington, Mantor Library]
*Maine. Historic Preservation Commission. Augusta, Me.   Text and photos from National Register of Historic Places: http://pdfhost.focus.nps.gov/docs/nrhp/text/xxxxxxxx.PDF and http://pdfhost.focus.nps.gov/docs/nrhp/photos/xxxxxxxx.PDF
Elder Grey Meetinghouse: 79000175.PDF
Reflections of Waterborough. North Waterboro, Me. Waterborough Historical Society? c2000. (Denmark, Me. Cardinal Printing Co.)
National Register of Historic Places – Listings
Elder Grey Meetinghouse
[north of North Waterboro North Waterboro] A simple structure eloquently reflecting the plain, straight forward approach to religion in early Maine, the Elder Grey Meeting House was built in 1806 at the foot of Ossippee Pond in North Waterford. It was established as a union church with Baptist affiliations. One of the earlier pastors was Elder James Grey, born in Lyman in 1784. This universally loved and admired spiritual leader served the parish until his death in 1856.
Affection was expressed when the meeting house was moved four miles in 1832 to its present location in order to be nearer the house of the aging pastor. Two brothers, Joseph and Samuel Bradeen, each gave a portion of their land on opposite sides of the road for the church site and the cemetery. In 1834 Elder Buzzell of Parsonsfield became the active minister, and under him a great religious revival took place.
By the 1880s the organization as a functioning church gradually disappeared and the building began to decay. In the 1890s, however, there was renewed interest in the structure as a historic as well as spiritual site. A summer pastor, usually a theological student, was retained for a number of years, and the meeting house was repaired, including restoration of the interior.
Again the building fell into neglect and was by some considered hopeless. But again interest arose, an organization to restore and maintain the church formed, and a trust fund established. Now the Elder Grey Meeting House is carefully preserved and a yearly anniversary service is held each summer.* [See photo above.]
First Baptist Church, west side, Junction of West Road and Federal Street