| Year | Population |
| --- | --- |
| 1970 | 617 |
| 1980 | 653 |
| 1990 | 582 |
| 2000 | 561 |
| 2010 | 546 |
Geographic Data
N. Latitude
47:08:48
W. Latitude
68:37:40
Maine House
District 151
Maine Senate
District 1
Congress
District 2
Area sq. mi.
(total) 40.5
Area sq. mi.
(land) 39.8
Population/sq.mi.
(land) 13.7
County: Aroostook

Total=land+water; Land=land only
[wall-ah-GRASS] is a town in Aroostook County, incorporated on June 4, 1979 from Wallagrass Plantation, once known as Hancock Plantation.
Settled by Acadians, the town lies just south of Fort Kent on the Fish River, whose Eagle Lake outlet is in the southern portion of the township.
In the 1880's Wallagrass had a population of 431 supporting three public schoolhouses. Having recovered population in the 20th century, it has consistently declined since 1980.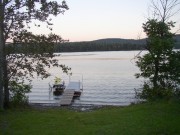 Soldier Pond, named after the bloodless Aroostook War, is a bulge in the Fish River. The Bangor and Aroostook Railroad hugs the west bank of the river and Eagle Lake from the town of Eagle Lake to Fort Kent. Wallagrass Station village is located at the southern end of the town, where Station Road leads to the shore of Eagle Lake.
The 2008 Comprehensive Plan offers these insights [edited and condensed]:
Wallagrass has two small villages, each with a small cluster of buildings. Most residents, however, are scattered throughout town on farms and single-family lots. The town has evolved into a bedroom community for people who work in the surrounding larger communities with a growing number of residents conducting full or part-time businesses from their homes.
The land is mostly hilly and wooded with scenic views and numerous streams feeding into the Fish River. The residents are interested in conserving the rural quality of life and in preserving the local cultural heritage and history. Although the population has become more diverse ethnically, the French culture remains strong.
There is a rich agricultural and forestry heritage, a range of cultural and historical resources, the promise of future small business development, a well developed and maintained trail system, quality water and air, a diversity of religious denominations, and accessible medical and emergency services..
Wallagrass Stream was once a producer of electric power at the Albert Michaud Dam. The power generated was supplementing the need for electricity in the Fort Kent area beginning in 1912.
There were several sawmills in town. One was in Soldier Pond, first owned by Nelson and later by Daigle & Sons, who were forced to close down during the Depression. Another was at Labbe Pond—it also folded in the Depression years. Some of the gravel pits in town have been in operation for several generations. There were also mills located on the Michaud Road, a sawmill along the Fish River near the present Sutton Siding Road, and a mill near the Carter Brook Tote Road.
Four schools were originally located in the town, two of which are still standing. One was a Boarding School located at the Convent in Wallagrass.
Form of Government: Town Meeting-Select Board-Manager.
Additional resources
A Comprehensive Plan for the Town of Wallagrass. July 2008. http://www.maine.gov/spo/landuse/compplans/plans/wallagrass/WallagrassCP2008.pdf (accessed April 24, 2012)
Stadig, Rita B. Rita Stadig Collection, 1900-2009. (Cataloger Note: A variety of papers and photographs pertaining to the Stadig family and the history of the St. John Valley. The materials cover topics such as the lumber industry, Sweden and the Swedish colony of Aroostook County, World War II and the Fish River; Fort Kent, Wallagrass, and Madawaska are also represented by items in the collection.) [University of Maine at Fort Kent, Blake Library]
Wallagrass Comprehensive Plan, July 1986. Wallagrass, Me. Planning Board. 1986. [University of Maine, Raymond H. Fogler Library, Special Collections]
Wilson, Richard Edward. The Labbes of Wallagrass and Brunswick, Maine: A Study in Landscape, Community, and Family. Brunswick, Me. Richard Edward Wilson. 1997. (Thesis (MA)–Vermont College of Norwich University, 1997.) [University of Maine at Fort Kent, Blake Library]