| Year | Population |
| --- | --- |
| 1970 | 642 |
| 1980 | 862 |
| 1990 | 1,223 |
| 2000 | 1,322 |
| 2010 | 1,616 |
Geographic Data
N. Latitude
44:09:44
W. Latitude
70:02:56
Maine House
District 82
Maine Senate
District 22
Congress
District 2
Area sqmi
(total) 17.1
Area sq. mi.
(land) 16.1
Population/sqmi
(land)100
County: Androscoggin

Total=land+water; Land=land only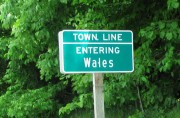 [WAALS] is a town in Androscoggin County, incorporated on February 1, 1816 from Wales Plantation. It annexed land from Litchfield (1827, 1856), Leeds (1855), and Monmouth (1855). Later, in 1867, it ceded land to Webster, now Sabattus.
The early settlers arrived in about 1773, some of whom came from Wales in Britain. The gentle hills in the town reflect the landscape of the old country.
According to the Town's 2004 Comprehensive Plan,
As Wales' population grew there was a need for more schools. At one time, there were five one-room schools in Wales. In order to pass state inspection in 1946, the town had to modernize every one of the schools or build a central school. It was not until 1951, however, when the schools were all condemned by the State Insurance Commission that the citizens voted to construct a central school. Since there was no high school in Wales, the upper grade students could attend wherever they chose and the town paid the tuition. In 1974, Wales became a member of Litchfield, Sabattus, and Wales School District and  the three towns built Oak Hill High School in Wales which opened in the fall of 1976.
Wales Central School closed in 2011 with reuse pending a final decision by the town. Students now attend another school in the District.The site of an older community building, the Old Town House, is adjacent to a town garage.
The grange hall is home to several community organizations including the Masons, Order of the Eastern Star and a snowmobile club.
With access to Sabattus Pond, the town is within easy reach of Lewiston–Auburn via Maine Route 132, and of Gardiner by way of Routes 9 and 126.
Form of Government: Town Meeting-Select Board.
Additional resources
Cochrane, Harry H. History of Monmouth and Wales [microform]. East Winthrop, Me. Banner. 1894. [Maine State Library]
Mitchell, H. E. (Harry Edward). The Town Register: Wayne, Wales, Monmouth, Leeds, Greene, 1905. Brunswick, Me. H. E. Mitchell. 1905.
Town of Wales Comprehensive Plan. Wales, Me. 2004.