| Year | Population |
| --- | --- |
| 1970 | 70 |
| 1980 | 130 |
| 1990 | 119 |
| 2000 | 105 |
| 2010 | 101 |
Geographic Data
N. Latitude
45:23:00
W. Latitude
67:38:00
Maine House
District 141
Maine Senate
District 6
Congress
District 2
Area sq. mi.
(total) 43.2
Area sq. mi.
(land) 43.1
Population/sq.mi.
(land) 2.3
County: Washington

Total=land+water; Land=land only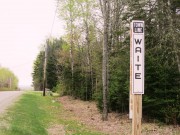 [WATE] is a town in Washington County, settled in 1832 and probably named for Benjamin Waite, an early lumberman in the area. It was incorporated as a town on February 22, 1876 from Waite Plantation, formerly township T2 R2 TS.
Shortly thereafter in 1880 the population was 122, supporting two public schoolhouses.
The name of "Unknown Pond" in Waite may sum up the town's reputation in the rest of the state outside Washington County. U.S. Route 1 barely grazes its western edge and the sparse population is scattered across its rural and wooded landscape.  A small village is on the Bingo Road east of Route 1.
That very landscape, though, has attracted hunters and fishermen to the remote area. Tomah Stream was named for the Indian chief who aided the Machias settlers during the American Revolution.
Nearby Talmadge has its only improved road near U.S. Route 1, thus providing access to its small village. The Waite and Talmadge Congregational Church is on the Old Mill Road off Route 1, near where the Talmadge Road begins.
Form of Government: Town Meeting-Select Board.
Additional resources
McCauley, Brian. The Names of Maine: How Maine Places Got Their Names and What They Mean.
Varney, George J. A Gazetteer of the State of Maine. 1886. p. 554-555.