| Year | Population |
| --- | --- |
| 1970 | 437 |
| 1980 | 559 |
| 1990 | 515 |
| 2000 | 533 |
| 2010 | 544 |
Geographic Data
N. Latitude
44:31:37
W. Latitude
68:46:41
Maine House
District 131
Maine Senate
District 8
Congress
District 2
Area sq. mi.
(total) 8.7
Area sq. mi.
(land) 6.2
Population/sq.mi.
(land) 87.7
County: Hancock

Total=land+water; Land=land only
[vehr-OWE-nah] is a town in Hancock County, settled in the 1780's and incorporated on February 18, 1861 from Wetmore Isle Plantation, and takes its name from that of an Italian city.
Verona changed its name to Verona Island in 2004.
It is located on an island in the Penobscot River between the towns of Prospect and Bucksport. The Island is bounded by  the Main and the Eastern Channels of the Penobscot. The Eastern is supplemented with the outlet of the Orland River.
Verona was also known as Penobscot Island, the Isle of Lett, and Orphan Island, the latter because it was all that General Henry Knox had to bequeath to his orphaned grandchildren.
By the early to mid-1800's approximately 400 people were fishing and tending sheep on the island. By the late 1800's commerce, forestry, and farming were part of the local economy.
At the turn of the 20th century, Verona Island Park, a colony of summer cottages with a grand hotel came to the island, with boathouse, a wharf and stable. The park and hotel, now demolished, ultimately failed.
In 1959, both Verona Island and Bucksport residents considered merging the two towns. On the first vote, Bucksport approved the merger and Verona Island residents did not.
At the next vote, Verona Island voters approved but Bucksport voters did not. Regardless, two towns continue a close relationship.
Once a shipbuilding community, it built Commodore Robert E. Peary's ship the Roosevelt for his expedition to the North Pole. Currently, few businesses in town employ more than a few people, so most wage-earners work out of town, primarily in Bucksport and Bangor. A growing population since 1840 peaked in 1980 at 559.
The old Waldo-Hancock Suspension Bridge provided the link from the Town of Prospect as U.S. Route 1 and Maine Route 3 pass through the northern portion of the town, to Bucksport, then "Downeast" to Bar Harbor and Calais.
Assessed as weakened beyond repair, it was replaced by the new Penobscot Narrows Bridge, which opened in 2007. The new bridge offers an observation tower with views of Penobscot Bay.
See more on bridges.
National Register of Historic Places – Listings
Waldo-Hancock Bridge, US Route 1 (now decommissioned; Verona is across the river).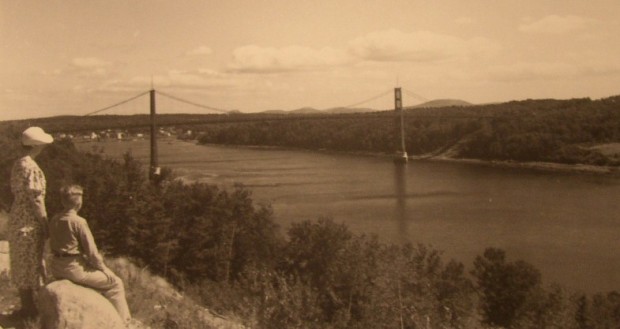 Form of Government: Town Meeting-Select Board.
Additional resources
1936 Photo of the Waldo-Hancock Bridge, courtesy Maine State Archives, George French Collection.
Limeburner, Grace. The Folks of Orphan's Island, Now Verona, Maine. North Brooksville, Me. G. Limeburner. 1951.
Shaw, Richard R. The Lower Penobscot River Region. Dover, N.H. Arcadia. 1996.
The Town Register: Bucksport, Orland, Orrington, Verona. Brunswick, Me. H. E. Mitchell Co. 1907. Special Collections, Fogler Library, University of Maine. Orono.
Verona Island Comprehensive Plan Committee, with assistance from the Hancock County Planning Commission. Verona Island, Maine: Comprehensive Plan 2006. Maine. 2006.
Verona Island Stories: and Family Histories. Compiled by Grace Limeburner; edited by W. A. Fellows. Augusta, Me. W. A. Fellows. 1967.