| Year | Population |
| --- | --- |
| 1970 | 1,556 |
| 1980 | 1,610 |
| 1990 | 1,633 |
| 2000 | 1,744 |
| 2010 | 1,919 |
Geographic Data
N. Latitude
44:50:08
W. Latitude
68:42:58
Maine House
District 129
Maine Senate
District 5
Congress
District 2
Area sq. mi.
(total) 3.1
Area sq. mi.
(land) 2.9
Population/sqmi
(land) 661.7
County: Penobscot

Total=land+water; Land=land only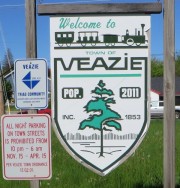 [VEE-zee] is a town in Penobscot County, incorporated on March 26, 1853 from the seventh ward of Bangor, then ceded some land back to that city in 1889.
It was named, and likely created, for General Samuel Veazie who owned the saw mills and most of the property in the new town.
He also owned the Veazie Bank and several railroads in the area. The successor to the Maine Central Railroad, which runs through the community, is the only remnant of that era.
A trading post was probably established there in 1657 by William Crowne at Negas or Negew – a large triangular piece of fertile land cleared by the Indians for planting. It was known as "the Plains" by later white visitors.
In the 19th century, Veazie had four stores, a hotel, a dam serving an array of sawmills, and the 1844 Congregational Church. According to the Gazetteer of Maine,
The "Upper Block (so called), contains two gangs of saws, six single saws, and a lath-mill; the "Lower Block" has one gang of saws, three single saws, lath-mill, clapboard and shingle-mill, and others.
Veazie is a densely populated suburb of Bangor and a frequent residential option for staff of the University of Maine in Orono.
Most of its housing is along the Penobscot River near Eddington Bend, a major curve in that river at the Eddington–Brewer line on the east side of the waterway.
At only 3.4 square miles in area, Veazie is one of the smallest municipalities in the state. U.S. Route 2 is also its Main Street.
The Penobscot River Restoration Project, announced in October of 2003, called for the demolition of the Veazie dam, which was accomplished in 2013. This, along with dismantling the Great Works dam up the river in Old Town, will allow Atlantic Salmon to move upstream and, proponents hope, strengthen that fishery.
Form of Government: Town Meeting-Council-Manager.
Additional resources
Chadbourne, Ava Harriet. Maine Place Names and The Peopling of its Towns.
Eckstorm, Fannie Hardy. Indian Place Names of the Penobscot Valley and the Maine Coast.
Hamilton, Jean. History of Veazie, Maine. 1978? http://www.veazie.net/Public_Documents/VeazieME_WebDocs/HistoryofVeazie.pdf (accessed April 18, 2012)
Holyoke, John. "Penobscot restoration deal OK'd." Bangor Daily News. October 7, 2003.
Isaacson, Dorris. Maine:A Guide Downeast.
Varney, George J. A Gazetteer of the State of Maine. 1886. p. 551-552.