| Year | Population |
| --- | --- |
| 1970 | 2,618 |
| 1980 | 3,410 |
| 1990 | 3,679 |
| 2000 | 4,047 |
| 2010 | 4,340 |
Geographic Data
N. Latitude
44:25:38
W. Latitude
69:39:01
Maine House
District 80
Maine Senate
District 15
Congress
District 1
Area sq. mi.
(total) 47.8
Area sq. mi.
(land) 44.3
Population/sq.mi.
(land) 98.0
County: Kennebec

Total=land+water; Land=land only
[VASSAL-bur-row] is a town in Kennebec County, incorporated on April 26, 1771. It ceded land to Sidney in 1792 and annexed land from China in 1829.  Originally it was part of the "Plymouth Patent," issued to the Kennebec Proprietors in the 1600's by the Council for New England of Charles I.
People from Cape Cod first settled the town in 1760, but shortly after 1780, an influx of Quakers from New York made Vassalboro one of their several strong communities in Maine. They established the Oak Grove Seminary in 1844.
It began as what was called a Select School about 1850, from the efforts of five members of the Society of Friends who lived in Vassalboro: John Lang, Samuel Taylor, Ebenezer Frye, Alden Sampson and John Pope. The school soon closed for lack of patronage, but in 1856 Eli Jones raised $15,000 to reopen it. By the spring of 1857 it had 140 students. In 1890 the school was owned by the New England Yearly Meeting of Friends. In the 1890s Oak Grove School had a longer name: "Oak Grove Seminary and Bailey Institute, Vassalboro, Maine." The Bailey family of Winthrop provided many generous gifts so that by 1894 the name Bailey Institute had been added to Oak Grove.*
It became Oak Grove Coburn school in 1970 through a merger with the Coburn Classical Institute, once supported by Governor Abner Coburn. In 2001 it was renovated as the site of the Maine Criminal Justice Academy.  The Oak Grove Chapel sits across Oak Grove Road from the Academy.
North Vassalboro was once the site of the Kennebec Bean Factory. The village is less vital since its demise. A dam on the Outlet Stream served the factory.
The birthplace of humorist and social critic Holman Day (1865-1935), Vassalboro was also home to psychiatrist Dr. Charles H. Nichols (1820-1889) who founded St. Elizabeth's Hospital for the Insane in Washington, D.C.
It also is the longtime home of Elizabeth "Libby" Mitchell, the first woman to be Speaker of the Maine House of Representatives and, later, President of the Maine State Senate.
Bounded by the Kennebec River on the west, the town contains Webber Pond and has access to Threemile Pond at South Vassalboro, and to China Lake at East Vassalboro.
---
The community still has sufficient space to support farming as well as serving as a residential area for people working in Augusta and Waterville.
In September of 1775, Benedict Arnold stopped here to obtain a canoe to allow him to move more quickly than the heavy bateau that carried his men and provisions. He wanted to be able to communicate with advance parties sent to scout the path ahead.
Benedict Arnold's Expedition Route – click a Bateau


<== To Quebec                         To Beginning ==>

Form of Government: Town Meeting-Select Board-Manager.
Additional Resources
Desjardin, Thomas A. Through A Howling Wilderness: Benedict Arnold's March to Quebec, 1775. 2006.
Fortis, Edmund. The last words and dying speech of Edmund Fortis, a Negro man, who appeared to be between thirty and forty years of age, but very ignorant. [microform] : He was executed at Dresden, on Kennebeck River, on Thursday the twenty-fifth day of September, 1794, for a rape and murder, committed on the body of Pamela Tilton, a young girl of about fourteen years of age, daughter of Mr. Tilton of Vassalborough, in the county of Lincoln. Printed and sold at Exeter, NH. 1795.  (University of Maine, Orono. Orono Microforms.)
Foster, Angela M. The People of Vassalboro, Maine, 1771-1900 [electronic resource: CD-ROM]: from town records and reports. Compiled by Angela M. Foster. Rockport, Me. Picton Press. c2004.
Kingsbury, Henry D. "Vassalboro." New York. H.W. Blake & Co. 1892. (Excerpt from Kingsbury's History of Kennebec County. Maine State Library.)
**Maine. Historic Preservation Commission. Augusta, Me.   Text and photos from National Register of Historic Places: http://pdfhost.focus.nps.gov/docs/nrhp/text/xxxxxxxx.PDF and http://pdfhost.focus.nps.gov/docs/nrhp/photos/xxxxxxxx.PDF
Dutton-Small House: 90001907.PDF
Grant, William F. House: 06000396.PDF
Leach, Philip House: 83003644.PDF
Mill Agent's House: 83003645
River Meeting House: 78000181.PDF
Riverview House: 01000369.PDF
National Register of Historic Places – Listings
Grant, William F., House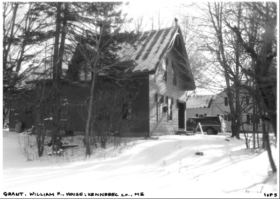 [869 Main Street] In the middle of the 19th-century the village of North Vassalboro was a growing mill town. The North Vassalboro Woolen Manufacturing Company was building and expanding its production facilities, and stores. Civic and religious buildings were built at a rapid rate. Mill-owned, or built, housing was being built for native and newly arrived immigrant workers..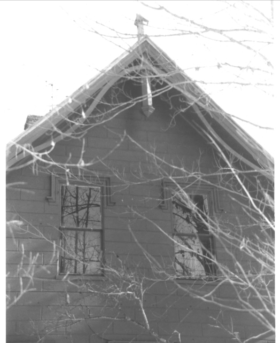 Among the bustle of activity a Scottish immigrant, William F. Grant, and his family, arrived and built their home around 1850 in the Gothic Revival style, previously unseen in the village. With its wide, over-hanging roof, steep dormers, decorative verge board, simulated stone siding, moulded window hoods, and skyward pointing ornaments, the Grants' home used distinctly non-urban and non-industrial a style. In addition, the eye-catching house, which during the 19th century was painted in light tones with darker hued trim, provided a canvas showing Grant's skills as a house painter, and gave the newcomer an immediate advertising medium.
The distinctive stylistic details of the Grant house remain as a counterpoint to the generally ordinary landscape of the village, and symbolizes in part the variety of cultural influences that found their way to Maine's industrializing landscape in the 19th century.
Less is known about William F. Grant than about his sons, who ran a carriage painting and manufacturing shop on the property from the 1870s through the early 20th century. Grant and his wife Jane immigrated to the United States between 1842 and 1845. Jane was born in 1812 on the Isle of Man and William was born in Scotland in 1814. In 1840 and 1842 their first two daughters were born in Nova Scotia; their third daughter and three sons were born in Maine starting in 1845. In 1849 the Grants identified their residence as Vassalboro in the deed for the lot on the south side of town, purchased from the Priest family. The property contained one-half acre on Main Street; the family purchased the adjacent 1 .7 acres to the east in 1864. In the 1870 census Grant's occupation is listed as a house painter. William F. Grant became a naturalized United States citizen in 1859.** [Kristi A. Mitchell photos, 2006]
Leach, Philip House
The c. 1805 Philip Leach House contains one completely stenciled room in a state of preservation unequaled elsewhere in Maine and comparable to the best in the nation. Covered by wallpaper, apparently only shortly after being applied, they were revealed in 1982 by painstaking removal of the paper. Comparison with the stencils in his kit, which still survives, indicates that the decoration is clearly the work of Moses Eaton (1796-1886), the noted itinerant stenciler from New Hampshire.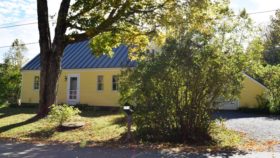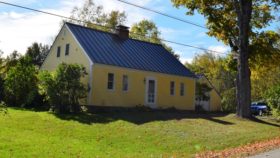 The date of the work is probably no later than 1825 since Eaton gave up his travels and became a full time farmer as a still fairly young man. The house was built around 1805 by Philip Leach, Esq., a lawyer, who later became postmaster in East Vassalboro.**
Since 1983, when nominated to the National Register, a metal roof and new siding has been added. Shutters have been removed. One hopes that the historic stenciling survives.
Mill Agent's House
[Maine Route 32] This remarkable adaptation of the Greek Revival Style is unique in Maine and represents the prosperity that came to this small town as a result of having one of the largest woolen mills in the country in the mid-19th century. Founded in 1836,the North Vassalboro Woolen Manufacturing Company expanded rapidly. The earliest of the brick mill buildings was built in 1851.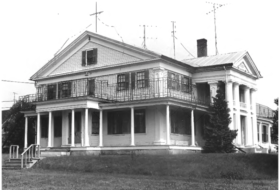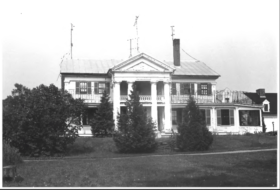 At the time Thomas Lang, son of the founder and president, was appointed mill agent and this house was built as his residence. The house passed out of mill ownership in 1955, served for a time as a nursing home, and is now a private residence.** [Frank A. Beard photos, 1983]
River Meeting House
[U.S. Route 201] The Sophia-Bailey Memorial is both an unusual architectural adaptation and a link with the Quaker heritage of the Oak Grove School and the community.  By 1786 the number of Quakers in Vassalboro was large enough to construct a meeting house near the river for a group known as the River Meeting. By 1797 a second meeting house had been built in East Vassalboro for the East Pond Meeting. The River Meeting House, the first religious building in Vassalboro, soon achieved sufficient importance that it became the site of the Quarterly Meeting for the region.**
The original River Meeting House of 1786 was a T-shaped wood-framed structure with clapboard siding, gable roof, twelve-over-twelve windows and a single entrance door. The major rebuilding and renovation of 1895 completely changed the appearance of the meeting house, while retaining its basic form. The current renovated building is in the Shingle style. All doors and windows and their locations are completely different from those of the 18th century structure.**
Riverview House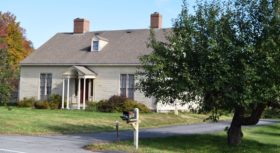 [U.S. Route 201, 0.15 miles southeast of junction with Old Federal Road; N44° 22′ 54.06″ W69° 43′ 7.23″] Riverview House, built about 1796, is a large Federal style cape, believed to be one of the oldest houses in Vassalboro.  Its builder, original owner and many early residents of the house are buried across the highway in a small family cemetery. It was the home of three members of the Maine Legislature: Franklin Brown, Forrest Brown and Russell Brown. Donald Brown, born in the house, served for many years as Maine State Comptroller.  The land on which the house was built is located on a portion of  the original Kennebec Purchase in Vassalboro.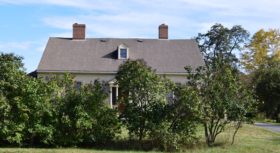 The House has many unusual 18th and 19th century architectural features. Though apparently a typical small Maine cape with ell extending to the rear, it is actually a very large structure of fourteen rooms with two grand parlors with 10′ 3″ ceilings. These are filled with light from great 8′ high and 4′ wide window openings. It has a large center hall with an 1832 grand staircase, landing and balcony. A plaster arch ceiling tops the second floor balcony landing. First floor center hall ceiling has a plaster and wood medallion. It has much of its original structure, molding, floor, and painted surfaces intact after more than two hundred years.
As of 2001, no major changes to its basic footprint or its exterior appearance had been made since it was rebuilt in 1832. 18th century or early 19th century paint and lime wash surfaces can be found in may places. Evidence of three Federal and one Greek Revival fireplace survives.  Modifications made in 1832 include the large 4×8 windows in the front of the Cape; a small Greek Revival pillared portico, elegant center hall staircase and second floor balcony; and arched ceiling over the upstairs hall balcony.**