| Year | Population |
| --- | --- |
| 1970 | 263 |
| 1980 | 256 |
| 1990 | 201 |
| 2000 | 147 |
| 2010 | 140 |
Geographic Data
N. Latitude
45:33:57
W. Latitude
67:28:17
Maine House
District 141
Maine Senate
District 6
Congress
District 2
Area sq. mi.
(total) 22.6
Area sq. mi.
(land) 20.4
Population/sq.mi.
(land) 6.9
County: Washington

Total=land+water; Land=land only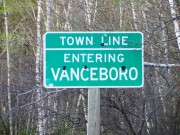 [VANCE-bur-row] is a town in Washington County, organized as a plantation on January 28, 1871 and incorporated as a town on March 4, 1874. The last town on Route 6 before the Canadian border at St. Croix, it is east Lambert Lake Township.
William Vance, a member of Maine's Constitutional Convention of 1819, and a large landowner in the area, was honored by the community's name.
In the late 19th century the Gazetteer of Maine had these observations:
The St. Croix Log-driving company have a dam here holding a 15-feet head of water. The manufactures in this town consist of leather and a clothes-pin and spool factory. The tannery is owned by the great tanning firm of F. Shaw & Brothers. Its capacity is 500 tons annually of dry sole leather. . . . The settlement has a public library of 75 volumes.
In 1880 the population was 381, enough to support two schoolhouses. Now, the already small town has lost population consistently over the forty years from 1970 through 2010.
The Canadian Atlantic Railway, which crosses Maine, reenters Canada at this point. In 1915 a German army officer was arrested attempting to blow up the railroad bridge between Vanceboro and Canada. Germany was at war with Canada at the time, before the U.S. entered World War I.
The huge Spednik Lake and Chiputneticook Lakes, swollen by the St. Croix River, form the northern boundary of the town. The canoe launching site is a favorite for those who wish to paddle and fish the river.  Modest rapids and campsites along the way provide outdoor experiences for even the beginning outdoors person.
A hill in the village overlooks the main street. With the large houses, the veterans hall and memorial, it appears to have been an important neighborhood in the history of Vanceboro. The local school of recent vintage is located there.
At the eastern terminus of Maine Route 6, Vanceboro lies across the river from St. Croix, New Brunswick where 24-hour per day customs stations manage border crossings.
Form of Government: Town Meeting-Select Board.
Additional resources
Gallison, Herb. The Long Life and Pretty Good Times of Herb Gallison. Edited by Kate Gallison. Lambertville, N.J. Mystic Dog Press. c1992. [University of Maine, Raymond H. Fogler Library, Special Collections]
Hennessey, Philip James. Town Government, A Survey of its Successes, Selected Problems, and Future in Vanceboro, Maine. (Thesis (M.A.)–George Washington University, 1962. [University of Maine, Raymond H. Fogler Library, Special Collections]
Varney, George J. A Gazetteer of the State of Maine. 1886. p. 550.