| Year | Population |
| --- | --- |
| 1970 | 3,971 |
| 1980 | 3,557 |
| 1990 | 3,045 |
| 2000 | 2,631 |
| 2010 | 2,171 |
Geographic Data
N. Latitude
47:10:52
W. Latitude
68:00:23
Maine House
District 150
Maine Senate
District 1
Congress
District 2
Area sq. mi.
(total) 35.2
Area sq. mi.
(land) 34.0
Population/sq.mi.
(land) 63.9
County: Aroostook

Total=land+water; Land=land only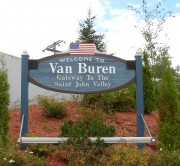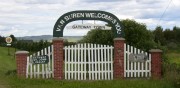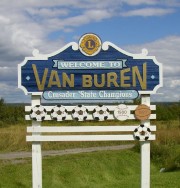 [van BU-rehn] is a town in Aroostook County, incorporated on February 11, 1881 from Van Buren Plantation. It annexed land from Hamlin plantation in 1907.
Named for the eighth U.S. President, Martin Van Buren, the area was a haven for Acadians escaping the British oppression of 1755. In 1791 they settled near Keegan, a village just north of the main settlement, to farm and work in the lumbering industry. A model "Acadian Village" is near Keegan village.
Still under British rule in the late eighteenth century, the village, was known as Violette Brook after an early settler, Francois Violette. After becoming part of Maine by the Webster-Ashburton Treaty of 1842, the village voted to adopt the name of Van Buren.
Though predominantly a rural community today, in the late 19th century the town had two lumber mills, a grist mill, and a starch factory.
The Bangor and Aroostook Railroad arrived in 1905 and soon extended its reach further up the St. John Valley.
Located across the St. John River and international border from St. Leonard, New Brunswick, the town is at the junction of U.S. Routes 1 and 1A. Its economic development message is "Gateway to the St. John Valley."
The Bertrand Levesque Memorial Park, just downstream under the bridge, commemorates four Van Buren residents killed in the Vietnam War. A plaque, affixed to the stone monument shown in the photo at right, records each name.
Form of Government: Town Meeting-Council-Manager.
Additional resources
*Maine. Historic Preservation Commission. Augusta, Me.   Text and photos from National Register of Historic Places: http://pdfhost.focus.nps.gov/docs/nrhp/text/xxxxxxxx.PDF and http://pdfhost.focus.nps.gov/docs/nrhp/photos/xxxxxxxx.PDF
Acadian Historic Buildings: 77000062.PDF
Michaud, Fortunat, House: 89002343.PDF
Governor Brann School: 93001432.PDF
Town of Van Buren. "History and Growth Potential." http://www.vanburenmaine.com/history.html (accessed April 16, 2012)
Varney, George J. A Gazetteer of the State of Maine. 1886. p5. 549-550.
National Register of Historic Places – Listings
Acadian Historic Buildings
[north of Van Buren on U.S. 1] Although this district contains structures moved from other locations and buildings that are contemporary reconstructions of earlier styles, this grouping is important. Because of the remoteness of the region and its unique ethnic and historic background, preservation of these qualities is both difficult and important. With relatively limited economic resources in the region, there may be no other way in which these buildings can be protected from decay and eventual total disappearance. They represent a way of life found nowhere else in Maine. The loss of these tangible evidences of that life would be irreparable. * [See also Acadia Acadian and Madawaska.]
Governor Brann School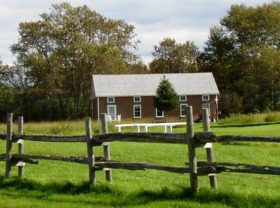 [US 1 E side, 1.25 miles south of junction with Madore Road] The 1934 Governor Brann School is a former one-room rural educational facility then located in Cyr Plantation. The building has been moved to the Acadian Village in Van Buren.
It is one of several built throughout the community at that time, but the only one that retains its original form and detailing. In addition to its significant association with the Cyr Plantation education system, the building is architecturally important as an intact representative of a model school plan developed by the State and erected across a wide geographic region.
Cyr Plantation was organized in 1870 with a population of 356 persons, little more than triple that of the inhabitants in 2010. According to plantation records, the first schoolhouse was built in 1887 in District 2 (six school districts had apparently been established by this date). The first school in District 3, where the Governor Brann School was located, was built in 1896. This building was replaced in 1910; the present schoolhouse (the one in Van Buren?) thereby representing the third one in the district.
In 1934 new schools were built in the plantation, naming one after the governor of that year, Gov. Brann School. By 1943 the enrollment in the plantation's six schools had declined to the point that three of them were permanently closed. Seven years later, the remaining one room schools were abolished with the community's educational needs consolidated with the Van Buren school system.*
Michaud, Fortunat O., House
[231 Main Street] Built between 1911 and 1917, the Michaud house is a remarkably intact Queen Anne style frame residence. It was made for local merchant and former state legislator Fortunat O. Michaud. Its architectural prominence in a community dominated by much more modest dwellings, is obvious. The Michaud house is on an elevated corner lot at the north end of Van Buren's commercial district. It is a conspicuous landmark, enhanced by the corner tower and expansive footprint. Van Buren experienced a great period of growth during the early years of the 20th century, but its housing stock has only a handful of stylish contemporary architectural buildings.  Fortunately, this house has retained its historic integrity, unlike many of its neighbors.
In 1912 the lot came into the possession of Fortunat O. Michaud who, at that time, was a dealer in shoes and boots. Michaud and his wife Emily Farrell, a descendant of the pioneer Farrell family that had owned this property, built the house by 1917. By then Michaud had served his first term (1915-16) as a Representative in the State Legislature. He was elected to a second term in 1941-42. They lived here until they died, and it then passed to their daughter Constance. The house was later sold out of the family.*