| Year | Population |
| --- | --- |
| 1970 | 1,280 |
| 1980 | 1,431 |
| 1990 | 1,817 |
| 2000 | 1,889 |
| 2010 | 2,099 |
Geographic Data
N. Latitude
44:35:37
W. Latitude
69:19:56
Maine House
District 99
Maine Senate
District 11
Congress
District 2
Area sq. mi.
(total) 41.8
Area sq. mi.
(land) 40.0
Population/sq.mi.
(land) 52.5
County: Waldo

Total=land+water; Land=land only
[YOU-nih-tee] is a town in Waldo County, settled in 1784 and incorporated on June 22, 1804 from a portion of Twenty-Five Mile Plantation, from which it annexed additional land in 1813.
Nathan A. Farwell was born here on February 24, 1812; he served in the state legislature (House and Senate, where he was President), and as a U.S. Representative.
In 1881, Mr. Varney characterized the town as follows:
The principal water course is Sandy Stream, which runs through the town from the south-east to Unity Pond. Unity village is situated upon this stream about one mile south of the pond. The principal water powers are on this stream. The manufactures consist of plows, carriages, one grist and planing mill, lumber (six mills), tinware, cheese (Unity Cheese Factory), harnesses, etc., etc. The Belfast branch of the Maine Central Railroad runs through the town, having a station at the village. The inhabitants in general have a thrifty appearance, and the roads are good.
It is home to Unity College, a small liberal arts institution in a rural setting where students are largely focused on environmental and natural resource interests.
The College began in renovated chicken barns and has grown to become a respected small institution.
Nearby, the Common Ground Country Fair has its permanent location, hosting thousands of visitors each fall.
The Belfast and Moosehead Lake Railroad (B&ML) has its home here at Unity Station. It does not travel to Moosehead Lake, but seasonally between Unity and Belfast as a scenic recreational adventure.
In recent years Amish families have moved to Unity, as well as nearby Thorndike, and to Aroostook County, sustaining the remaining agricultural tradition. The main village is at the south end of the 2,528-acre Unity Pond, also known as Lake Winnecook, at the junction of routes 9, 139, 220 and U.S. Route 202.
Form of Government: Town Meeting-Select Board-Administrative Assistant.
Common Ground Country Fair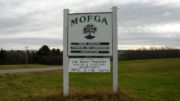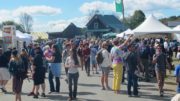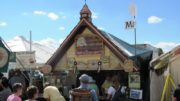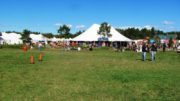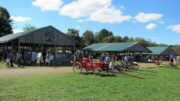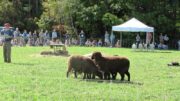 The Fair, first held in 1977, is organized by the Maine Organic Farmers and Gardeners Association. See more at Agricultural Fairs.
Additional resources
Freeman, Dorothy E. Ordinary, Yet Extraordinary: Six Decades In The Life Of Unity, Maine. Unity, Me. D.E. Freeman and S.M. Simeone. 2002.
Hawkes, Andrea Constantine. The Same Great Struggle: the History of the Vickery family of Unity, Maine, 1634-1997. Gardiner, Me. Tilbury House. 2003.
Murch, Edmund. A Brief History of the Town of Unity. (read by Edmund Murch at a meeting of the Harvest Moon Grange, Thorndike, 1892.) Belfast Me. G.W. Burgess, Printer. 1893.
Taber, James R. Ledger, 1874-1882. (Cataloger Note: A ledger used by Taber to record purchases made at his general store in Unity. Taber also used the volume to record work he did for others, including fencing, haying, repairs, etc. His work as executor for various decedents' estates is also documented in the volume.) [University of Maine, Raymond H. Fogler Library, Special Collections]
Unity Today, 1975-1976. Bicentennial Booklet Committee. Unity, Me. 1976?
Vickery, James B., Jr. Chapters In The History Of Unity, Maine. 1950. (Thesis (M.A.) in History–University of Maine, 1950.)
Varney, George J. A Gazetteer of the State of Maine. 1881. p. 548.
National Register of Historic Places – Listings
Chase, Hezekiah, House, U.S. 202
Village School
[69 School Street] The Village School is a one-story, three-room schoolhouse. It was built in a central location in 1898 as smaller, dispersed, rural districts were being consolidated. The school remained the largest grade school in town until 1953, when a new school was built to alleviate the overcrowded conditions at the school. It represents an intermediary step between the often autonomous 19th century district system and the mid-20th century full consolidation of town and regional schools. [See photo above.]
Source: https://www.nps.gov/nr/feature/places/14000363.htm (accessed March 10, 2017)