This township is immediately west of Township E, host to the next northerly section of the AT. The Trail enters at the northeast corner of the township and proceeds westerly, then southwesterly along its western boundary. (See light green dots on the map.)
In 1942 the Trail (yellow dots) tracked east of the current trail, moving below Long Pond while the current Trail travels above and around the pond.
Maine Route 17 snakes through the township, providing access to secondary roads, skirting east of Brimstone Mountain and crossing the Appalachian Trail near the "Height of Land."
Trail photos courtesy of Brady G. Williams 2007.
Height of Land, a scenic overlook northeast of the township in Township E, offers spectacular views of Mooselookmeguntic Lake and a broad mountainous panorama. Further south, the AT clings to the southeasterly slopes of three Bemis Mountain peaks, with views of Bemis Valley.
Route 17, the only improved road, runs southeast to northwest in the northeastern portion of the township. It is a scenic drive, especially in the fall, as these photos attest, with views of Mooselookmeguntic Lake and its Toothaker Island.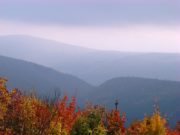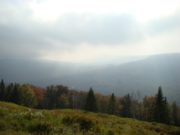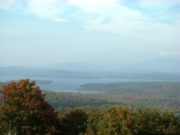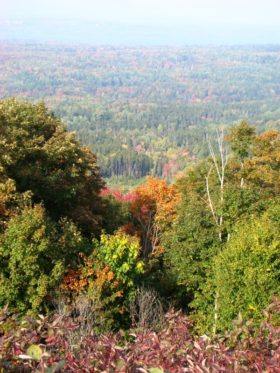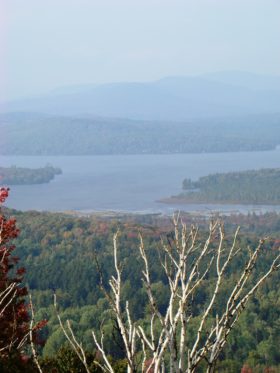 Additional resources
Topographic maps were created from the following University of New Hampshire Dimond Library, Documents Department & Data Center, Historic USGS Maps of New England & New York, accessed 1/6/2008: Rangeley, ME Quadrangle (1949), http://docs.unh.edu/ME/rang49sw.jpg; Oquossoc, ME Quadrangle (1942) http://docs.unh.edu/ME/oquo42ne.jpg; and Old Speck Mountain, ME Quadrangle (1945) http://docs.unh.edu/ME/olsp45ne.jpg. (accessed 1/7/2008)
---

<= South        Appalachian Trail – click a boot       North =>