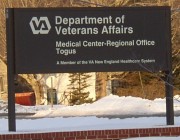 The Togus Veterans Administration Medical and Regional Office Center, as it is formally known, is a 67-operating bed facility with general medical, surgical, intermediate and mental health beds, as well as a 100-bed Nursing Home consisting of 50 Skilled and Longer Stay beds, and a 50-bed Dementia Unit.
One of the oldest veterans' facilities in the country, having opened in the fall of 1866, Togus is located approximately four miles east of Augusta in the town of Chelsea. It opened as the "National Home for Disabled Soldiers" from the Civil War.
Here are some excerpts from "Togus History" at the Togus website cited below:
The name Togus comes from the Indian name Worromontogus, which means mineral water. The Togus property was originally a summer resort known as Togus Springs. It was owned and operated by Horace Beals, a wealthy granite merchant from Rockland, Maine who hoped to establish a second Saratoga Springs.
The first Veteran was admitted to Togus on November 10, 1866. . . . The home was organized much like a military camp with the men living in barracks and wearing modified Army uniforms. Although a 100 bed hospital was completed in 1870, medical care at the home was limited, even by the standards of the day.
In 1890, a narrow gauge railroad from the Kennebec River in Randolph, and an electric trolley line from Augusta, were completed. The relative isolation of Togus was ended, and it became a popular excursion spot for Sunday picnics. There were band concerts, a zoo, a hotel, and a theater which brought shows directly from Broadway.
Togus has served veterans for nearly 150 years and is the oldest facility in the current Department of Veterans Affairs. A National Cemetery comprised of 5,373 burial sites is also located on campus. The first veteran was buried in the West Cemetery in 1867 and the last burial was in the East Cemetery in 1961.
The Togus campus encompasses 500+ acres of buildings and natural woodlands serving as natural habitats for some of Maine's wildlife. It operates a nursing home along with providing outpatient health services.
Additional resources
Beattie, Donald W. Togus: America's First Disabled Veterans' Home and Hospital. [Volume II], Miniature federal city. Winthrop, Me. Mackintosh Associates. c2007. [University of Maine, Raymond H. Fogler Library, Special Collections; Maine State Library]
*Maine. Historic Preservation Commission. "Governor's House." Augusta, Me.   Text and photos from National Register of Historic Places: http://pdfhost.focus.nps.gov/docs/nrhp/text/74000319.PDF and http://pdfhost.focus.nps.gov/docs/nrhp/photos/74000319.PDF
Togus Regional Office. http://www.benefits.va.gov/togus/index.asp (accessed April 9, 2012)
United States. Department of Veterans Affairs. Office of Healthcare Inspections. Combined Assessment Program Review of the Togus VA Medical Center, Augusta, Maine [electronic resource] Washington, DC Department of Veterans Affairs, Office of Inspector General, Office of Healthcare Inspections. 2008. [University of Maine, Raymond H. Fogler Library, Government Documents]
National Register of Historic Places – Listings
Governor's House

, National Historic Landmark
[Togus] Although it dates from 3 years after the opening of Togus as a veterans home in 1866, all the buildings originally used by the Home were designed as part of the Togus Springs Resort. One of the first structures built specifically for the National Home in 1869, the Director's Quarters [Governor's House] is the only one still in existence. Both its integrity and state of preservation are exceptional and it has changed very little since.
The House has a two-story wing extending to the rear and a total of 22 rooms. Replacement of the full-width open veranda with a narrower enclosed porch is the only noteworthy exterior alteration. Otherwise, the appearance remains virtually identical to pictures dating from very shortly after its completion.
Several other buildings are near the Governor's House, dating from the late 19th to early 20th century.  They have served as residences for the staff, including the two pictured here.*