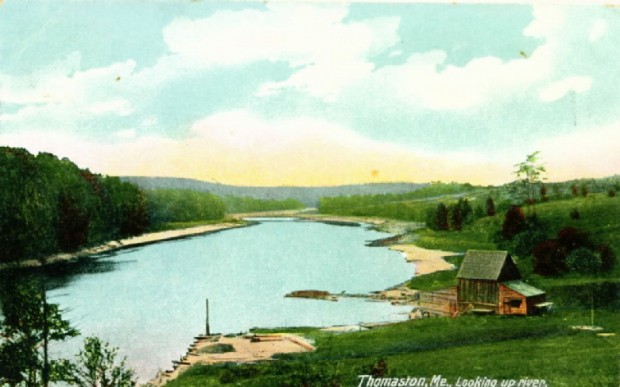 | Year | Population |
| --- | --- |
| 1970 | 2,646 |
| 1980 | 2,900 |
| 1990 | 3,306 |
| 2000 | 3,748 |
| 2010 | 2,781 |
Geographic Data
N. Latitude
44:05:34
W. Latitude
69:10:24
Maine House
District 92
Maine Senate
District 12
Congress
District 1
Area sq. mi.
(total) 11.5
Area sq. mi.
(land) 10.9
Population/sqmi
(land) 255.1
County: Knox

Total=land+water; Land=land only
Empire–1851
Hyperion (later Golden Racer)–1852
Oracle–1853
Crest of the Wave–1854
[TOM-iss-tun] is a town in Knox County, incorporated on March 20, 1777 from St. Georges Plantation. It ceded land to East Thomaston (Rockland) and South Thomaston in 1848 and 1849. It annexed land from Warren (1798, 1864), Rockland (1852), and Cushing (1891, 1909).
Located on the St. George River, a trading post was established in 1630 and continued despite the Indian raids of that century. Settled in 1783, substantial development began after the Revolution.
The town was named for Revolutionary War General John Thomas, who had commanded American forces in Canada.
Ship building and shipping were the basis of its fortune and that of the two millionaires (of seven in the whole country) who lived there in 1840. The Sailmakers' Protective Union was still functioning as late as 1903.
Captain Edward Robinson was a shipping trader and member of Congress who lived in Thomaston. General Henry Knox built a substantial mansion in town. A replica stands at the junction of U.S. Route 1 and Maine Route 131. Thomaston has many surviving fine homes, developed by financially successful residents, on its main street.
Daniel Rose (1771-1833) was a physician, briefly Governor, and the first warden of the Maine State Prison, located in the town until 2002.
Jonathan Cilley, a lawyer practicing in Thomaston, was later a member of the U.S. Congress when he was killed in a duel.
Early 19th century U.S. Representative Joshua Lowell was born here. Speaker of the Maine House of Representatives and U.S. Senator John Ruggles lived in town for many years during the 19th century.
The historic 1915 Knox Hotel was converted to affordable apartment housing for elderly people in 2011. The hotel is one of three buildings on the eastern side of Main Street, in the historic business district.
Just southwest of Rockland, the community lies at the point where the St. George River broadens into a long narrow bay. The bridge at this site was finished in 1928 and spans the St. George River. The gear for the drawbridge has been removed and replaced with a solid roadbed.
Form of Government: Town Meeting-Select Board-Manager.
Additional resources
Beckett, Bradley A. A History of Thomaston for Young Readers. Rockland, Me. Printed by Lakeside Printing. c1994. [University of Maine, Raymond H. Fogler Library, Special Collections]
Eaton, Cyrus. History of Thomaston, Rockland, and South Thomaston, Maine, from their first exploration, A. D. 1605; with family genealogies. Hallowell, Me. Masters, Smith. 1865.
Lynch, Francis P. Chapters in the Social and Economic History of Thomaston, Maine. 1955. (Thesis (M.A.) in History–University of Maine, 1955) [University of Maine, Raymond H. Fogler Library, Special Collections]
Packard, Aubigne Lermond. A Town that Went to Sea. Portland, Me. Falmouth Publishing House. c1950.
Steeves, Heather "Fix-up finishes made to historic Knox Hotel Apartments." Bangor Daily News. July 26, 2011. http://bangordailynews.com/2011/07/26/news/midcoast/fix-up-finishes-made-to-historic-knox-hotel-apartments/ (accessed April 20, 2017)
Tall Ships, White Houses, and Elms: Thomaston, Maine 1868-1923. Vol. 2. Thomaston, Me. Thomaston Historical Society, 1976. [i.e. 1985] [University of Maine, Raymond H. Fogler Library, Special Collections; Maine State Library]
National Register of Historic Places – Listings
Thomaston Historic District

[through Blue Star Memorial Highway between Wadsworth Street and Maine Route 131] Thomaston, on the banks of the Georges and Mill Rivers, is a showpiece of 19th century architectural styles: Greek Revival, Gothic Revival, Italianate, and French Second Empire. Thomaston was first seen by white men in June 1605, when Captain George Weymouth sailed up the river that bears his name. The area was not settled until 1630, when a building was erected at the foot of Wadsworth Street. It was used for trading between Plymouth Plantation and the Indians until the Indian Wars of 1675.
In 1719-1720, two blockhouses were built, and the old trading house was remodeled into a fort. A double sawmill on Mill Creek, and thirty frames for houses were produced. The tiny settlement was protected by a garrison of twenty men under the leadership of Captain Thomas Westbrook. A series of Indian attacks in 1722-1723, stemming from disputed land ownership, was successfully repelled. The English claimed that the area had been sold in May, 1694 by Madockawado to Sir William Phipps of Pemiquid, who passed it to President John Leverett of Harvard, and later to Samuel Waldo. The Indians claimed that Madockawado had sold property that never belonged to him.
In 1735, eleven years after he took possession, Waldo invited twenty-seven people to settle there. A grist mill was built in 1740. In 1777, the town was incorporated under the name of Thomaston, so called for Major General John Thomas of Massachusetts, who distinguished himself in the revolution.
Thomaston is rich in heritage from three centuries. Its houses especially are tangible reminders of what was once a smoky village of lime kilns, then a busy port town. Today it is a quiet, unhurried town, with the exception of the two mile long main street included in the boundaries of the District. Many of the more prominent houses are located here.
Source: United States. Department of the Interior. National Park Service. https://npgallery.nps.gov/pdfhost/docs/nrhp/text/07000411.PDF (accessed March 9, 2017)