| Year | Population |
| --- | --- |
| 1970 | 25 |
| 1980 | 40 |
| 1990 | 62 |
| 2000 | 70 |
| 2010 | 64 |
Geographic Data
N. Latitude
45:20:31
W. Latitude
67:46:33
Maine House
District 141
Maine Senate
District 6
Congress
District 2
Area sq. mi.
(total) 38.9
Area sq. mi.
(land) 37.7
Population/sq.mi.
(land) 1.7
County: Washington

Total=land+water; Land=land only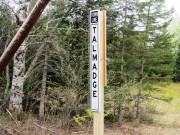 [TAL-mij] is a town in Washington County, incorporated on February 8, 1875 from Talmadge Plantation, once the township of T3 R2 TS.
It was named for Benjamin Talmadge, an early owner of the township.
Settled in 1832, this lightly populated community is thick with brooks, streams, bogs and a long shoreline on West Musquash Lake.
The West Branch of Big Musquash Stream is the outlet from the lake. The East Branch is the outlet of East Musquash Lake in neighboring Topsfield, from which it travels south through Talmadge.
In the 19th century the town had a sawmill producing long lumber, and a shingle mill making about 2,000,000 shingles per year.
A furniture mill was located on the East Branch.
Talmadge, and Waite on its eastern boundary, are small towns that have functioned often as a single community.
The Waite post office serves Talmadge; the "dump" and cemetery in Talmadge served both towns. U.S. Route 1 passes by in the town of Waite to the east, crossing only a small section of Talmadge in the northeast.
The following images of Talmadge Village were taken in 2003 on the Talmadge Road, essentially the village main street.
In 1988 George Mitchell won a landslide re-election to the U.S. Senate, but he noticed the only voting precinct he didn't win was in Talmadge. He decided to find out why. Mitchell visited the town in December 1988, speaking to a crowd gathered at a the small village church.  Many people were opposed to his support of abortion rights and voted accordingly. According to the Portand Press Herald, "Still, after explaining his position and discussing other issues, he was thanked warmly by many for coming out and listening."
Form of Government: Town Meeting-Select Board.
Additional resources
Anderson, Ken. "Profiles in Rural Maine: Waite and Talmadge, Maine." All Maine Matters. February 2006. http://www.allmainematters.com/Feb06/Profile-WaiteTalmadge.html (accessed April 7, 2012)
Routhier, Ray. "Former Sen. George Mitchell delves into Maine childhood in his new memoir." Portland Press Herald. May 4, 2015. http://www.pressherald.com/2015/05/03/former-sen-george-mitchell-known-for-high-level-negotiations-around-the-world-delves-into-his-maine-childhood-in-his-new-memoir/ (accessed May 11. 2017)
Varney, George J. A Gazetteer of the State of Maine. 1886. p. 535.
Williams, Mary J. Waite and Talmadge 1832-1984. Mary Williams. c1984. (Calais, Me. The Calais Press)