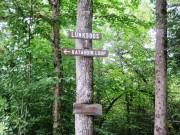 This township, in Penobscot County, is immediately west of Stacyville and one township removed east of Baxter State Park. It contains the Wassataquoik section of Maine Public Reserved Lands.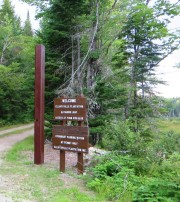 T3 R7 WELS, in 2014, was also home to Katahdin Woods & Waters Recreation Area on land owned by Elliotsville Plantation, Inc., not to be confused with Elliotsville Township (once a plantation) in Piscataquis County near Greenville.
The Lunksoos Area includes a canoe launch, several campsites, trails, water access, and miles of dirt roads.  Sand Stream Campsite (N45° 51′ 46.33″ W68° 40′ 28.33″) is one location.
Whetstone Falls (N45° 43′ 44.52″ W68° 35′ 12.26″) on the Penobscot River's East Branch is an attraction for its rugged waterway, though not the typical high drop waterfall. Fishing, picnicking, canoeing, and just plain relaxing are all available.
Mert "Mutt" Lane was a beloved resident of nearby Sherman memorialized in the picnic area photo below.
A very small unnamed pond (N45° 52′ 12.59″ W68° 42′ 26.54″) offers an opportunity to observe a moose in the evening.  Parking is about 50 feet from the short trail to pond.
Trout Pond is just below the western township line in Soldiertown Township (T2 R7 WELS).
Additional resources
Ward, Kent. "Evert town needs a 'Mert' Lane." Bangor Daily News. March 7-8, 1998. http://news.google.com/newspapers?nid=2457&dat=19980306&id=qqtJAAAAIBAJ&sjid=bw4NAAAAIBAJ&pg=4715,1586115 (accessed August 8, 2014)