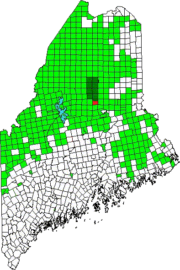 This township lies at the base of Baxter State Park, encompassing the Park south access road from Millinocket and the eastern end of The Golden Road. The West Branch of the Penobscot River flows through its eastern region and includes the Penobscot River Corridor.
The Corridor provides opportunities for remote canoe trips, fishing excursions, and whitewater rafting (provided by commercial operators). It is managed by the Maine Bureau of Parks and Lands in cooperation with local landowners.
The Corridor provides water access recreation along more than 67 miles of river and 70 miles of lake frontage.One Corridor access point is in the township's southeastern corner at the end of Debsconeag Road, south off The Golden Road.
Camping and picnic sites are sites at Omaha Beach and Little Omaha Beach, with views of Mount Katahdin over Debsconeag Deadwater, where the river widens and slows its flow.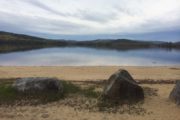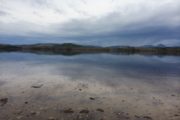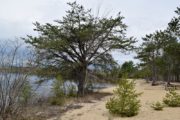 Little Omaha Beach [N45° 46′ 37.10″ W68° 56′ 58.62″] is northwest of Omaha Beach.  As the name implies it is smaller with fewer campsites. In May of 2017 the beach was barely visible with water flooding from the river due to snow melt and recent rains.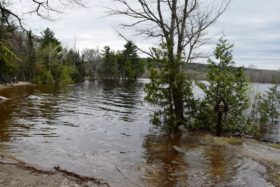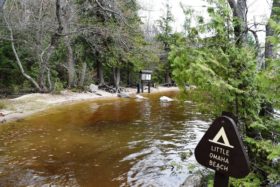 On the same day, consequences of the high water were very noticeable at Ripogenus Dam and at Telos Bridge.
[Omaha Beach photos courtesy Rebecca A. Williams]
Additional resources
Maine. Department of Agriculture, Conservation and Forestry. Bureau of Parks and Lands. "Penobscot River Corridor." http://www.maine.gov/cgi-bin/online/doc/parksearch/details.pl?park_id=84 (accessed May 28, 2017)