| Year | Population |
| --- | --- |
| 1970 | 1,132 |
| 1980 | 1,506 |
| 1990 | 1,217 |
| 2000 | 1,259 |
| 2010 | 1,213 |
Geographic Data
N. Latitude
44:47:18
W. Latitude
70:12:03
Maine House
District 114
Maine Senate
District 17
Congress
District 2
Area sq. mi.
(total) 29.3
Area sq. mi.
(land) 28.7
Population/sq.mi.
(land) 42.3
County: Franklin

Total=land+water; Land=land only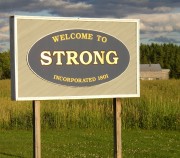 [STRONG] is a town in Franklin County, settled in 1784 and incorporated on January 31, 1801 from the township T3 R1 NPC, WKR, once known as Reedstown Plantation.
Maine's Republican Party was founded here on August 7, 1854 by a coalition of anti-slavery Democrats, other Democrats, and Whigs.
In 1886 the Gazetteer of Maine described the town enthusiastically as follows:
Strong village is nestled down among the hills just north of the bend in Sandy River, which is here crossed by an iron suspension bridge. The village contains several fine residences, and is one of the prettiest in the county. . . . 
At Strong village are a machine shop, boot and shoe factory, and that of the Sandy River Cheese Company, a manufactory of clothes-pins, cane seat chair bottoms and excelsior. The village is situated on the Sandy River narrow gauge railroad from Farmington to Phillips.
The main village is located about eleven miles north of Farmington on a big bend in the Sandy River at the junction of Maine Routes 4, 145, 149 and 234.
A Phillips to Farmington canoe trip on the Sandy River passes through Strong.
Form of Government: Town Meeting-Select Board.
Additional resources
Brackley, Lewis. Strong, Maine "Incorporated 1801": An Historical Account of a Sandy River Settlement. Strong, Me. Strong Historical Society. c1992.
Strong, Maine: Bicentennial 1801-2001. c2001. [University of Maine, Raymond H. Fogler Library, Special Collections]
Varney, George J. A Gazetteer of the State of Maine. 1886. p. 530-531.
National Register of Historic Places – Listings
McCleary Farm, South Strong Road
Porter-Bell-Brackley Estate, Lower Main Street