Selected works
The Mayflower, or, Sketches of scenes and characters among the descendants of the Pilgrims

(1843)

The Colored Patriots of the American Revolution

(1855)

An inside View of Slavery; or, A tour among the planters

(1855)

Dred; a Tale of the great Dismal Swamp

(1856)

Agnes of Sorrento

(1862)

Oldtown Folks

(1869)

The American Woman's Home: or, Principles of domestic science

(1869)

Pink and White Tyranny: a society novel

(1871)

The Lives and Deeds of Our Self-made Men

(1872)

Woman in Sacred History

(1873)

Betty's Bright Idea. Also, Deacon Pitkin's Farm

(1876)
(1811-1896) is best known as the author of Uncle Tom's Cabin. Published as a book in 1852, it had appeared as a serial in the abolitionist National Era in 1851 and 1852. She wrote it while living in Brunswick from 1850-1852 with her husband and their five children.
Stowe was active in the anti-slavery movement, publishing in 1854 an attack on the pending congressional "Nebraska Bill," allowing the expansion of slavery.
Her The Pearl of Orrs Island published in 1861 represented the "local color" genre of writing that focused on common folk in a specific localized setting with liberal use of dialect and humor. She worked on The Pearl off and on from 1852 onward until it was serialized beginning in 1861 and running until April, 1862.
Stowe had returned to Brunswick in 1857 to memorialize the recent death of her son Henry and to recall their happy days there. Her husband Calvin had also attended and later taught at Bowdoin College, only a few hundred yards from the "Stowe House" on Federal Street. Henry Wadsworth Longfellow had rented a room in the house when he  was a student at Bowdoin.
She took the opportunity to revisit Orrs Island and to become rededicated to the story. Orrs Island is part of the town of Harpswell.
Stowe authored several other novels, as well as children's stories, poems, and nonfiction works and contributed to publications such as Godey's Lady's Book and the Atlantic Monthly.
The extend titles of her works illustrate her deeply felt concerns: The Colored Patriots of the American Revolution: with sketches of several distinguished colored persons : to which is added a brief survey of the condition and prospects of colored Americans (1855); The American Woman's Home: or, Principles of domestic science; being a guide to the formation and maintenance of economical, healthful, beautiful, and Christian homes (1869); Woman in Sacred History; a series of sketches drawn from scriptural, historical, and legendary sources (1873); and Betty's Bright Idea. Also, Deacon Pitkin's Farm, and The First Christmas of New England (1876).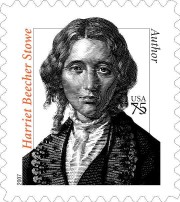 Artist Mark Summers based his portrait of Stowe, used by the U.S. Post Office on a 75 cent stamp, on a circa 1855 engraving by English engraver Francis Holl. Holl's engraving was based on an earlier portrait of Stowe by English painter George Richmond. The engraving is from the Smithsonian Institution's National Portrait Gallery in Washington, D.C.
Born June 14, 1811 in Litchfield, Connecticut, Harriet Beecher Stowe lived in Cincinnati, Ohio from 1832-1850. She died July 1, 1896 in Hartford, Connecticut.
Stowe House photo from the George French Collection, Maine State Archives.
Additional resources
Gilbertson, Cathrene P. Harriet Beecher Stowe. New York. Grosset & Dunlap. c1937. [University of Maine, Raymond H. Fogler Library, Special Collections]
Hedrick, Joan D. Harriet Beecher Stowe: A Life. New York. Oxford University Press, 1994.
Scott, John Anthony. Woman Against Slavery: The Story of Harriet Beecher Stowe. New York. Crowell. c1978. [University of Maine, Raymond H. Fogler Library, Special Collections]
United States Postal Service. http://www.usps.com/communications/newsroom/2007stamps/definitives/ (accessed 4/6/2008)
White, Barbara Anne. The Beecher Sisters. New Haven. Yale University Press. c2003.
Widdemer, Mabel Cleland. Harriet Beecher Stowe, Connecticut Girl. Illustrated by Robert Patterson. Indianapolis, Bobbs-Merrill. 1962. [University of Maine, Fogler Library, Learning Materials Collection]