| Year | Population |
| --- | --- |
| 1970 | 395 |
| 1980 | 618 |
| 1990 | 847 |
| 2000 | 981 |
| 2010 | 1,202 |
Geographic Data
N. Latitude
44:52:59
W. Latitude
69:06:43
Maine House
District 104
Maine Senate
District 10
Congress
District 2
Area sq. mi.
(total) 36.6
Area sq. mi.
(land) 34.9
Population/sq.mi.
(land) 34.4
County: Penobscot

Total=land+water; Land=land only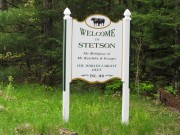 [STET-son] is a town in Penobscot County, incorporated on January 28, 1831 from Stetson Plantation, and named for Amasa Stetson of Dorchester, Massachusetts, the original private proprietor.
An inscription above the entrance to the Stetson Meetinghouse reads "Erected by the Munificence of the Hon. Amasa Stetson of Dorchester Mass. AD 1843."
Settled in 1800, it was soon organized as a plantation for election purposes. The post office opened in 1829. In the 1880's Stetson was home to three sawmills, a grist mill, Stetson Cheese Factory, and a carriage factory.
James Rogers, who served in the War of 1812, came to Stetson in 1833. He commanded a company of militia from Stetson during the Aroostook War in 1839. He was a selectman for several years and served two terms in the Maine state legislature. In 1835, Rogers and a Dr. Thompson built a saw and grist mill. Rogers later became full owner and operated the mills for fifteen years, doing a large lumber business and hauling much of his lumber to Bangor with ox teams. *
The Welcome sign above proclaims "The Birthplace of Mt. Katahdin and Granger, THE WORLD'S LARGEST OXEN."
Charles Rogers Ireland was born in Stetson in 1854. In 1874 he became a partner in his father's dry goods and grocery business in town, purchasing his father's part of the business about two years later. He was appointed postmaster in January 1877 and served as postmaster and trial justice until 1884. Rogers was acting postmaster in Stetson from 1897-1915 and a member of the Maine legislature in 1925. **
One observer of the time noted, "Buildings throughout the town are generally in good repair; and the village shows some which are quite elegant.
Elm and maple trees, of some forty years growth, shade the walks and adorn the place.
A neat two-story building belonging to the town is occupied on the first floor as a school, while on the second floor is a hall, used for town meetings and other purposes." ***
Stetson completely surrounds the 768-acre Pleasant Lake, also known as Pleasant Pond or Stetson Pond. The 1997 revised lake survey by the Department of Inland Fisheries and Wildlife observed:
Principal fisheries: Smallmouth bass, largemouth bass, white perch. Pleasant Lake provides ideal habitat for warmwater species and should continued [sic] being managed for such. Smallmouth bass were introduced in 1960 and now a self-sustaining population exists. Largemouth bass and black crappie have immigrated from Sebasticook Lake located downstream and now provide fisheries.
Stetson also has frontage on Etna Pond in Etna at the south of the township.
Just 20 miles northwest of Bangor and adjacent to Newport on routes 143 and 222, the town is a growing, but still rural community.
Form of Government: Town Meeting-Select Board.
Additional resources
Chadbourne, Ava Harriet. Maine Place Names and The Peopling of its Towns.
Daniels, Lilla Wood. History of Stetson, Maine, 1800-1931. Bangor, Me. Furbush Printing Co. 1931? [University of Maine, Raymond H. Fogler Library, Special Collections; Bangor Public Library; Maine State Library]
** Ireland, Charles Rogers. Papers, 1835-1925. [University of Maine, Raymond H. Fogler Library, Special Collections]  (Source of biographic information in text.)
Maine. Department of Inland Fisheries and Wildlife. "Pleasant Pond (Stetson Pond)." Augusta, Me. 1997. http://www.maine.gov/ifw/fishing/lakesurvey_maps/penobscot/pleasant_pond.pdf (accessed April 6, 2014)
* Rogers, James, 1798-1878. Account Books, 1821-1852. [University of Maine, Raymond H. Fogler Library, Special Collections] (Source of biographic information in text.)
*** Varney, George J. A Gazetteer of the State of Maine. 1886. pp. 525-526.
National Register of Historic Places – Listings

Stetson Union Church
[Maine Route 222] To find a church of such stylistic excellence and sophistication in such a tiny and remote community would be highly unlikely were it not due, in this case, to the beneficial and pervasive influence in the area,of Benjamin S. Deane. This early 19th century architect left his unmistakable mark over a wide region in the form of churches, courthouses, commercial-buildings, and residences including the Wheelwright-dark Block and the Pierce-Giddings House in Bangor.
Amasa Stetson, a wealthy merchant of Dorchester, in 1801 became proprietor of a grant originally given to Leicester Academy by the Commonwealth of Massachusetts in 1792. Out of this grew the Town of Stetson whose development he nurtured with utmost care. His most notable beneficence was the donation of funds in 1831 which made possible the erection of the Union Church, also known as the Stetson Meetinghouse. [See photo above.]
Source: United States. Department of the Interior. National Park service. https://npgallery.nps.gov/pdfhost/docs/nrhp/text/81000068.PDF (accessed March 9, 2017)