and other public outdoor recreational areas
State Parks
Allagash Wilderness Waterway (Aroostook County). A canoe camper's paradise. This 92-mile corridor of lakes and river is surrounded by a vast commercial forest. If you plan to canoe the Allagash, contact the Maine Bureau of Parks and Lands.
Aroostook State Park (Presque Isle). On Echo Lake. Swimming, fishing, boat launch, camping and picnicking. Access to hiking trails on Quaggy Joe Mountain. Four miles south of Presque Isle on Rt. 1. Open mid-May to mid-October.
Bradbury Mountain State Park (Pownal). Short hike to good views of Casco Bay; camping, picnicking, ball field, some hiking trails; old cattle pound (1750), abandoned feldspar quarry. Open mid-May to mid-Oct. 688-4712.
Camden Hills State Park (Camden). Excellent view of Camden Harbor (sometimes through the mist) and Penobscot Bay from the summit of Mount Battie. Mount Megunticook 

  , also in the park, is a fairly easy to moderate climb. Camping (toilets and showers); 30 miles of hiking trails. Open mid-May to mid-October.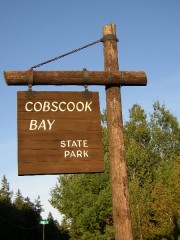 Cobscook Bay State Park (Dennysville). Campsites in the woods at the water's edge. Moosehorn National Wildlife Refuge, Roosevelt-Campobello International Park are nearby. Located 4 miles south of Dennysville on Rt. 1. Open mid-May to late October.
Crescent Beach State Park (Cape Elizabeth). Bathe in the surf and sun at one of Maine's finest beaches. Picnic tables and grills, a snack bar and a bathhouse available. Open late May to late September.
Damariscotta Lake State Park (Jefferson). Fine sand beach and swimming area with lifeguard. Changing areas, picnic tables and grills available. Open late May through Labor Day.
Ferry Beach State Park (Saco). A stand of Tupelo trees, rare in this latitude, grows in this 100 acre area, that offers a sweeping view of miles of sand beaches between the Saco River and Pine Point. Open late May to mid-September.
Fort Point State Park (Stockton Springs). Spacious park on peaceful peninsula jutting into Penobscot River. Pretty woods, 1759 earthworks from Fort Pownall, wooded trails, individually sited picnic tables and grills overlooking the river, lots of blueberries in July, blackberries in August. On eastern tip of Cape Jellison off Route 1. Open late May through Labor Day.
Grafton Notch State Park (Grafton TWP). Hiking, scenic waterfalls and views, picnic facilities. Home of Mt. Spec, Maine's third largest mountain. The Appalachian Trail passes through the park. Open mid-May to mid-October.
Holbrook Island Sanctuary (Brooksville). Scenic natural area of upland forests and meadows; hiking; no developed facilities. Open late May to mid-October.
Lake St. George State Park (Liberty). Good swimming, picnicking, fishing, camping, boat rental, and boat launch area on clear spring-fed lake midway between Augusta and Belfast on Rt. 3 — a faster way than Route 1 to Mount Desert Island in summer, and it passes through lovely rolling countryside. Open mid-May to mid-September.
Lamoine State Park (Lamoine). Located on Frenchman's Bay, camping and picnicking facilities available. Acadia National Park nearby. Open mid-May to mid-October.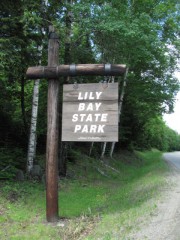 Lily Bay State Park (Lily Bay Township near Greenville). On the east shore of 40-mile-long Moosehead Lake eight miles north of Greenville, with hiking, swimming, boat launching sites, boat rentals and private wooded campsites. Moosehead is famous for its brook trout, landlocked salmon, and togue. Open early May to mid-October.
Moose Point State Park (Searsport). Scenic view of Penobscot Bay from small haven off Rt. 1. Open field, evergreen grove, picnic area. Open late May to early October.
Mount Blue State Park (Weld). On the shore of Webb Lake. Good hiking, camping, picnicking, recreation hall, canoe rentals, naturalist program with hikes by an interpretive naturalist, panning for gold (for all ages; pans provided). Off Rt. 156. Open mid-May to mid-October.
Mount Kineo State Park. Jutting out into Moosehead Lake, the park offers great views and a moderate hike to the top of the mountain.
Peacock Beach State Park (Richmond). A small beach and swimming area make this an ideal family picnic spot. Open late May to Labor Day.
Peaks-Kenny State Park (Dover-Foxcroft). On the shore of Sebec Lake. Amphitheater program, nature trails, sand beach, bathhouse, well-spaced wooded campsites, picnic area, trout and salmon fishing. Visit mid-week to avoid the crowds. Six miles from town at the end of Rt. 153. Open mid-May to early October.
Popham Beach State Park (Phippsburg). Follow Rt. 209 south 14 miles from Bath. Spacious sand beach, crowded on summer weekends. Bathhouses, freshwater showers, charcoal grills. Fort Popham is two miles south. Open year round.
Quoddy Head State Park (Lubec). The eastern most point of land and lighthouse in the United States is adjacent to the park. The scenic trail is a photographers' delight with 80-foot rock cliffs rising spectacularly from the ocean. Open late May to mid-October.
Range Ponds State Park (Poland). Swimming area (large sand beach) with lifeguards, picnicking, fishing, ball field at lakeside day-use park just off Empire Road. Open late May to mid-October.
Rangeley Lake State Park (Rangeley). Camping, picnicking, fishing for landlocked salmon and trout, boat launching site in exceptionally scenic mountain area with many hiking possibilities nearby. Open mid-May to early October.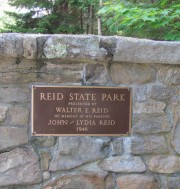 Reid State Park (Georgetown). Take Rt. 127 14 miles south from Woolwich. Nearly a mile and a half of sand beach, dunes, marshes, ledges, ocean. Warm saltwater pond for swimming. Open all year.
Roque Bluffs State Park (Roque Bluffs). Swim in the fresh or salt waters of this unique park. Enjoy a pebble beach on the ocean shore. Children's playground and picnic facilities available. Open mid-May to late September
Scarborough Beach State Park (Scarborough). The combination of sand dunes, marshes and ocean surf makes this a unique place. Open late May to Labor Day.
Sebago Lake State Park (Naples). Extensive sand beaches with lifeguards and bathhouses, camping area, boat ramp, nature walk program, fishing. Nearby Songo Lock, an 1830 stone lock with wooden gates, permits boat travel to Long Lake on lovely, winding Songo River. Interesting view of the lock from the road by following signs from Rt. 302 south of Naples. Open early May to mid-October.
Swan Lake State Park (Swanville). Small park at north end of Swan Lake; swimming, picnicking, no camp sites. Hard to find — take Rt. 141 out of Belfast to store at head of lake, then follow signs. Open late May to Labor Day.
Two Lights State Park (Cape Elizabeth). Rocky headland off Rt. 77 with good views of Casco Bay, crashing surf, open sea. Picnicking, trails, historic lighthouses, swimming at nearby Crescent Beach. Open mid-April to early Dec.
Warren Island State Park (Islesboro). A spruce-covered island in Penobscot Bay. Protected docking and mooring facilities. The park is designed for the boating public, and there is no public ferry transportation.
Wolfe's Neck Woods State Park (Freeport). Hiking, beautiful views of Casco Bay, nearby camping within sound of the "sea cows" (so named because they begin mooing when the fog comes in, giving boaters an auditory bearing on South Freeport Harbor) at Wolfe Neck Farm. Open late May to Labor Day.
Other Public Outdoor Recreational Areas
(Mount Desert Island). Exceptional hiking on mountains overlooking fjord-like Somes Sound and the sea; camping; swimming; biking on carriage roads; Maine's only national park also includes the dramatic Schoodic Peninsula and Isle au Haut.
This 280-mile, long and skinny national park is comparable in size to Acadia. Its northern terminus at Katahdin (5,267 ft.) lies within Baxter State Park.
201,018 acres of beautiful wilderness. Extraordinary camping, hiking and fishing.
Mattawamkeag Wilderness Park
Hiking, camping, canoeing, fishing and swimming in a county-run park on Mattawamkeag river. Mattawamkeag Wilderness Park Campground is owned and run by the Town of Mattawamkeag. Follow the road from the village along the Mattawamkeag River.