| Year | Population |
| --- | --- |
| 1970 | 547 |
| 1980 | 554 |
| 1990 | 480 |
| 2000 | 405 |
| 2010 | 396 |
Geographic Data
N. Latitude
45:54:26
W. Latitude
68:29:37
Maine House
District 145
Maine Senate
District 2
Congress
District 2
Area sq. mi.
(total) 40.0
Area sq. mi.
(land) 39.9
Population/sq.mi.
(land) 9.9
County: Penobscot

Total=land+water; Land=land only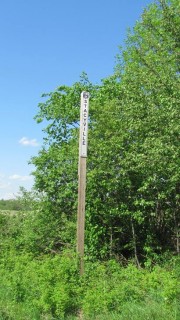 [STAY-cee-vil] is a plantation in Penobscot County, organized on July 21, 1860 from the township T3 R6 WELS, with its organization confirmed in 1883 and 1895.
Its main village is Sherman Station (village photos below) on the Bangor and Aroostook Railroad line and Maine Route 11 just across the town line from the Town of Sherman. Stacyville Village is in the southwest of the township; Siberia village is in the center on the Grindstone Road.
Katahdin Middle and High Schools are located in Route 11, also known as Station Road, north of Sherman Station in Stacyville.
In addition to Stacyville, the High School serves communities in two counties: Penobscot (Mount Chase, Patten, Stacyville) and Aroostook (Crystal, Dyer Brook, Hersey, Island Falls, Merrill, Moro, Oakfield, Sherman and Smyrna.  In 1885 Stacyville alone had four schoolhouses.
Beginning in 1966, Wheelabrator Technologies operated a biomass electric generating facility at Sherman Station on Route 11 in this rural agricultural community.
In 2013 the closed plant was offered for sale. Reports of reopening the plant were circulating in 2017.
---
That portion of Route 11 in Sherman Station Village serves as the "Main Street" for the town, with community buildings and businesses.
Wassataquoik Public Reserved Land, in T3 R7 WELS, is accessed from the Swift Brook Road off Route 11 in Stacyville Village in the south of the township.
A mile in from Route 11 Swift Brook crosses, though the road was closed at the bridge in April 2014, probably because it was impassable in mud season.  In August 2014 is was open and the flow was a trickle compared to the roaring beast of  April.  Stacyville's Swift Brook Road is a gateway to Katahdin Woods & Water Recreation Area in T3 R7 WELS.
The brook, which joins Mud Brook on its way through Herseytown Township to the Penobscot River East Branch in Soldiertown Township, is true to its name in spring.
Form of Government: Town Meeting-Select Board-Administrative Assistant.
Additional resources
Werler, Ed. The Call of Katahdin: Life in Werler's Woods. Yarmouth, Me. Cranberry Knoll Publishers. 2003. [University of Maine, Raymond H. Fogler Library, Special Collections; Maine State Library; Bangor Public Library]