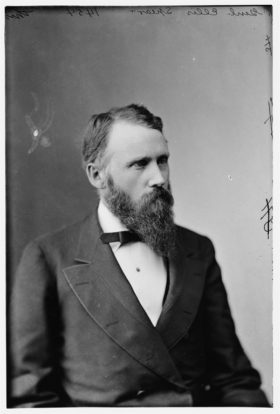 (1834-1917) was second in command to then Colonel Joshua L. Chamberlain at the famous Civil War battle of Little Round Top at Gettysburg in July of 1863.
He was born in Warren on October 15, 1834. Spear was graduated from Bowdoin College in 1858 and taught school in Wiscasset.
Spear entered the Union Army in August, 1862, as a Captain of Maine volunteers, many of whom he personally recruited. He was promoted to Colonel, and from October, 1863 to February, 1865, commanded a regiment in the Army of the Potomac. Serving in several commands, Ellis Spear left the Army July, 1865 with the rank of Brigadier General.
Thereafter he was employed by the U.S. Patent Office, becoming  assistant commissioner in 1874 and Commissioner in 1877. He resigned in 1878.
Though a friend of Chamberlain's during the Civil War, he differed with his interpretation of the great struggle.  The differences dampened their friendship creating a very public between the two.
After he left the Patent Office, he practiced as a patent attorney in Washington until past the age of 80. Spear died in Washington, D.C. on April 3, 1917 and was buried in Arlington National Cemetery.
Additional resources
"Lecture to focus on 20th Maine's Ellis Spear." The Times Record. August 2, 2013. p. C2.
Library of Congress. "Ellis Spear" photo.
Patterson, Michal Robert. "Ellis Spear, Brigadier General, United States Army, Government Official."  http://www.arlingtoncemetery.net/espear.htm (accessed August 2, 2013)
Spear, Abbott. The 20th Maine at Fredericksburg: and other titles/ by Abbott and Ellis Spear ; [foreword by Tom Desjardin]. Union, Me. Union Publishing Co. c1989. [Cataloger note: On cover: The conflicting accounts of General Joshua L. Chamberlain and General Ellis Spear. Contents: Excerpts from the 1862 diary of Captain Samuel T. Keene — My story of Fredericksburg / General Joshua L. Chamberlain — My story of Fredericksburg and comments thereon by one who was there — Commentary / Abbott Spear — The story of the raising and organization of a regiment of volunteers in 1862 — The hoe cake of Appomattox — The element of accident in war]
Spear, Ellis, 1834-1918. The Civil War recollections of General Ellis Spear. Co-edited by Abbott Spear…[et al.] Orono, Me. University of Maine Press. 1997.