| Year | Population |
| --- | --- |
| 1970 | 831 |
| 1980 | 1,064 |
| 1990 | 1,227 |
| 2000 | 1,416 |
| 2010 | 1,558 |
Geographic Data
N. Latitude
44:02:17
W. Latitude
69:08:06
Maine House
District 92
Maine Senate
District 12
Congress
District 1
Area sq. mi.
(total) 17.5
Area sq. mi.
(land) 10.9
Population/sqmi
(land) 142.9
County: Knox

Total=land+water; Land=land only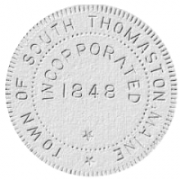 [TOM-iss-tun] is a town in Knox County, settled in 1767 and incorporated on July 28, 1848 from a portion of Thomaston, which itself was named for a Revolutionary War general, John Thomas.  The first settler built a saw-mill on the local river. In 1865 it annexed land from St. George, and in 1921 ceded some land to Owl's Head.
The Weskeag (once spelled Westkeag and Wessaweskeag) River broadens into several large coves before emptying into the Muscle Ridge Channel. Spruce Head Island juts into the channel for over a mile.
According to Gazetteer of Maine in 1886,
Eight different parties, of which one is an incorporated company, are engaged in quarrying. [The Granite Cutters' Union was formed in 1877.] Westkeag River is the principal stream. Its pond, confined at South Thomaston village by a dam, furnishes the chief water-power in town. It is a tide-power mainly. Upon it are a grist-mill, three polishing machines for granite, and a lumber mill.
The Indian name of this vicinity was Wessaweskeag, which signifies a "land of wonders." The name was contracted by the first settlers to "Weskeag," afterward to "Keag," and finally it has degenerated to "Gig," which remains a familiar appellation to the present time.
The 1880 population of 1,771, is not much different from 2010's 1,558. In addition to the main village, Pleasant Beach, Waterman Beach, and Spruce Head villages hug the shore on Penobscot Bay. Spruce Head Island, connected to the mainland by a bridge, juts into Muscle Ridge Channel, a favorite passage for boaters seeking the protection of the outlying islands.
Form of Government:
Additional resources
Clarke, Winfield S. South Thomaston, Maine: History of Knox Lodge, No. 189, F. & A. M., from its organization, October 4, 1884, to January 31, 1910. Rockland, Me. Opinion Press. 1910.
Eaton, Cyrus, 1784-1875. History of Thomaston, Rockland, and South Thomaston, Maine, from their First Exploration, A.D. 1605; with family genealogies. Hallowell, Me. Masters, Smith & Co., printers. 1865. Courier-Gazette, Inc. 1972.
*Maine. Historic Preservation Commission. Augusta, Me.   Text and photos from National Register of Historic Places: http://pdfhost.focus.nps.gov/docs/nrhp/text/xxxxxxxx.PDF and http://pdfhost.focus.nps.gov/docs/nrhp/photos/xxxxxxxx.PDF
Finnish Congregational Church and Parsonage: https://npgallery.nps.gov/pdfhost/docs/NRHP/Text/94000639.pdf
Thorndike, George, House: https://npgallery.nps.gov/pdfhost/docs/NRHP/Text/83000463.pdf
Schneider, Viola Starr. Finnish Christmas Traditions: history, traditions and customs of a Finnish Christmas. [for the Finnish Heritage House South Thomaston] Winterport, Me. Vainamoinen Press. 2007.
Tibbetts, F. C. South Thomaston Directory, 1903. Rockland, ME. Opinion Publishing Co. 1903. [Bangor Public Library; University of Maine, Raymond H. Fogler Library, Special Collections]
National Register of Historic Places – Listings
Finnish Congregational Church and Parsonage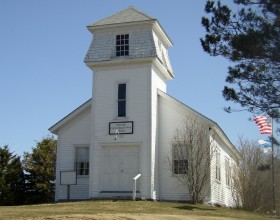 [Maine Route 131 east side, .9 miles south of junction with US Route 1] The Finnish Congregational Church and Parsonage in South Thomaston consists of a pair of modest frame buildings built in 1921 and about 1925 respectively. It is the first Finnish religious building in Knox County. The Finnish Congregational Church was formally organized in 1921. Services had been held in the St. Georges River schoolhouse by a Finnish pastor, Lauri P. Miettinen. Materials for the church building was salvaged from the Booth Brothers Boarding House in Waldoboro, shipped by rail to the site.
The adjacent one-story bungalow style parsonage was built in the late 1920s. Census figures indicate that the influx of foreign born Finns into Maine between 1900 and 1920 generally followed national trends, although their numbers in this state grew at a more rapid rate. The Finnish population in Maine grew from 179 in 1900 to 1,393 in 1920. In 1910, slightly more than 70% of the Finnish population was concentrated in Knox and Oxford counties, 51% of whom lived in Knox county, primarily in Long Cove, South Thomaston, Waldoboro, and Warren. Farming was probably the principal occupation for most of these people, although others were employed at nearby granite quarries.
Establishment of a Finnish Congregational Church by the immigrant community in South Thomaston mirrors the pattern in Massachusetts and New York where the missionary activity of the American Congregational Church had focused on this ethnic group.*
Thorndike, George, House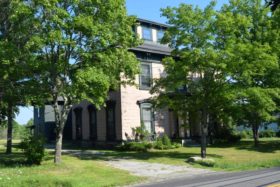 [Maine Route 73] The Thorndike House is one of the most important Italianate houses in the Knox-Waldo County area. It was probably the first, and doubtless the most urbane hipped roofed Italianate house in central Maine outside of Bangor. The house is one of the few in the region with direct connections to Bangor's domestic architecture. Its probable architect is Benjamin S. Deane of Bangor.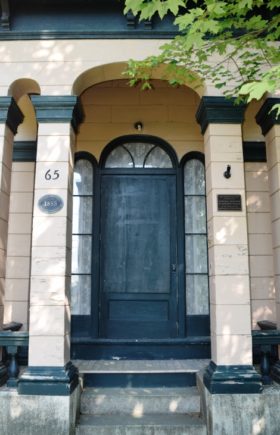 The houses of the period, the Jonathan C. Eddy House and the John Fuller House, were extremely similar in design and decoration to the Thorndike House, and were almost certainly the work of the same architect. Benjamin S. Deane Bangor was the principal architect of the period, born and raised in Thomaston and probably maintained connections there.
George Thorndike, born 1814, was a major Knox County shipbuilder in the 1840s, completing nineteen vessels before his retirement from the trade in 1848. In 1850-1855 he served in the Maine State Senate, and in 1861 was Maine's first volunteer to Union Army service. Thorndike fought in Cassius M. Clay's battalion during the defense of Washington. His brother, Captain Eben A. Thorndike, occupied the house from the end of the Civil War onward, while George spent the remainder of his life as a ship's captain.*