| Year | Population |
| --- | --- |
| 1970 | 23,267 |
| 1980 | 22,712 |
| 1990 | 23,163 |
| 2000 | 23,324 |
| 2010 | 25,002 |
Geographic Data
N. Latitude
43:37:58
W. Latitude
70:17:08
Maine House
Dis 31,32,33
Maine Senate
District 29
Congress
District 1
Area sq. mi.
(total) 14.3
Area sq. mi.
(land) 12.0
Population/sqmi
(land) 2,084
County: Cumberland

Total=land+water; Land=land only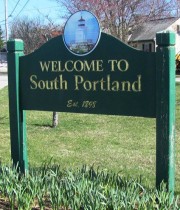 [PORT-lnd] is a city in located in Cumberland County, at the southern edge of Casco Bay. It was settled in 1630 and incorporated as a town on March 15, 1895 from land set off by Cape Elizabeth. Three years later it became a city.
Maud Park Wood, first president of the League of Women Voters, lived in South Portland. It is the birthplace of 20th century U.S. Representative James Oliver.
A residential community serving the greater Portland area for over a hundred years, the City has developed independent economic resources.
The Southern Maine Community College campus includes Fort Preble, named for Commodore Edward Preble.
In the 1940's it became a substantial shipbuilding center. It is currently home to the Portland Pipeline Company, with its huge oil tank farm and tanker docking facilities, and to the Maine Mall, a huge shopping area serving a wide area of southern Maine.
South Portland lies on the south bank of the Fore River and fronts on Portland Harbor. It is part of the Port of Portland and home to a major railroad yard and fuel tank storage facility.
The state's fourth largest community by population behind Portland, Lewiston and Bangor, surpassing Auburn in the 1990 U.S. Census. Maine Route 77 winds through the city.
Mahoney Middle School, whose 1924 building once housed the high school, has adapted a classic building to continue functioning as an educational institution.
An A26-B Invader bomber crashed into the Redbank mobile home park in 1944, killing the two crew members and 17 others on the ground. It has been called Maine's worst air disaster.
Mill Cove is a nature preserve of 31 acres of tidal flats, salt marsh and upland areas visited by many bird species. Mill Creek Park, in the downtown area, hosts a bandstand and a large resident population of gulls and ducks.
Form of Government: Council-Mayor-Manager.
Additional resources
See also Cape Elizabeth
DiPhilippo, Kathryn Onos. South Portland: a nostalgic look at our neighborhood stores. South Portland, Me. Barren Hill Books. c2006.
Ledman, Paul J. A Maine Town Responds: Cape Elizabeth & South Portland in the Civil War. Cape Elizabeth, Me. Next Steps Publishing. 2003.
*Maine. Historic Preservation Commission. Augusta, Me.   Text and photos from National Register of Historic Places: http://pdfhost.focus.nps.gov/docs/nrhp/text/xxxxxxxx.PDF and http://pdfhost.focus.nps.gov/docs/nrhp/photos/xxxxxxxx.PDF
Portland Harbor Breakwater Light: https://npgallery.nps.gov/pdfhost/docs/nrhp/text/73000238.pdf; "Portland Breakwater, Me." http://www.lighthousefriends.com/light.asp?ID=544
Seavey-Robinson House: https://npgallery.nps.gov/NRHP/GetAsset/2261ef2c-2492-4ac9-802d-1862a3ce0f12?branding=NRHP
Spring Point Ledge Light Station: 87002279.PDF; also https://npgallery.nps.gov/NRHP/GetAsset/d58ab270-31f6-44
State Reform School Historic District: https://npgallery.nps.gov/GetAsset?assetID=5059b46d-b885-473d-a8e8-21b24bd44c8a
Smith, Jared A. Sketch of Portland Harbor, Maine showing the improvements made in 1866-86, also projected improvements. [cartographic material] Washington, D.C. Government Printing Office. 1886. (including Knightsville and Ferry Village in South Portland)
South Portland and Cape Elizabeth. Dover, N.H. Arcadia Publishing. 1995. (pictorial)
South Portland History Committee. History of South Portland, Maine. South Portland, Me. The Committee. 1992. South Portland, Me. Brownie Press.
National Register of Historic Places – Listings
Lightship No. 112, NANTUCKET, Southern Maine Vocational Technical Institute Pier
Portland Breakwater Light ("Bug Light")

[Northeast end of Portland Breakwater in Portland Harbor] This Greek Revival structure was first built in 1855. The rebuilding in 1875 did not alter the design or its character. The Light is unique in style and construction. Built to communicate the location of Portland Breakwater to ships at sea, it also indicates the concern of 19th century Americans to make an essentially functional structure aesthetically pleasing. Its Greek Revival styling would have integrated well into the panorama of Portland in 1855.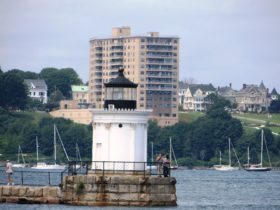 It also represents Maine's sea-going heritage in the 18th and 19th centuries. It and its sister lighthouses along Maine's rocky coasts stood as symbols of commercial prosperity derived from shipping. The  breakwater itself was completed in 1838, to protect the inner harbor from damaging swells at high tide.
The structure was abandoned in 1943. By 2002 the South Portland Rotary Club and Spring Point Ledge Light Trust had refurbished the lighthouse. It was relighted as a private aid to navigation.*

Seavey–Robinson House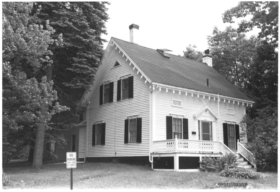 [580 Ocean Street] Now located in a built-up urban section of South Portland, this charming "Carpenter Gothic" farm cottage is a rare survivor. The area across the Fore River from Portland was farming country. Joseph Seavey was the original owner and a carpenter in what was then part of Cape Elizabeth. The house he built, with its elaborate decorative woodwork, served as a display of his abilities as a builder and demonstrated his knowledge of the latest picturesque styles.
By 1860 Seavey had moved his practice to what was then called Knight's Village, now the center of South Portland. Elipalet C. Robinson acquired the house in 1864 when developing transportation facilities put the area in commuting distance to Portland. Robinson worked for C. E. Jose and Company in the city. The Robinson's owned the house well into the 20th century. The Gothic cottage, particularly in a rural context, is comparatively rare in Maine. It is very unusual to find one in what is now an urban setting.* [Frank Beard photo]
Spring Point Ledge Light Station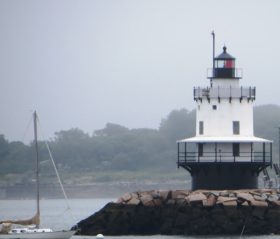 [Spring Point Ledge, Portland Harbor] Above a dangerous reef in Portland's inner harbor, the 1897 Spring Point Ledge Light Station is one of Maine's three surviving "spark plug" lights. It is one of two lights that aid navigation in Portland Harbor. The other, Portland Breakwater (Bug Light), was established in 1855.
In the latter half of the 19th century there was considerable local clamor for a permanent light to mark this ledge in Portland's busy harbor area. The ledge was the site of a of wrecks and accidental groundings. After repeated requests, Congress authorized construction of the light station in 1895, becoming operational in May 1897. The light was automated in 1960. The station's distinctive character illustrates one important late 19th century variant on the design and construction of light stations.*
State Reform School Historic District
[Westbrook Street] The State Reform School for Boys is was the first institution of its kind in Maine. The buildings in the district, largely unaltered, reflect important developments in the efforts to rehabilitate wayward boys during the late 19th and early 20th centuries.
The main building, built 1853, was de­signed by one of the leading architects in New England, Gridley J. F. Bryant of Boston. Two important Maine architectural firms, John Calvin Stevens of Portland and Coombs and Gibbs of Lewiston, provided designs for later buildings.
Maine's state legislature authorized construction of a reform school for boys on August 20, 1850. It was built to house 300 inmates. Bryant included a specialization in prison design in his large practice. This reform school building is similar to his Charles Street Jail in  Boston. It features a cruciform plan with cells in wings that radiate from a central core containing classrooms, workrooms, and eating facilities.
The exterior design, termed "Elizabethan", featured Tudor arches and octagonal stair towers. Throughout the 19th century the school changed in response to more progressive theories of juvenile reform. Three departments intended to provide useful em­ployment: farming, mechanical (shoemaking and a tailor's shop) and domestic (cleaning, baking, laundry). Originally, the boys were located in unheated cells. In 1871 steam heating was introduced and three years later the cells were replaced by dormi­tories.
Another major change was the introduction of the "Cottage or Family system" in which the boys were housed in smaller dormitories, called cottages. As explained in the 44th Annual Report, "The boys of each cottage, living together as one family with their cottage father, mother and teacher, are surrounded by the comforts and wholesome influences of home itself…" Portland architect John Calvin Stevens designed cottage numbers one and two, completed in 1893 and 1897, respectively. A major enlargement of the institution occurred in the early 1900s. Lewiston architects Coombs and Gibbs designed more cottages in 1903-04. They also prepared plans for a large new barn and, in 1905-06; designs to remodel the interior and exterior of the Administration Building.
Still used as a boys reform school, the institution has seen the addition of numerous other small structures following the cottage plan.*