| Year | Population |
| --- | --- |
| 1970 | 199 |
| 1980 | 276 |
| 1990 | 295 |
| 2000 | 290 |
| 2010 | 274 |
Geographic Data
N. Latitude
44:28:23
W. Latitude
68:10:52
Maine House
District 136
Maine Senate
District 7
Congress
District 2
Area sq. mi.
(total) 14.8
Area sq. mi.
(land) 4.0
Population/sq.mi.
(land) 68.5
County: Hancock

Total=land+water; Land=land only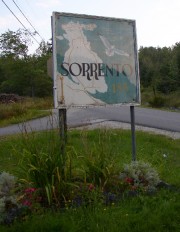 [suh-RENT-owe] is a town in Hancock County, settled in 1762 and incorporated on March 3, 1895 from the southern portion of Sullivan.
Since the early history is closely entwined, the Sullivan and Sorrento Historical Society serves both towns. The Society is located in Sullivan.
Sorrento sits on Waukeag Neck, on Maine Route 185 south of Sullivan.
The neck juts out into Frenchman's Bay with spectacular views of the mountains in Acadia National Park.
Sorrento harbor is a centerpiece of the community, especially when the "summer people" return and the water fills with pleasure boats.
See a Sorrento amateur summer film on YouTube from Northeast Historic Film.
According to AcadiaMagic.com, "Sorrento has a 9-hole public golf course that first opened in 1916.
Other local activities include biking, boating, fishing, kayaking, and bird watching."
That source also provided this insight:
Waukeag was a word used by the Penobscot and Maliseet tribes to describe a natural glacial formation called a "kame" that resembled a horse's back. A kame is a hill or mound of gravel and sand formed by streams on the bottom of slow moving glaciers. When the glaciers melted, they left these deposits throughout Maine.
Waukeag meant "a horseback in a place where the tide runs out strong" and referred to the kame in the great tidal stream that fills Sullivan Harbor, Sullivan Falls north through Taunton Bay and Hog Bay in Franklin.
The town hosts two nature preserves in Sorrento Harbor, both maintained by the Nature Conservancy.
Dram Island, is a small, spruce-fir island home to nesting osprey. Though there are steep cliffs on northern shore, a small landing area exists. Preble Island is densely forested with eagles roosting, overlooking cobble beaches.
Several other small islands surround the Neck, including Bean, Calf, Ingalls, Sheldrake, and Treasure islands.
Form of Government: Town Meeting-Select Board.
Additional resources
Chafee, Zechariah. Sorrento, Maine. Providence, R.I. c1911. [University of Maine, Raymond H. Fogler Library, Special Collections]
Crothers, Jock, collector. [Student paper on Sorrento weir-fishing]. 1979. [University of Maine. Orono, Maine. Maine Folk Life Center]
Guillemot: Newsletter of the Sorrento Scientific Society. Sorrento, Me. The Society. [University of Maine, Raymond H. Fogler Library, Special Collections, V.1-14:6(1972-85)] (Library has current editions beginning in 2001.)
Johnson, Lelia A. Clark. Sullivan and Sorrento Since 1760. Ellsworth, Me. Hancock County Publishing Company. 1953.
Lewis, Laurence A. Torna a Sorrento, 1938-1973. Worcester, Mass. Commonwealth Press. 1973.
*United States. Department of the Interior. National Park Service. "Sorrento Library ." https://npgallery.nps.gov/pdfhost/docs/nrhp/text/95000724.PDF (accessed March 7, 2017)
National Register of Historic Places – Listings
Sorrento Library
[Waukeag Avenue south side, 0.5 miles west of junction with Maine Route 185] Built in 1893 from plans by the Boston architectural firm of Ball and Dabney, the Sorrento Library is a stylish Colonial Revival style frame building and a centerpiece of the surrounding summer colony. It was built for the purpose of a community hall and library, a function that continues.
The development of Sorrento as a summer resort began in the mid-1880s at a time when Bar Harbor on nearby Mt. Desert Island was undergoing its first major decade of growth. The activity at Bar Harbor inevitably spawned development on surrounding coastal areas. Located four miles across Frenchman's Bay from Bar Harbor, Sorrento was a choice site with its views of Mt. Desert Island.
In 1887 investor Frank P. Jones of Portsmouth, New Hampshire, a wealthy capitalist and entrepreneur arrived. He would dominate the development of Sorrento until his death in 1902. However few cottages were built, much less than anticipated.
In 1891, Mrs. Jones provided funds to build a library. Although the Sorrento Library was ostensibly built for the residents of the summer community, it remained in the possession of Mrs. Jones and her heirs until October 15, 1918, when it was given to the Sorrento Village Improvement Association. The Association altered the interior somewhat in the 1930s to create a more open hall for dances and other events. The library has had few changes made to it, and it remains an important focal point in the community.*