| Year | Population |
| --- | --- |
| 1970 | 318 |
| 1980 | 354 |
| 1990 | 378 |
| 2000 | 415 |
| 2010 | 422 |
Geographic Data
N. Latitude
46:09:56
W. Latitude
68:05:39
Maine House
District 145
Maine Senate
District 2
Congress
District 2
Area sq. mi.
(total) 35.3
Area sq. mi.
(land) 35.2
Population/sq.mi.
(land) 12.6
County: Aroostook

Total=land+water; Land=land only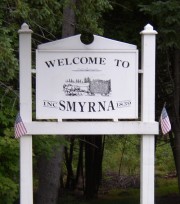 [SMIHR-nehr] is a town in Aroostook County incorporated on March 7, 1839 from township T6 R3.
It was first settled in 1830 by Nehemiah Leavitt, a Methodist minister from Royalton, Vermont.
Named for a famous city in ancient Turkey, the town is west of Houlton on Interstate 95 and on U.S. Route 2, where the village of Smyrna Mills straddles the town line with Merrill.
In the 1880's, it had a sawmill capable of producing 1,000 feet of lumber in a day. Potatoes were the major crop then, as they would be for the next 100 years.
Since 1996 the town has become home to a substantial number of Amish families, who operate a general store, farm and work using simple, low technology methods.
They have recreated a way of life that is sustainable and breathes life into this rural landscape.
Here Maine Route 212 from Knowles Corner in the town of Merrill to the north joins Route 2, near where the Mattawamkeag River flows through the village. In the river is the ruins of an old dam and mill.
Form of Government: Town Meeting-Select Board-Manager.
Additional resources
McGary, Carroll R. From Ballymoney to Smyrna:The Story of the Aroostook McGarys. Manchester, Me. C.R. McGary. 2002.
Timoney family. Family papers, 1860-1927. University of Maine, Fogler Library, Special Collections.
[The Timoney family lived in Oakfield and Smyrna, Maine, both towns in Aroostook County. James Timoney (1821-1885) and his wife Jane lived in Oakfield. He is described as an explorer and surveyor of lumber in the 1880 Federal Census. Robert E. Timoney, son of James and Jane, was born around 1851 and was a teacher. The 1880 Federal Census lists him as living in Oakfield and by the 1910 census he was living in Smyrna. John Timoney (1842-1922) lived in Oakfield. Ralph A. Timoney (1886-1968) lived in Smyrna and Oakfield. Thomas C. Timoney was a farmer in Oakfield. Sarah T. Timoney was living in Houlton in 1880 Photocopies of letters and personal papers of various members of a family living in Oakfield and Smyrna, Maine in the late 19th and early 20th centuries. It is unknown where the original letters and personal papers are located.]
Varney, George J. A Gazetteer of the State of Maine. 1886. p. 515.