| Year | Population |
| --- | --- |
| 1970 | 527 |
| 1980 | 748 |
| 1990 | 865 |
| 2000 | 930 |
| 2010 | 1,033 |
Geographic Data
N. Latitude
44:38:40
W. Latitude
69:48:53
Maine House
District 108
Maine Senate
District 3
Congress
District 2
Area sq. mi.
(total) 24.7
Area sq. mi.
(land) 19.9
Population/sq.mi.
(land) 51.9
County: Somerset

Total=land+water; Land=land only
[SMITH-field] is a town in Somerset County, incorporated on February 29, 1840 from East Pond Plantation, and portions of Mercer and Dearborn.
Named for its respected resident, Reverend Henry Smith, its main village is located on the east shore of the 2,225-acre North Pond, a good warm water fishery, at the intersection of Maine Routes 8 and 137. Modest Smith Pond is nearby.
In the 1880's the town had a grist mill, and three wood-based mills: one each for shingles, lumber, and firewood.
A summer recreational center, it hosts the bulk of two of the Belgrade Lakes: North Pond and East Pond. East Pond is home to several summer camps for young people, some that cater to adults, and some that are individually owned summer cottages.
The main village is on the eastern shore of North Pond, where a sandy beach attracts area residents and summer visitors. Sunbeam Roller Rink has been an attraction for over half a century.
In 2013, antique autos occupied spaces where big red engines once sat in the Old Volunteer Smithfield Fire Department.
With the closure of the local school in favor of consolidation in a larger building, town services were also consolidated in an expansion of the old school.
While the town is growing as a suburb for Augusta and Waterville, its rural heritage can be seen in the remaining farms. Smithfield's veterans memorial is located in adjoining Norridgewock, where it is shared with that town and Mercer.
Additional resources
Ferm, Deane William. Smithfield, 1840-1990: Maine's Only Leap Year Town. Smithfield, Me. Published by the Town. 1990.
Madison, Norridgewock, and Smithfield. Dover, N.H. Arcadia Publishing. 1998.
*Maine Historic Preservation Commission. "Kromberg Barn.  http://npgallery.nps.gov/pdfhost/docs/nrhp/text/08001357.PDF
Varney, George J. A Gazetteer of the State of Maine. 1886. p5. 514-515.
Whiting, Mabel R. [compiler] Smithfield Town Records. Book I: with Additions from the 1850 Census. Winthrop, Me. Patience Stanley Chapter, D.A.R. 1934.
National Register of Historic Places – Listings
Kromberg Barn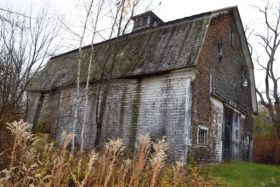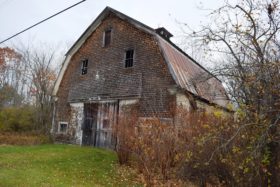 [East side of East Pond Road, across from number 462; N44° 37′ 11.83″ W69° 46′ 9.82″] The Kromberg Barn is a transitional agricultural structure that embodies two distinct periods of barn construction. The timber frame was originally erected around 1820-1830 as part of the Benjamin Stevens farm. It features hand hewn, two-story gunstock posts, tapered rafters, and sidewall construction. The barn has an English-style side wall system, marking the frame as an example of the transition between the two barn forms that were prevalent on Maine's farms in the first half of the 19th century.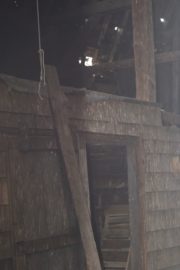 In the early 20th century, around 1924, the barn was remodeled and the gable roof was replaced with a much larger gambrel roof. Gambrel roof barns became popular at the end of the 19th century as farmers in many areas specialized in dairy cattle and the larger herd required additional space to store large amounts of hay. At the same time Charles Kromberg, who bought the farm in 1911, repositioned the central aisle, and new stanchions and poultry rooms were installed in the wider and taller south aisle. It is an example of the transition between English and New England barn construction in the early 19th century.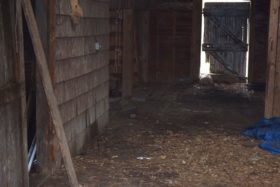 The Barn is on property first established as farm in the early decades of the 19th century. Charles Ernest Kromberg was born in Germany in 1876, and emigrated to the United States in 1895; Anna was also born in Germany in 1874, and emigrated in 1885. Charles Kromberg's World War I draft registration card indicated that he had become a United States citizen prior to 1918. The pair married in 1902 and had no children. They moved to Smithfield, where they were counted in the 1910 census. In that year they were renting a property just north of Horn Hill Road, and Charles was identified as a farmer and 'farm over seer'.  They bought the farm the next year.*