Members in photo: Seated, Senator Maurine Newberger, Oregon; Representative Frances Bolton, Ohio; Senator Margaret Chase Smith, Maine; Standing, Representatives, Florence Dwyer, New Jersey; Martha Griffiths, Michigan; Edith Green, Oregon; Patsy Mink, Hawaii; Leonor Sullivan, Missouri; Julia Hansen, Washington; Edna Kelly, New York; Charlotte Reid, Illinois.
_______________
Mrs. Smith held 88 honorary degrees from colleges and universities in Maine and Canada. President George H. W. Bush awarded her the Medal of Freedom, the United States' highest civilian honor
(1897-1995) became, in 1949, the first woman to serve as a United States Senator. She was the first senator to speak out against Senator Joseph McCarthy and his committee on Un-American Affairs with her "declaration of conscience speech," delivered to the Senate in June of 1950.
Born Margaret Madeline Chase, December 14, 1897, in Skowhegan, she attended the public schools. She taught school in Skowhegan in 1916 and 1917, then became a business executive for a country weekly newspaper and a woolen company 1919-1930.
Her career in the Senate, which ended with her retirement in 1973, made her famous for her independence and attendance at roll calls. The rose she always wore became her trademark.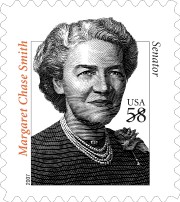 Smith was honored by a commemorative stamp issued by the U.S. Postal Service in 2007. Artist Mark Summers created the portrait based on a photograph by the Harris & Ewing studio, dated 1948.
Smith's political career began in 1939 when she succeeded her late husband, Clyde Harold Smith, in the House of Representatives, a position she held until she was elected to the Senate. She had previously been his secretary.
A lieutenant colonel in the Air Force Reserve (1950-1958), she was elected as a Republican to the Seventy-sixth Congress, by special election to fill the vacancy in Clyde Smith's seat, June 3, 1940, and was reelected to the four succeeding Congresses, serving from June 3, 1940, to January 3, 1949.
Smith was elected in 1948 to the United States Senate and reelected in 1954, 1960, and again in 1966, this time serving from January 3, 1949 until January 3, 1973 having been defeated by U.S. Congressman William D. Hathaway in 1972. She ran for the GOP nomination for President in 1964. (See related movie.)
She had been chairwoman, Special Committee on Rates of Compensation (Eighty-third Congress), Republican Conference (Ninetieth through Ninety-second Congresses); and visiting professor for the Woodrow Wilson National Fellowship Foundation 1973-1976.
She was a resident of Skowhegan until her death on May 29, 1995; her remains were cremated, and ashes placed in the residential wing of the Margaret Chase Smith Library in Skowhegan.
Additional resources
Fireside, Bryna J. Is There a Woman in the House– or Senate? Morton Grove, Ill. A. Whitman & Co. 1994.
Gould, Alberta. First Lady of the Senate: A Life of Margaret Chase Smith. Mt. Desert, Me. Windswept Publishers. c1990.
Graham, Frank. Margaret Chase Smith: Woman of Courage. New York. John Day Company. 1964.
Harris & Ewing photo. "Margaret Chase Smith follows in husband's footsteps. Washington, D.C., June 10. Margaret Chase Smith, wife of the late Rep. Clyde Smith, Republican, of Maine, was sworn in today to fill the vacancy left by her husband. Left to right in the picture: Margaret Chase Smith, Speaker William Bankhead, and Rep. James C. Oliver, Republican of Maine, who sponsored Mrs. Smith." Repository: Library of Congress Prints and Photographs Division http://www.loc.gov/pictures/item/hec2009015481/ (accessed December 11, 2017)
Smith, Margaret Chase. Declaration of Conscience. Edited by William C. Lewis, Jr. New York. Doubleday. 1972.
Smith, Margaret Chase. Margaret Chase Smith: in her own words. Skowhegan, Me. Northwood University and Margaret Chase Smith Library. 2001. [University of Maine at Augusta, Library]
United States Postal Service. http://www.usps.com/communications/newsroom/2007stamps/definitives/ (accessed 4/6/2008)