| Year | Population |
| --- | --- |
| 1970 | 1,247 |
| 1980 | 2,052 |
| 1990 | 2,593 |
| 2000 | 3,514 |
| 2010 | 4,208 |
Geographic Data
N. Latitude
44:26:29
W. Latitude
69:45:20
Maine House
District 77
Maine Senate
District 15
Congress
District 2
Area sq. mi.
(total) 45.5
Area sq. mi.
(land) 42.2
Population/sq.mi.
(land) 99.7
County: Kennebec

Total=land+water; Land=land only
[SID-nee] is a town in Kennebec County, settled in 1760 and incorporated on January 30, 1792 from a portion of Vassalboro.
After ceding land to Belgrade in 1798, its boundaries have remained unchanged for over 200 years.
Sidney was named for Sir Philip Sidney, a sixteenth century author, statesman, poet and military commander noted for his bravery and gallantry on the battlefield.
Though located above Augusta on the Kennebec River, a small shipyard building schooners of under 100 tons thrived in the town during the 19th century.
From a low point in its population of 918 in 1950, the town had rebounded to 4,208 residents in 2010.
State legislator, member of Congress, and later mayor of Belfast, Nehemiah Abbott was born here in 1804.
Sidney Bog is located in the southeastern corner of the town.
Most community features such as the town office, post office, school, veterans memorial, masonic lodge, are on the Middle Road.
Sidney is bounded by  Messalonskee Lake (the modern name for Snow's Pond) on much of its west side, which is served by Route 23. Its eastern boundary is the Kennebec River with the West River Road (Route 104) connecting from Augusta to Waterville. The 1774 "Bragg Homestead" is a dairy farm in this rural area.
Pike Industries rock crushing facility and Conway Freight Terminal are both located near the Lyons Road I-95 ramp.
Form of Government:
Town Meeting-Select Board-Administrative Assistant.
Additional resources
Chadbourne, Ava Harriet. Maine Place Names and The Peopling of its Towns.
Sidney Town Warrant of 1937
National Register of Historic Places – Listings
Powers House
(South of Sidney on Maine Route 104; N44° 23′ 21.57″ W69° 44′ 5.75″) One of the first settlers in Sidney, Levi Powers arrived shortly after 1760 to take up a grant obtained in Boston from sources unknown. Probably this substantial house not built for some time since the early years must have been spent in establishing himself in what was then heavily timbered virgin forest.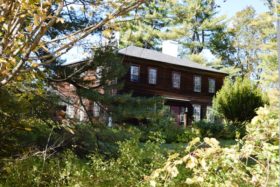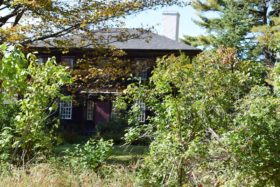 In 1783 the house was sold to Jethro Gardiner who in 1791, sold to Anthony Faught who had emmigrated from Germany to avoid service in the army. The building remained in the Faught family until 1928. Since then it has passed through several hands. This remarkably preserved Colonial house is of particular importance because of size and fineness of proportion in a newly settled area.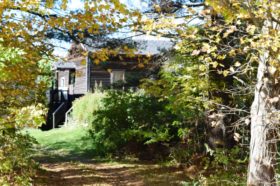 The House remains little changed and, better than most, conveys an accurate impression of its time and place. Powers may well have been influenced in designing the house by the nearby Pownalborough Court House, with its similar proportions,roof pitch and framing.
[Text source edited and condensed from https://npgallery.nps.gov/pdfhost/docs/nrhp/text/79000150.PDF] (Accessed 10/15/17)
Current owners value their privacy judging by the thick foliage and cautionary sign.