canoe trips

This is a pleasant, scenic, and sometimes challenging trip, on the Sheepscot River. Click on numbered canoe icons at right for video clips.

The river at this point runs north to south for about six miles from the East River Road Bridge in Whitefield to Head Tide Dam at Head Tide Village in Alna.
While one could put in just below the bridge, at low water a portage would be in order above the washed out dam a short distance downstream.  An option is to put in just below the dam following a path on the left bank.  Access is from Head Tide Road.

Thereafter a series of moderate rapids and flat water for about two miles, passing bridge abutments of the old narrow gauge Wiscasset, Waterville and Farmington Railroad, brings one to a right bend in the river. The W. W. & F.  Railroad Museum is nearby in Alna.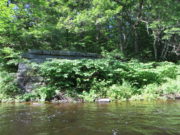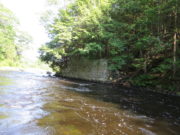 The remainder of the trip has no major obstructions, allowing for occasional submerged rocks.  Approaching Head Tide Dam, a large rock outcrop on the left bank signals a small rock field, followed by the takeout on the right above the dam.
The takeout is at a low, weedy bank with a path through trees to the parking area.